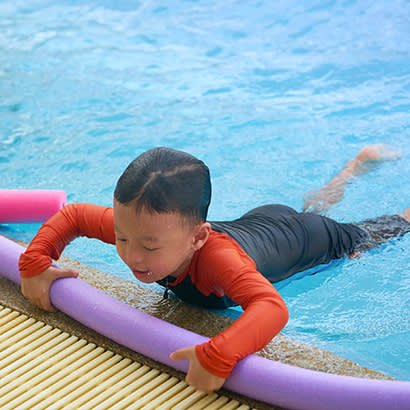 For an enhanced digital experience, read this story in the ezine.
On June 5, 2021, Emmanuel Solomon climbed a fence with his brother and some friends to cool off in the Parkwood Pool, the only public pool in Kansas City, Kansas — which was closed.
That day, 13-year-old Emmanuel accidentally found himself in water over his head. Unable to swim, he was rescued by firefighters, but sadly, it was too late. Emmanuel, a Black child in a predominantly Black and Hispanic neighborhood, passed away a week later, leaving his family and the community heartbroken and sparking a search for answers.
As a local corporate citizen and a national medical and dental benefit provider for current and retired federal employees, military retirees and their families, the Government Employees Health Association (GEHA) saw an opportunity to live its mission at home. Through partnerships with the state of Missouri's YMCA of Greater Kansas City, the Unified Government of Wyandotte County and Kansas City, and Kansas City Parks and Recreation, we provided access to aquatics safety to a community affected by a historic lack of access.
To Overcome Health Inequity, Understand Its Root Cause
A 2017 USA Swimming Foundation study found 64 percent of Black children in the United States cannot swim and are nearly six times more likely to drown in a swimming pool than white children. Hispanic children face similar statistics, with around 46 percent of Black children and 47 percent of Hispanic children having swim lessons, compared to 72 percent of white children, according to Lurie Children's Hospital of Chicago.
A fundamental reason for this is that the swimming ability of parents directly impacts their children. For many, swimming pools have generational association with segregation and unease.
To Achieve Success for Children, Equip Them
Through the YMCA of Greater Kansas City's "Learn to Swim" program, offered in partnership with Kansas City Public Schools and the Unified Government of Wyandotte County and Kansas City, GEHA supported four-day swim lessons focused on building basic swimming proficiency for 200 students, while also providing swimming suits, swim towels, sunscreen and goggles, during the summer of 2022. Of those who participated, 94 percent had never had swimming lessons, and 37 percent had never been submerged in water. The YMCA and the Unified Government finished the summer with 100 percent of participants improving their water safety abilities. The question now was: How do we scale this impressive effort?
Partnerships Make Local Programs Possible
Swimming can be a source of joy but it also impacts physical health, wellness and socio-emotional variables, such as where families socialize and vacation.
The low-swimming ability of children affects communities impacted by historical bias as well as barriers to health, such as poverty. It's a national issue, but solutions must occur at a local level. Working with local organizations to find innovative solutions to problems can have a tremendous, long-term impact on community programs and the community itself.
As the naming rights sponsor for the Kansas City Chiefs' stadium home, GEHA Field at Arrowhead Stadium, our Super Bowl champion partners took a particular interest in our efforts. It was congruent with their youth wellness activities, along with the legacy of a former running back who drowned attempting to save the lives of three children 40 years ago this summer. Together, we have expanded this work, renaming it the "Joe Delaney Learn to Swim Program, Presented by GEHA." Now, 650 additional students will learn to swim this year throughout Kansas City, including a return to Parkwood Pool.
Bringing About Cross-Generational Change
This is merely the beginning. Equitable aquatics education programming like the Joe Delaney Learn to Swim Program, Presented by GEHA, offers communities a space to come together for recreation and education. Local community programs and partnerships can overcome and mend historic wrongs that have impacted generations while providing children with lifesaving and enriching skills to pass on.
John Brown is Chief Operations Officer of the Government Employees Health Association. Gene Willis is Corporate Social Responsibility Manager at Government Employees Health Association.