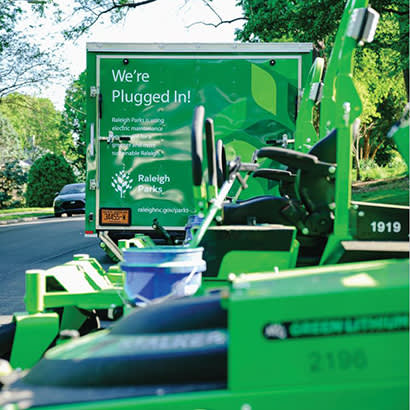 For an enhanced digital experience, read this story in the ezine.
How to position your agency for a more reliable and resilient future
One of the most far-reaching trends that will sweep the field of parks and recreation during the next decade is the conversion of fossil-fueled power sources to electric power. Many park and recreation agencies already have begun to implement the conversion from fossil fuels to electrically powered tools, equipment, vehicles and even buildings. However, other agencies have barely acknowledged that there is a tidal wave of change sweeping over public parks and recreation. They may be far less prepared to meet the challenges that such a changeover encompasses.
We are on the cusp of great change. Park and recreation agencies have an opportunity now to plan, budget and implement a changeover to electric power that positions them for more cost-efficient operations and a more reliable and resilient future that demonstrates a commitment to sustainability. We can make a truly sustainable commitment to doing our part to reduce greenhouse gas emissions and contribute to slowing the pace of climate change.
The cost of inaction in meeting this challenge will mean those agencies that do not step up will be left behind in capacity and ability to adopt innovative solutions, in the cost savings of electrification, and in the ability to reduce their environmental footprint in a future challenged by a changing climate.
What Is Happening and Why?
There are many reasons why this ground-shaking changeover is occurring so rapidly. These include a push toward more cost-efficient operations, a recognition that electric power based on renewable rather than fossil-fueled energy will provide better reliability, and the knowledge that renewable sources of energy will be more sustainable and environmentally responsible. Electrifying equipment, vehicles and buildings will be driven by public expectations, causing us to make a tangible commitment to do our share to reduce the impacts of climate change and to operate in a way that supports better health for our workers and the public.
The bottom line is that electrification is happening everywhere, all at once, and the cost of inaction is unsustainable.
Twenty-one states have now enacted laws requiring them to move toward 100 percent carbon-free energy sources, as have 180 cities through legislative or executive action. Six states have enacted laws phasing out sales of new vehicles powered by internal combustion engines (ICE). Approximately 24 percent of all electricity in the United States will be generated by renewable sources of energy in 2023, according to the U.S. Energy Information Administration — a percentage that is growing annually.
The cost of converting to electric power will not be insubstantial, however. How park and recreation agencies will pay for the costs of converting to carbon-free energy is a matter of concern, doubly so in an inflationary cycle. On the positive side, however, tens of billions of dollars in new funding will be available to states and localities from the federal Inflation Reduction Act passed in 2022. Park and recreation agencies may be eligible for grants or matching funds to build out vehicle charging infrastructure, for conservation and climate-resiliency projects, for cost-sharing the purchase of clean-power vehicles and equipment, for community health projects that reduce urban heat island effects, and for community connectivity and walkability projects.
Manufacturers Gearing Up for Electrification
In a wide-ranging conversation with senior representatives of The Toro Company, one of the leading manufacturers of commercial grade mowers and power equipment, the representatives affirmed they are making the conversion to electrically powered equipment a strategic priority of the company. "We are providing electrically powered products to our customers who are increasingly requesting such equipment," says Tony Ferguson, senior product marketing manager of the commercial division at the company.
The company sees the move to electrification as an industry-wide imperative driven by customer demand and regulatory factors. It's important to note that more leading manufacturers of commercial-grade mowers and power equipment recognize this need in the park and recreation space and either currently offer or plan to introduce electric-powered products in the future.
On the regulatory front, early adopting states, such as New York and California, are being followed by many others, passing mandates to transition from diesel and gas-powered tools, equipment and vehicles to those powered by renewable sources of energy. Much of this regulatory framework is intended to reduce greenhouse gas emissions.
"Customers want to be better stewards of the environment," says Paula Sliefert, senior marketing manager at The Toro Company, noting this is a belief held strongly in both the public sector and the private sector.
Widespread Agency Adoption Begins
Increasingly, agencies show they are embracing electrification strategies as vigorously as the supply industry. Park and recreation departments are installing public electric vehicle charging stations and upgrading charging capacity for their own vehicles. "Because we are a front-facing agency to the public, city officials are very supportive of our clean power goals," says Stephen Bentley, director of Raleigh (North Carolina) Department of Parks, Recreation and Cultural Resources. "The mayor has been leading and the city council is fully behind us. We have fully embraced the goals of our climate action plan and [have] fully integrated them into our budget process."
Are workers ready to make the changeover to electrically powered equipment and vehicles? Overall, maintenance supervisors say staff support it, even if there are some naysayers.
Andy Phillips, division chief of facility services for the Maryland-National Capital Park and Planning Commission (M-NCPPC), says some staff have commented on certain tools being too heavy for comfortable all-day use, but most contend new battery-powered equipment gets the job done. Additionally, it is reliable and doesn't require dealing with fumes or hazardous fuel. Phillips relayed a conversation he had with his heavy equipment crew when they first got a new electric-powered jackhammer for pavement and concrete removal, telling them they would like it. "Yeah, right, that's not gonna happen," one operator said. But after using the breaker on the job, they quickly became believers. Not only did the tool do the job well, but also there was no loud air compressor constantly running, and no long cords or hoses to pull around. Said one of the heavy equipment crew, "You can even carry on a conversation."
Staff are getting into the spirit of moving to electric power. Bentley noted that in Raleigh, they have about 200 employees in field operations. Battery life for blowers, weed eaters, chainsaws and other tools just doesn't make it through a full day. Park maintenance staff approached their supervisors with a plan to outfit one of their landscape equipment trailers to better handle all the batteries and tools they needed on the job. Working with electricians, they neatly wired-up chargers and built storage for tools, so that they could plug in their trailer and provide overnight charging for all the tools for a day's work.
Innovation in the Park and Recreation Space
Innovations in clean power are exploding with new technologies being introduced on what seems to be a monthly basis. Among the technology advances that will be of particular importance to parks and recreation are large battery energy storage systems, especially those using low-tech materials, such as rocks, bricks and sand; solar photovoltaic coatings for building roofs, walls and windows; solar photovoltaic shingles; and smarter, more adaptable charging stations, especially for bi-directional charging.
Vehicle-to-building (V2B) and vehicle-to-grid (V2G) energy transfer systems, such as those piloted by Seattle Parks and Recreation and Boulder, Colorado, are proving that vehicle batteries and roof-mounted microgrids can provide direct cost savings and emergency power during peak power needs. Developers of such systems believe that untapped vehicle battery capacity will be a game changer for city and statewide peak-power needs.
The Charging Gap, Funding and Other Challenges
Even if the conversion to electric power has broad-based public support and deep commitments by elected leaders, delivering reliable electric power where it is needed is still fraught with problems. Electric service may not be available where it is needed. Integration with existing systems may not be possible. Financing upfront costs may be the biggest hurdle.
Opportunities do exist, though. One such opportunity for public parks and recreation is that neighborhood and community parks provide ideal locations for installing public electric vehicle charging stations. Kevin Roth, vice president of research, evaluation and technology at NRPA, says, "We don't have hard data yet, but in conversation with some of the charging companies, they see public park and recreation centers as some of the best places to put chargers, in part because it is a great way to ensure accessibility across communities."
Public parks can support closing the "charging gap," that is, the distributive injustice of charging stations available to wealthier urban communities compared to the scarcity of charging stations in lower-income communities as identified in a recent University of Michigan study.
Jim Rodstrom, director of construction for Cleveland Metroparks, says they are continuously monitoring the most effective and efficient ways to make the transition to electric power. "We have 18 [fossil fuel-based] fueling stations across our system. Gasoline and diesel vehicles and equipment are expensive to run and fuel cost has been on the rise," he says. "For long-term sustainability, reducing costs and environmental benefits, electric checks all the boxes across the board."
However, while they are starting to build out their charging infrastructure, Rodstrom says it is important that they do it strategically. "Infrastructure costs and charging stations have to be studied carefully, and we are being very careful that we are doing it right," he says.
Nonetheless, retrofitting electric power to outmoded or incompatible systems can be expensive. "It is a misconception to think that we can retrofit and replace hydronic systems [oil- or gas-heated hot water systems] with heat pumps," says Andy Sheffer, deputy superintendent of operations for Seattle Parks and Recreation. "For example, we may have to tear everything out, such as hot water piping, and start from scratch adding ducting."
Sheffer says that when they are looking at major maintenance repairs and retrofits, such as new roofs, electric upgrades or new HVAC systems, they look at the entire building and consider how they can implement changeover to electric power for all of the building's systems, such as the replacement of oil and gas heating with heat pumps, or solar microgrids.
Some areas of the country are better situated for early adoption of electrification strategies. For example, if there is already a high percentage of electricity generated from renewable energy sources, such as hydropower, or if electric power companies are committed to partnering and implementing aggressive clean power plans.
Regionally, areas like the Pacific Northwest that source some of their electricity from hydropower, or areas in the Southwest and West that have excellent solar adoption potential already are on a solid path of generating much of their electricity from renewable energy. Many areas of the United States have ideal climate conditions to make use of heat pumps for primary heating and cooling needs. No matter where your agency is located and no matter what the inherent advantages or disadvantages it may have, there will be opportunities to choose electric power over fossil fuels, and this choice will result in substantial and sustainable benefits.
Funding is a critical issue for every agency. Denise Lanza, deputy director of Morris County Parks Commission in New Jersey, and Bill Foelsch, director of parks and recreation for Morris Township in New Jersey, say that when they have looked at replacing vehicles and mowing equipment, the price can be as much as twice as expensive as traditional diesel or gasoline power. They currently are looking at an estimated 20 percent increase in healthcare costs for their agencies, which is driving budget decision making. In addition, they have a maximum 2 percent cap on agency budget increases mandated by state law. While they may be very interested in switching tools and mowers to electric power, "we will make the changeover where it is cost efficient, where it meets the needs of the work program, and where there is proof it works," Foelsch says.
Larger agencies have greater capacity to seek matching funding and grants, but it takes thinking out of the box and forming creative partnerships to bring such funding in. Sheffer says as an example, Seattle Parks and Recreation has been successful in getting Federal Emergency Management Agency (FEMA) hazard mitigation grants, which can be applied to prevent urban heat island effects by installing air conditioning in centers that have none. These centers can gain non-traditional funding for air conditioning because they now serve as cooling centers in heat emergencies. Rodstrom of Cleveland Metroparks says, "We are constantly looking for grants and matching funds."
"Data collection is really important," says Phillips of M-NCPPC. "Data informs decision making, and the proof is in the numbers. Start with a good baseline of needs before you invest. You have to keep your goals realistic."
Why This Is So Important
This is a race against time," says Sheffer. "First and foremost, this is about climate change. We want to protect and preserve the environment. It's why we live here. Our environment is changing so rapidly — sea level rise, king tides, heat island effects, loss of biodiversity. We see the changes every day in our park system. The public is demanding it of us. It takes everyone. If we lead, others will hopefully follow."
Phillips says, "Our mission statement is to 'preserve, protect and enhance.' We are all about preserving the environment and reducing greenhouse gas emissions. We want to lead by example, to show our residents, our kids, that this is what we can do."
Richard J. Dolesh is NRPA's retired Vice President of Strategic Initiatives and Editor at Large for Parks & Recreation magazine.