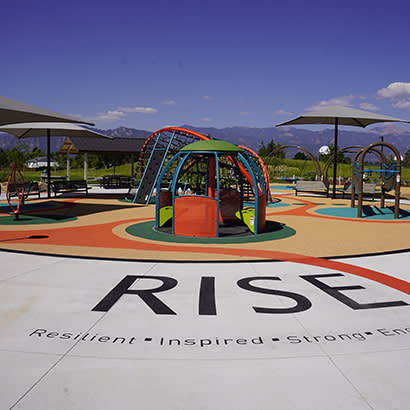 For an enhanced digital experience, read this story in the ezine.
"Meet me in the place where we gather in love and light, a once-desolate land now reinvigorated by the passion of the people."
– Ashley Cornelius, the Pikes Peak poet laureate
Colorado Springs, Colorado, located just south of Denver, is known for its breathtaking natural scenery, like the famous red rock formations at Garden of the Gods or majestic Pikes Peak — America's Mountain. As one of the nation's most physically active cities, Colorado Springs, known as Olympic City USA, abounds with neighborhood, community and regional parks, as well as native open spaces for residents and visitors to enjoy in the endless, year-round sunshine.
In 2018, the Colorado Springs Parks, Recreation and Cultural Services department recognized the need for a vibrant outdoor recreation space in the southeast side of town that would reflect the community's diversity and passion. With limited public space available, park staff identified Panorama Park as the perfect location to create that safe and inclusive environment. At the time, the 13.5-acre park, which is within walking distance for more than 3,300 residents, was an underdeveloped and underutilized neighborhood park site with a small playground, pavilion, baseball backstop and dirt parking lot.
Partnering for Progress
The City of Colorado Springs, through a collaborative effort between multiple community partners, underwent a year-long process to gather public input about the park's design, usage and future programming. Trust for Public Land (TPL), a national nonprofit organization that works with communities to protect public land and provide equitable access to outdoor opportunities, led the community engagement process.
RISE | Southeast Colorado Springs also became a key partner and worked alongside TPL in the renovation of Panorama Park. RISE, an initiative developed and led by "resilient, inspired, strong and engaged" residents in the southeast region of Colorado Springs, enhances the community through resident-led change. Funded by a grant through El Paso County Public Health, RISE works to connect people to resources within the city to provide opportunities for all to thrive. RISE and TPL, in partnership with the City of Colorado Springs, hosted multiple community engagement meetings with students, older adults, family members and neighbors to brainstorm ideas for the park. Initial ideas included a new playground, accessible walking paths, increased lighting for improved safety, more trees to combat the urban heat island effect, and a public gathering space. The next step was to secure funding to bring the community's vision to life.
Eight-and-a-half million dollars would be needed for the transformation of Panorama Park, and thanks to a variety of funding sources, including many private and nonprofit partners, Panorama Park became the largest neighborhood park renovation in city history. The City of Colorado Springs invested $5.5 million, including $4 million from Park Land Dedication Ordinance funds; $1 million from its Trails, Open Space and Parks sales tax that collects one penny out of every $10 spent; and $500,000 from Taxpayer Bill of Rights (TABOR) retention funds approved by voters in 2019. The remainder of the project was funded by other partners, including AARP Colorado, Colorado Health Foundation, Colorado Springs Health Foundation, El Pomar Foundation, Gazette Charities/The Anschutz Foundation, Great Outdoors Colorado, Lyda Hill Philanthropies, National Endowment for the Arts, The North Face, Pikes Peak Community Foundation and TPL.
"The renovation of Panorama Park would not have been possible without the generous support we received from private and nonprofit partners and the passion of southeast community members," says Colorado Springs Mayor John Suthers. "Collaboration paved the way for southeast Colorado Springs to have a world-class destination park that will be enjoyed by generations to come here in Olympic City USA."
The Results
Now, residents in southeast Colorado Springs can enjoy a universally accessible and inclusive playground for all ages and abilities. Panorama Park also boasts a bike skill development park with three separate courses to accommodate riders of all skill levels, a youth area with a hammock garden and skate space adjacent to a youth-designed climbing boulder, two basketball courts, an all-age fitness zone from AARP, a multiuse sports field, a state-of-the-art splash pad, and multiple public art installations.
One of the art features is a mosaic tile mural comprised of more than 7,000 individual community-designed tiles that celebrate the diversity and unity of the southeast. A community-driven sculpture created by Colorado-based artist Joshua Wiener will be unveiled near the park's entry plaza in 2023.
"The Panorama Park transformation is a case study example of what can happen when a community's vision for how it wants to connect to the outdoors is heard, respected and brought to life," says Jim Petterson, TPL Mountain West Region vice president. "Trust for Public Land is honored to have worked with the southeast community and proud to have partnered with the City of Colorado Springs to create a park that will be a cherished gathering place for families and a resounding source of neighborhood pride. Panorama Park sets a high bar for future community-driven park design and construction projects across the state and around the country."
General William J. Palmer had a clear vision when he founded Colorado Springs in 1871. His dream was to build a city that would attract people from around the world to experience its natural beauty and outdoor recreation opportunities in a safe, healthy and inclusive environment. Colorado Springs community members embrace the challenge to continue Palmer's legacy to build a city that matches its scenery — a shining city at the foot of a great mountain.
Cassie Melvin is a Public Communications Specialist at the City of Colorado Springs.