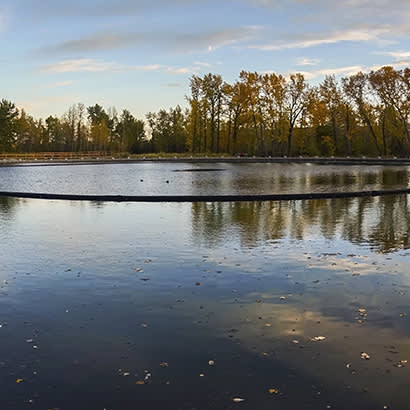 For an enhanced digital experience, read this story in the ezine.
Conservation, one of NRPA's Three Pillars, is a key principle that guides the work of our nation's park and recreation professionals every day. Creating and maintaining open green spaces that maximize the benefits of nature and improve health and economic outcomes are central to their mission. This is particularly important, now more than ever, as park leaders are working to build community resilience to climate change, implementing solutions that combat both the causes and effects of our warming planet.
The federal government also is beginning to recognize the importance of taking urgent action on climate change and has passed major pieces of legislation in recent years aimed in part at addressing climate concerns. The Bipartisan Infrastructure Law (BIL), signed into law in November 2021, provides roughly $550 billion in funding over five years toward infrastructure programs, many of which seek to bolster the nation's climate resilience. The Inflation Reduction Act (IRA), signed into law in August 2022, is more narrowly focused on providing federal support for climate mitigation activities. It contains roughly $369 billion in direct funding over 10 years, as well as significant increases to a wide range of federal tax credits that incentivize activities in line with the Biden administration's climate goals.
This article will focus on two key conservation-related programs that received a boost in these bills and are accessible to park and recreation professionals — the Clean Water State Revolving Fund (CWSRF) for green stormwater infrastructure and the Urban and Community Forestry (UCF) Program for tree planting in or around towns and cities. Both programs leverage the power of parks and recreation to improve and expand green spaces and, in line with President Biden's Justice40 Initiative, will prioritize investments for disadvantaged communities that are marginalized, underserved or overburdened by the harmful exposure to pollution.
Clean Water State Revolving Fund
The Environmental Protection Agency's (EPA's) CWSRF is the primary federal funding source for green stormwater infrastructure projects. Funding for this program is sent from the EPA to State Revolving Fund programs managed by state governments, and from there is allocated via low-cost loan financing to specific projects based on the state's project priority list, which ranks the importance of projects based on a variety of state-determined factors.
The BIL provided $11.73 billion over five years for the CWSRF program, an average of $2.35 billion per year. This injection of BIL funds builds on the annual appropriation of roughly $1.6 billion for the program, essentially tripling the amount of funding it is expected to receive each year through fiscal year 2026. About 20 percent of these funds have gone to congressional earmarks in recent years, but as a whole states are still receiving far more funding than in years past.
A primary purpose of the CWSRF program is to fund water utilities and other entities to carry out wastewater and stormwater infrastructure projects. However, it is mandatory that states use a minimum of 10 percent of their allocation for projects that address green infrastructure. This set-aside, known as the Green Project Reserve, presents an opportunity for park departments to partner with their local water utility or other stakeholders, and apply for funding from their state. Specific examples of eligible projects noted by EPA include bioretention cells, trees and expanded tree boxes, green roofs, permeable pavements, and more — essentially any nature-based solutions that improve flood mitigation and stormwater management.
Urban and Community Forestry Program
The U.S. Department of Agriculture's (USDA's) Urban and Community Forestry Program is a great source of funding to support urban tree planting and related initiatives. Funding for this program is distributed as grants from the USDA's Forest Service to state, local and Tribal governments, or nonprofit organizations. The program, which has received annual funding of between $36-$40 million in recent years, was allocated $1.5 billion over 10 years under the IRA.
The program has historically been used to support a wide range of activities related to urban forestry, including tree planting initiatives and related items — such as training the next generation of forestry professionals, improving tree cover databases, and mitigating wildfire risk to urban areas. The Forest Service's website touts case studies highlighting how the program increased access to green spaces in the economically disadvantaged community of South Tucson, Arizona, and supported youth work crews in Anchorage, Alaska.
With its new injection of funds, the Forest Service will lean on local partners, including park and recreation departments, to carry out this work to a much higher degree in years to come.
Kyle Simpson is Director of Government Affairs at NRPA