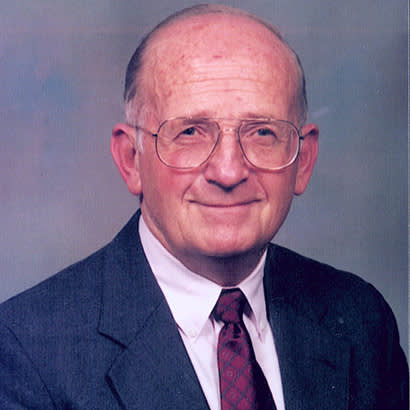 For an enhanced digital experience, read this story in the ezine.
Champion, ambassador, gentleman, leader, scholar, icon, friend "encyclopedia of institutional information," and "one of the great ones" — these are the words others in the park and recreation field use to describe Dr. Charles Edwin Hartsoe, who passed away on May 15.
The field and NRPA community mourn the loss of Hartsoe — a well-respected educator, historian and advocate. Throughout his long and distinguished career, he served as an NRPA Life Trustee; past president of the NRPA Board of Trustees; executive director of the National Recreation Foundation; founding member and former chairman of the Joseph E. Lee Memorial Library; and an Ambassadors Club member.
"Charlie was an encyclopedia of institutional information on the history and evolution of the NRPA," says Kenneth Kutska, CPSI, executive director of the International Playground Safety Institute and past member of NRPA's Board of Trustees. "He was not only a scholar, but a gentleman who spread the word of our profession. He [will be] missed by me and others who had the pleasure to be a friend through the 1990s and 2000s."
Hartsoe, a native of Bluefield, West Virginia, served in the U.S. Air Force before earning a Bachelor of Science in recreation and youth leadership from Springfield College in Massachusetts, and then a master's degree in recreation and parks from University of Illinois. He entered the field through an internship program sponsored by NRPA, working as an intern for Robert Crawford, commissioner of recreation for Philadelphia. After the internship, Hartsoe continued working for Philadelphia Parks and Recreation as an administrative analyst, according to a biography by the American Academy for Park and Recreation Administration (AAPRA).
Hartsoe began working for the National Recreation Association, now known as NRPA, as assistant executive director in 1960. He became an historian who chronicled the evolution of NRPA and its role as a leader in the parks and recreation movement. He was one of the founding members of the Joseph E. Lee Memorial Library and Archives — a physical library for parks and recreation historical and technical documents located at the National Recreation Association headquarters in New York. When the organization became NRPA, much of the library's collection eventually moved to NRPA's current headquarters in Ashburn, Virginia.
Hartsoe left NRPA and returned to the University of Illinois to lead the undergraduate program for the Department of Parks and Recreation while working on completing his Ph.D. In 1968, he became associate professor of recreation and parks at Pennsylvania State University; in 1971, he became chair of the Department of Recreation and Leisure Studies at Temple University in Philadelphia. From 1977 until his retirement in 1995, Hartsoe served as chairman of the Department of Recreation at Virginia Commonwealth University where he was named Professor Emeritus, according to the AAPRA biography.
Throughout this time, Hartsoe continued to serve as a park and recreation leader. He was as a member of the NRPA Board of Trustees from 1976 to 1978. He received the NRPA Distinguished Professional Award in 1989; earned the Ralph C. Wilson Award for Exemplary Volunteer Service to NRPA in 2001; and became a NRPA Life Trustee in 2004.
Kutska remembers when he first became a member of NRPA's Board of Trustees, how he learned a detailed background of NRPA and an explanation of his leadership responsibilities from Hartsoe. The two discussed legislative and other park and recreation issues. Having this historical perspective was a resource that Kutska greatly valued. Kutska attributes the preservation of many of NRPA's historical documents and historical information largely to Hartsoe. Many others who knew Hartsoe through NRPA also echo this sentiment.
"Charlie was always willing to help so many of us. Especially at times when we needed to understand and learn the history of NRPA, in addition to various aspects of the field in general," says Jodie Adams, past member of NRPA's Board of Trustees. "I was fortunate enough to work with Charlie as a fellow NRPA Board of Trustee. [He was] a true gentleman, leader and friend."
Hartsoe documented the history of the field in his publications. He was a coauthor of Hall of Fame: Profiles in Leadership, published in 1965 to share the legacy of early park and recreation pioneers. He joined Richard Knapp as coauthor of the book, Play for America, in 1974. He wrote Building Better Communities in 2006, a book that describes the evolution of NRPA's focus evolving from playgrounds and youth experiences to recreation services and standards for leadership, facilities and programming, according to the AAPRA biography.
Hartsoe's resume of contributions to parks and recreation continued to build throughout his career. He was a founding member of AAPRA in 1980 and became president of AAPRA in 1985. He served as president of the Pennsylvania Recreation and Park Society from 1975 to 1977. He was one of the primary organizers of the 1984 International Symposium on Sports for Everyone in Los Angeles. He received the American Park and Recreation Society Distinguished Fellow Award in 1983. He contributed to establishing the National Park Foundation's Wirth Environmental Award in 1985. From 1994 to 2002, Hartsoe served as executive director of the National Recreation Foundation and was a longtime member of the Foundation's Board of Trustees.
Dianne Hoover, director of Recreation and Parks for City of Bakersfield California and past president of NRPA's Board of Trustees, learned of Hartsoe when she first became involved in NRPA and worked with him through the AAPRA. She remembers his passion for the field and encouraging others in the field to share with politicians the important role parks and recreation plays in every community. "He was a true icon," Hoover says. "He will always be one of the great ones in the field of parks and recreation."
"For us, Charlie Hartsoe was with us every step of the way, ensuring we stayed on course and remembered our early beginnings," says Elizabeth Kessler, executive director of McHenry County Conservation District. "[He was] a champion in the field of parks and recreation and an ambassador for NRPA."
Jennifer Fulcher is NRPA's Online Content Manager.