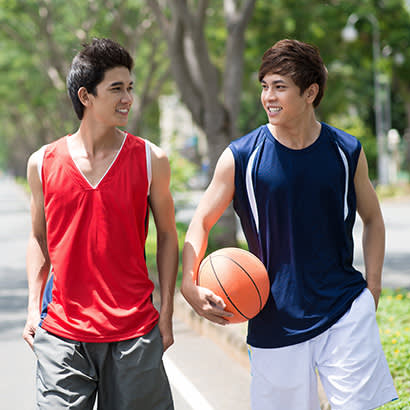 For an enhanced digital experience, read this story in the ezine.
This year has provided many opportunities to practice resilience — the ability to adapt and rebound when faced with change. Sometimes, you can anticipate change and plan for it. Other times, the change might be so subtle and slow that you don't realize it's happening. Resources to respond (such as money, volunteers, supplies, etc.) might be readily available, or it might take some time to figure out an appropriate response.
Anytime is a good time to discover resilience in your community. We can foster resilience by cultivating relationships across sister agencies (e.g., local health departments or nonprofits), neighbors and other like-minded partners and advocacy groups. I recently moved about 400 miles from a city I called home for 15 years. The first places I visited were parks. Some I visited for a quiet respite to clear my mind and get away from the stress of moving. I also sought out parks for local farmers markets and social opportunities, like outdoor concerts. I found myself looking around to see who and what was in the park. I looked for green infrastructure projects. Some became easy to see when it rained, and the grounds became saturated like an over-filled sponge. I noticed recreation centers were the location of cooling centers when the heat climbed above 90 degrees and stayed there for a week. I was looking for community resilience and was relieved to find it.
Anytime is a good time to explore resilience in your community. New leadership, planning and budgeting are opportunities within which you might discuss the role of parks and recreation. Most types of plans can include a discussion of resilience, master plans, strategic plans, sustainability plans, community revitalization and emergency preparedness. Just asking two or three simple questions can help park and recreation professionals and people outside of the field to think about the role of parks in community resilience:
Distributive – Who has physical access to local park and recreation spaces? Is there parking, sidewalks and public transportation?
Procedural – Who decides the budget, operations, maintenance and programming? Can leadership in the parks department, elected officials or engaged residents influence the process?
Interactional – How are people treated in local park and recreation spaces? Who feels welcomed? Who feels unwanted? Could staff benefit from more training in this area?
Care – How do people steward local park and recreation spaces and the broader environment? Is this an opportunity to partner with community nonprofits?
Anytime is a good time to encourage resilience in your community. We have the opportunity to ensure resilient climate solutions are incorporated into communities across the country. NRPA has developed a suite of green infrastructure resources to provide the tools, knowledge and resources to plan, implement, maintain and advocate for greener parks and open spaces. These resources also can help your staff, partners and elected officials understand the multiple benefits green infrastructure can bring to surrounding communities. Some of those benefits include improved community health, access to green spaces and nature, and opportunities for education, employment, and resiliency.
NRPA's resources include:
A guide of best practices for planning, constructing and managing green infrastructure in parks
Case studies and briefing papers that take a deep dive into some key areas, like community engagement, funding and equity
The Green Infrastructure Evaluation Framework, which helps determine what data points to measure and how to measure them to show the impact of these spaces
The National Green Infrastructure Certification Program, a professional certificate from an online course focused on designing, implementing and maintaining green infrastructure in park settings
What's more, you can leverage park and recreation spaces through partnerships to access more funding and increase the positive impacts for your community.
Ayanna Williams, MSW, is Director of Community and Environmental Resilience at NRPA.