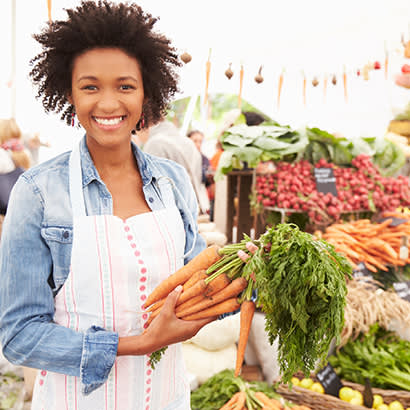 For an enhanced digital experience, read this story in the ezine.
The land that currently makes up the City of Tukwila in Washington State always has been a crossroad of activity. The city lies at the junction of two interstates and the state's primary airport.
The earliest people in Tukwila were the Duwamish, who made their homes along the Black and Duwamish Rivers that meander through the city.
The name "Tukwila" is the Chinook word for "nut" or "hazelnut," referring to the hazelnut trees that grew in the area. The Duwamish lived in cedar longhouses, hunted and fished, picked wild berries, and used the river for trade with neighboring peoples.
The City of Seattle takes its namesake from the Duwamish leader — Chief Seattle.
For a city with such historical and cultural significance, and at one time having been a breadbasket of rich and nutritious foods, challenges both in activity and accessing nutritional foods now abound for its residents. But with challenges come opportunities.
Seeing the opportunity to partner with the local community, City of Tukwila Parks and Recreation applied for and is a recipient of the NRPA Parks as Community Wellness Hubs grant, which is supported by the Walmart Foundation.
While residents of the City of Tukwila suffer greatly from low health outcomes and lack of access to healthy foods, we know that there are strengths within the community.
First, there is investment in this community outside of city services. One of our project partners, Global to Local, is based here and has a vested interest. Not only does this organization support interventions to improve health, lower the cost of care and empower underserved communities, but also it has an asset in its Food Innovation Network program.
The Food Innovation Network operates a food business incubator — Spice Bridge — supporting aspiring entrepreneurs from Tukwila who primarily come from low-income immigrant and refugee communities.
The 2,800-square-foot facility includes a commercial kitchen with four cook stations, four retail food stalls and a dining area. Eight food vendors rotate through the food hall stalls, offering culinary experiences that reflect the diversity of our community.
In addition to helping to create economic security for business owners and their families, Spice Bridge helps build food security in our community. The space supports the Tukwila Village Farmers Market, which makes fresh, local produce affordable and accessible for community members.
With partnerships beginning to take hold, the most important ones still to be strengthened and further developed are with community members themselves. For example, Tukwila has one of the most diverse school districts in the nation. Its students speak 80 different languages at home; 70 percent are learning English in school. Students speak Somalian, Burmese, Bosnian and Vietnamese, to name a few.
The greatest challenge for the City of Tukwila is knowledge — truly knowing what our community needs and not making assumptions about what will work best for the community and, for that matter, the numerous smaller communities that make up our city. With the NRPA Parks as Community Wellness Hubs grant dollars, our hope is to lead by learning.
This involves conducting research via surveys and focus groups to accurately learn from our community how we can deliver more effective nutrition and wellness programs.
For example, currently the city distributes food only. We don't know for sure if what we are delivering is adequate for community needs. Focus groups will allow us to get that rich anecdotal information, especially when we conduct them in languages spoken in the community. We will be able to determine the specific needs of various communities, as well as how to best deliver and communicate the services and resources based on information gathered.
Additionally, centering our work within the community, our hope is to have more equitable outcomes. We plan to recruit community members in the delivery and communication of these services, tapping youth through job training opportunities.
The youth are well-placed to be excellent advocates. Their multilingual capabilities ensure we are able to meet community members where they are with someone they know and trust. This also builds ownership of programs within the community. What's more, these youth ambassadors also will be able to provide critical feedback on what works and what does not work within their specific community, encouraging stewardship and buy-in.
Tukwila is a preview of the direction that our country is going. By implementing a wellness hub in such a diverse community, we can become a model not only for best practices, but also for best equitable practices for other organizations nationwide.
Tiffany Johnson is Parks and Recreation Manager for City of Tukwila.