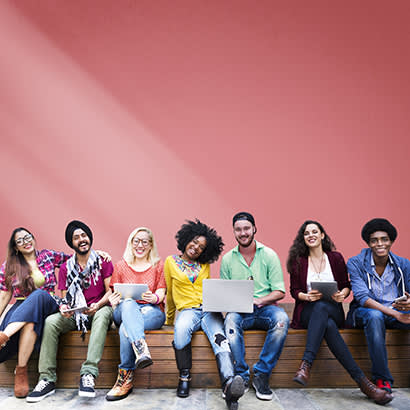 For an enhanced digital experience, read this story in the ezine.
Everyone is talking about how we need diverse workforces to solve challenging problems and bring diverse perspectives to the table. Diversity has been shown to boost creativity, and agencies that embrace diversity are 1.7 times more innovative. Research shows that diverse teams are 87 percent better at making decisions than non-diverse teams. It has been proven that residents and visitors feel more connected to and are more apt to participate in programs and services that use marketing and advertising that depict culturally and ethnically diverse people. Roughly 64 percent of the candidates research an agency online before applying for an opening. One in three will not apply for an agency that lacks diversity. Where does your organization stand?
We know what the real problem is: How do we diversify our workforce during the "Great Resignation?" The American Academy of Park and Recreation Administrators' (AAPRA) Justice, Equity, Diversity and Inclusion (JEDI) Committee has been trying to tackle this very conundrum. Some of us were aware that there are 105 Historically Black Colleges and Universities (HBCUs), but very few of us knew that similarly there are 330 Hispanic Association of Colleges and Universities (HACUs), 411 Hispanic-Serving Institutions (HSIs) and 32 Tribal Colleges and Universities (TCUs) as well. This is the answer! How do we tap into the plethora of diversity that these institutions represent? Parks and recreation is a profession that offers jobs ranging from aquatics to zookeeper and everything in between. Has your organization marketed itself to this untapped diverse population? One of the goals of the JEDI Committee is to market our profession to the HBCUs, HACUs and TCUs across the country.
Implementing Methods for Cultivating Diverse Staff
The JEDI Committee is in the beginning stages of communication with contacts at the White House Initiative on Advancing Educational Equity, Excellence and Economic Opportunity through HBCUs, HACUs, and the TCUs.
There is much more to come on this front, but don't wait for us! An exciting model already exists. Incoming JEDI Committee Chair Seve Ghose, community services director in Fort Collins, Colorado, has created an internship program model specifically for students who attend one of these colleges and universities. In offering the internship, the goal was not only to add much-needed diversity to the staffing structure, but mainly to create future employment opportunities for a marginalized community, with clear focus on succession planning.
To make the program enticing and noteworthy, a market salary of $20 per hour was made available for the duration of the internship — typically 12 weeks. Subsidized housing also was made available, as the agency owns several properties in the city. In Fort Collins, this program is currently going through the scrutiny of the biennial budget process, while it was successfully implemented in Thornton, Colorado. In addition, the intern was required to take on at least one large or two smaller projects that the agency was struggling with.
To top it off, the intern was treated as any other employee — they were offered the perks of the job and participated in all the summer events and programs. With the advent of many universities eliminating parks and recreation and tourism administration programs, creating a seamless inflow of new staff has become a challenge for park and recreation agencies during the past few years. This program makes a dent on both fronts.
While we work on formalized relationships, organizations seeking additional diversity can do several things:
Create an internship specifically targeting these colleges and universities. Advertise in their school newspaper and reach out to the internship coordinator.
Have you or your staff speak at a school to share all of the opportunities for employment in our field/your organization.
When you advertise employment opportunities, share them with these schools.
Reach out to the alumni associations to share opportunities.
Contact the financial aid office of these institutions to share opportunities.
Have a table at freshman orientation.
Set up a table (with permission) outside of the Student Union to share hiring opportunities.
Reach out to the student recreation program and post fliers and job opportunities at the recreation facilities.
Put job opportunities in the recreation staff break room, or wherever the student employees will see it.
It's time to grow and cultivate our staff using different methods. We are all struggling with the Great Resignation and the national lifeguard shortage. There are still tens of thousands of vacancies in recreation and park departments around the country. What we have been doing isn't working. There is a quote that says, "The definition of insanity is doing the same thing over and over again and expecting a different result." The only way to change our results is to try something different. What different methods will you try to take steps toward having your staff reflect the communities you serve and will soon serve as America becomes more diverse?
Tracey Crawford, CTRS, CPRP, is Executive Director at the Northwest Special Recreation Association and Co-Chair of the Academy's JEDI Committee.
Seve Ghose, CPRE, MOL, is Community Services Director for the City of Fort Collins and incoming JEDI Committee Chair.
Roslyn Johnson, CPRP, is Director of Recreation and Parks at Baltimore County and Co-Chair of the Academy's JEDI Committee.