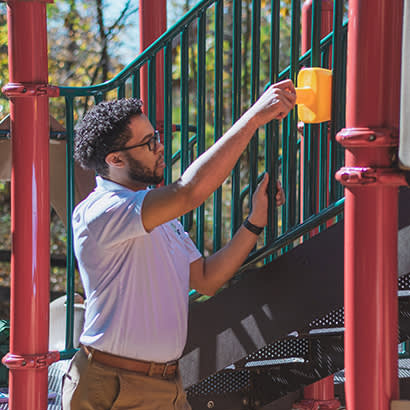 For an enhanced digital experience, read this story in the ezine.
As a longtime Certified Playground Safety Inspector (CPSI), I am often asked for advice about obtaining this certification, which is offered by NRPA. The course concludes with a proctored exam, which is not mandatory, but is necessary to achieve the designation. Keep in mind, the class also must be renewed every three years.
The CPSI class is available three ways: (1) self-study, and then travel to an exam center to take the test; (2) online; or (3) in person.
I prefer the in-person class because it allows me to learn the latest industry news, pose any questions to the experienced instructor(s), participate in the on-site playground inspection (weather permitting) and meet new colleagues.
Here are my tips to help you be properly prepare for the in-person CPSI class:
Plan to take the class well in advance by choosing the best date and location for you.
Open and read the study materials when you receive them.
Keep a running list of questions that you need assistance with.
Before attending the class, consider trying the practice tests available on the NRPA website (for a fee).
Try to stay overnight near the class, since you will want extra time to study, instead of traveling.
If you prefer to study in a group, sign up for the same class as others and coordinate staying overnight at the same hotel, so you can study in the lobby.
Don't plan on working and learning at the same time, since the class is quite time consuming.
Don't enroll in a class during your profession's busy season.
Remember to bring index cards, pencils and a highlighter.
Read over the instructions you receive before class carefully, so you will know what to bring (e.g., proper identification for the exam).
Pack business cards.
Bring a jacket and casual shoes for a trip to a playground.
If unfamiliar with the class location, scout it out before the first day of class, especially since class begins early in the morning.
Sit at the front of the classroom to see clearly and stay focused.
Don't forget to bring your books.
Packing snacks is never a bad idea.
Once the class is completed, it will take a few weeks to receive the results from the exam. This time frame ensures you have just enough time to decompress from the exam before you need to worry about your grade.
Study hard and best wishes!
Joann M. Robertson, CPSI, CPCU, ARM, CSP, is a Certified Playground Safety Inspector and Certified Safety Professional at Playground Medic.