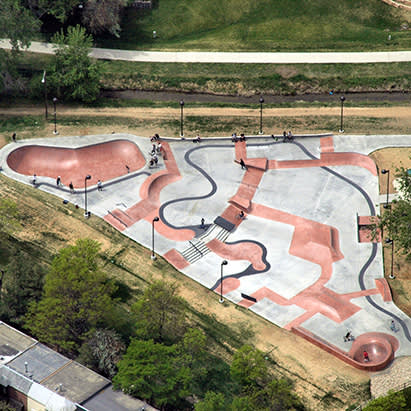 For an enhanced digital experience, read this story in the ezine.
When Skate Park Association International was founded in 1996, the profile of the average skater was 12 to 14 years old, male and a street skater. There was only one public skate park at the time that featured obstacles as tall as 18 inches (all others had a lower height restriction), and as a result, kids were riding in the streets, illegally in most cities.
The profile of the average skater today is much different; it includes people ages 2 to 60 and older; males and females; individuals with disabilities; and skateboarders, bicycle motocrossers (BMXers), scooterers, wheelchair users, and inline and roller skaters. How can a city accommodate all these users?
Free Play
Most youth sports are organized, and they are pay to play. By middle school, tryouts are required and only the top players make the team. This eliminates the opportunity for average and beginner players to participate. By high school, it's very competitive as players are seeking scholarships for college.
Free public skate parks provide a place for all levels of skaters, from beginner to advanced level. All skaters can make friends and have a sense of community and belonging that transfers to any park they visit, worldwide.
"Los Angeles is the epicenter of skateboarding and an outlet for many youth. It's important to provide youth the opportunity to express themselves and have a fun and safe environment to do so," says Sonya Young Jimenez, superintendent of Venice Beach and West Region for City of Los Angeles Department of Recreation and Parks. "The Department of Recreation and Parks has skate parks throughout the city for youth and families to enjoy. Many people do not fit into 'traditional sports,' and providing skate parks allows the opportunity to learn something new and build the skate community."
Bigger and Better Designed Parks
The skate parks today vary from a few ramps to works of art. Budgets have soared from $250,000 to millions of dollars, and cities are pleased with the results. Well-
designed parks attract skaters, their families and events. In turn, local hotels, restaurants and shops all benefit. Skate parks are an excellent way for out-of-the-way or small cities or towns to attract visitors.
In Des Moines, Iowa, "there is an incredible cross section of people who visit Lauridsen Skatepark. There are groups of parents who bring their kids for playdates, incredibly talented young athletes training to be even better, and even older skaters who see a safe but vibrant place to continue to pursue the sport of their youth," says Jessica Lown of Polk County Conservation. "We also hear anecdotally through social media and from local hotels that there are a lot of people who travel to Des Moines just for the skate park.... We think a major part of the attraction for visitors is the fact that Lauridsen is a public park — free and open to everyone."
After-School Programs
After-school programs are not only geared toward elite riders, but also beginners. But most importantly, the programs are focused on the health and fitness of all participants. More often we are seeing these programs offered at public skate parks, either in conjunction with coaches or through park and recreation departments.
In addition to creating job opportunities for young people, these programs get kids moving out in the fresh air. The Centers for Disease Control and Prevention reports that there are 14.7 million obese children in the United States. According to the Mayo Clinic, "Childhood obesity is...particularly troubling because the extra pounds often start children on the path to health problems that were once considered adult problems — diabetes, high blood pressure and high cholesterol. Childhood obesity also can lead to poor self-esteem and depression." Skate parks help to provide diverse programming that provides youth who may not be interested in traditional sports new ways to be active.
Diverse Features for Diverse Users
Bowls and snake runs are elements of skate parks that are easy on the knees, and including them in the design of these spaces can allow older skaters and very young riders to utilize the park. For children under 12 years old, it can be difficult to manage a street course. Thus, by including these features, you open up your park to many more users.
Grassroots Competitions
Grassroots competitions can bring the community together, especially children and their parents. Some cities bring in bands, food trucks, face painting and more to elevate the event into a festival day. Others focus on the competition. Either way, such events garner participants and even spectators who ideally can turn into park users.
The Olympics
With skateboarding and BMX being featured in the 2020, 2024 and 2028 Olympics, we are seeing cities eager to build better parks, or even their first park. At this time, Freestyle BMX is an official Olympic sport. However, skateboarding is still on the invite list through 2028, meaning not all countries can send a team and the International Olympic Committee can't fund it.
Some cities have been approached by organizations to get their park "certified," with fees ranging from $25,000 up to hundreds of thousands of dollars. If you work with a qualified designer or builder, there is no need for public parks to pay certification fees. These kinds of certified training facilities might be best left to private enterprise and not public parks and recreation and parks programs.
Public parks should encourage participation from people of all ages and all levels of development, with an emphasis on beginners. A well-designed and built skate park has and will continue to do this.
Heidi Lemmon is Executive Director of Skate Park Association International.