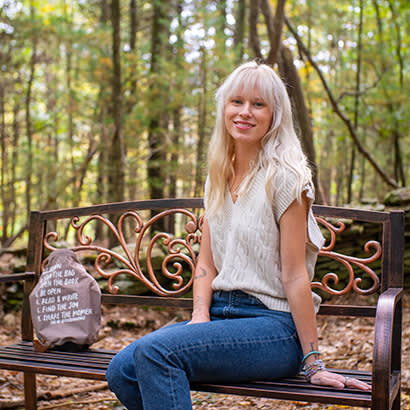 For an enhanced digital experience, read this story in the ezine.
"This would be a great place for a bench." At The Bench Project, our mission is to inspire and nurture the human spirit by enabling connection through a shared experience, one bench at a time.
It all started in 2013 with 20 benches, as a celebration of 20 years of marriage. I placed each bench on our family farm with great intention, choosing places with an inspiring view, peaceful surroundings or thought-provoking silence. I wanted to be sure that this experience could live on, so I placed a journal and pen inside a weatherproof bag at each bench — allowing anyone who sat there to share their own amazing experience.
The parts of The Bench Project are pretty simple: a bench, a book and a bag. Whether it's a physical book and bag at your favorite bench, or a bench tag with a unique quick response (QR) code to connect you to the virtual journal, people all over the world can share "bench moments" together. That's what it's all about: reflecting, connecting and being part of a shared experience. By sharing your words and your story with our community, it'll lighten your load, connect you to gratitude, and inspire the next person who sits on that same bench.
My vision for The Bench Project is a global presence with an app where people can find public benches all over the world. As part of this vision, I see a wonderful partnership with local park and recreation agencies. Parks give us the opportunity to get outside and enjoy nature. The Bench Project creates meaningful experiences outdoors for individuals and communities alike. Our ecosystem of benches fosters a connection to the collective human experience.
My hope is that through The Bench Project we can gain connection and a return to something simple. Part of the healing experience of sitting on a bench and participating in a shared journal is both sharing your story and reading the stories of the people who sat before you. Whether you write about something beautiful that will inspire the next reader or something heavy you need to stop carrying with you, either way, it feels good to leave it at the bench.
We will make an impact on our world, our communities and humanity, together.
Get outside to go inside. Come sit with us.
To learn more, visit thebenchproject.net, or find us on Instagram and Facebook @thebenchproj.
Beth Romanowski is Founder of The Bench Project.