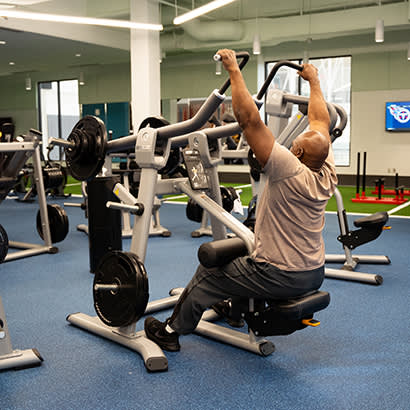 For an enhanced digital experience, read this story in the ezine.
Nestled on 120 acres of parkland, a mere four miles from Charlotte (North Carolina) center city, is Eastway Regional — Mecklenburg County's newest recreation center. The Eastway Regional buildout has been a part of discussions, planning, advocacy and construction for the past 20 years, with many stakeholders working toward a shared goal: creating cutting-edge recreation for the east side of town.
The initial project buildout was funded in 1999 and 2004 via bond measures, focusing on self-led outdoor park amenities. In 2008, voters approved a park bond package that included buildout of indoor spaces at Eastway Regional, slated to be the second of four proposed locations. Local neighborhood groups were not satisfied with projected buildout timelines and advocated directly to elected officials and recreation leadership, leading Eastway Regional to become indoor recreation priority number one. Meanwhile, light rail public transit and urban buildout continued to boom in the neighborhood between 2008 and 2018, and Eastway Regional found itself at a three-way intersection between historic art district-turned-millennial hotspot North Davidson (NoDa); predominately Black and Latino residential area Hidden Valley; and drastically ethnic-, cultural-, age- and income-diverse Plaza-Eastway neighborhoods. Nowhere else in Mecklenburg County does a 20-minute drive time service area capture a more diverse population of residents.
During planning, the community prioritized regional amenities, including multiple gymnasiums, two indoor pools, fitness studios, a senior center, a nature center, a tech lab, and flexible multipurpose spaces. Operation of these spaces, while delayed initially due to the coronavirus (COVID-19) pandemic and labor market restrictions, has been a roaring success with patrons raving over the design and functionality of the facility.
Recently, with equity and access becoming dominant themes of a renewed community focus, questions naturally came up: What type of user, and from what area of the county (or beyond) is the facility serving? Does a regional recreation facility serve the neighborhood in which it was placed, or do the "haves" travel to the area to use amenities and programs that only they can afford or access?
The important conversation and recognition of who has access to and ultimately utilizes the typical regional recreation facility has come to the forefront. While we know users in Mecklenburg County are more likely to travel farther distances to access aquatic facilities, nature and senior centers (based on pre-opening data of other county facilities), Eastway Regional staff have been deliberate in marketing and providing requested services to the immediate surrounding community as well. Data from the third quarter of 2021 shows that 75 percent of facility users live within a 3.5-mile radius, indicating that this intentional dedication to inclusion for all abilities, financial means and ages has been successful. These usage trends are comparable with other traditional neighborhood recreation and senior facilities in the area and show how successfully a facility with regional draw can still serve the immediate surrounding community as well.
Mecklenburg County staff are encouraged by the immediate success of such a wonderful public amenity and seek to continue expanding services and recreation opportunities via Northern Regional, another new recreation facility, which is anticipated to be available for public use by April/May of 2022.
Daniel Leatherman, CPRE, is Recreation Manager at Eastway Regional for Mecklenburg County Park and Recreation.