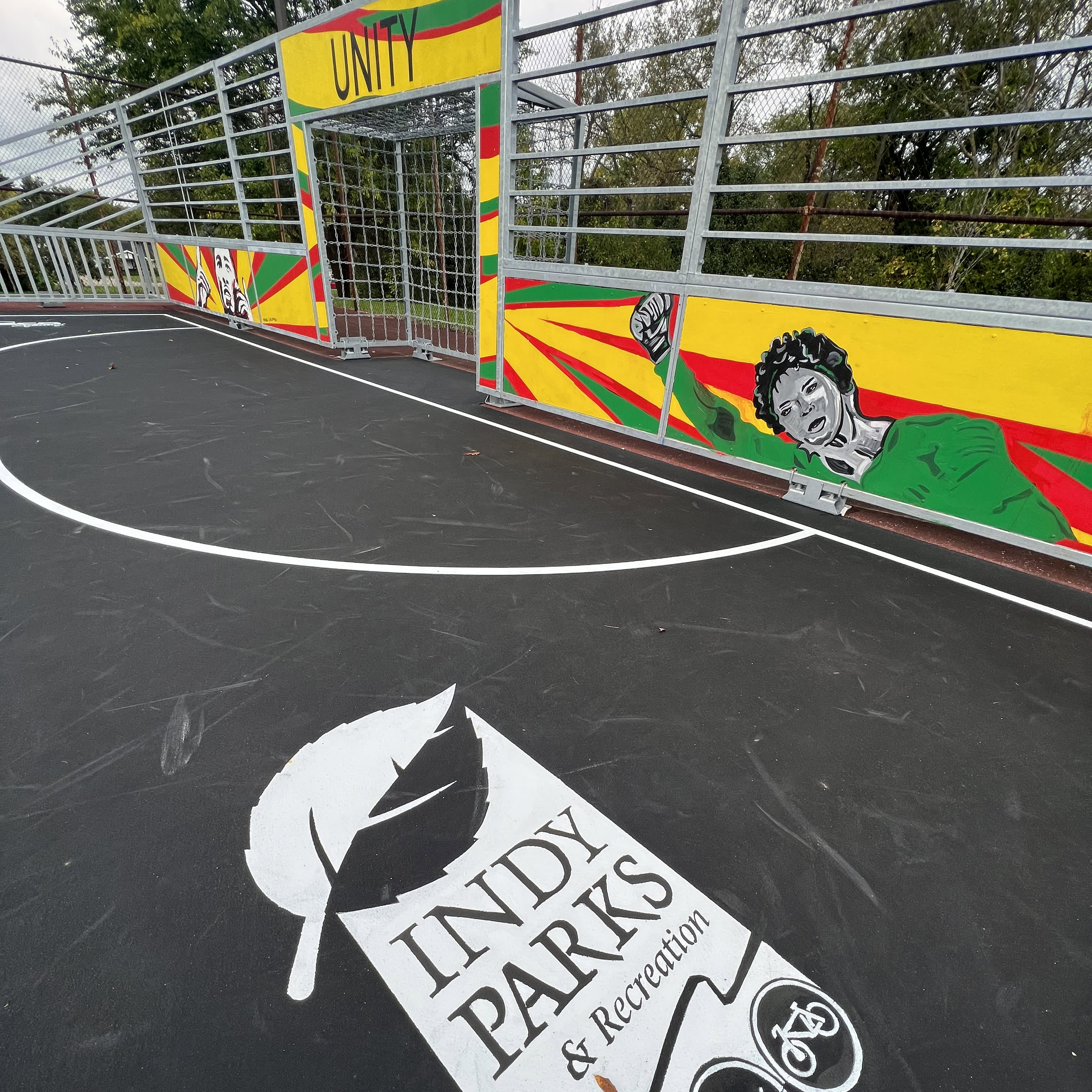 For an enhanced digital experience, read this story in the ezine.
These days, much is said about equity in representation, but less is said about equity in recreation. According to a study published in the American Journal of Preventative Medicine in 2008, 70 percent of African American neighborhoods lacked recreational facilities. The Aspen Institute's State of Play 2021 report adds that only about 35 percent of Black children ages 6 to 12 play sports regularly. In urban areas, lack of space and concerns about safety create further barriers that keep children of color from participating in sports.
Teaming Up to
Create Change
To address these issues, the U.S. Soccer Foundation reached out to Musco Lighting in 2018, to develop a solution that could transform unused spaces into lighted mini-soccer pitches. The result was the Mini-Pitch System™ modular sports solution, which includes fencing, goals, LED lighting and Americans with Disabilities Act-compliant access. To date, the U.S. Soccer Foundation has installed almost 500 mini-pitches across the United States.
In September 2020, Black Players for Change (BPC) — an organization comprised of more than 170 Major League Soccer players, coaches and staff — partnered with the U.S. Soccer Foundation and Musco Lighting to install 12 mini-pitches in communities of significance to the BPC's 12 executive board members over the following year.
By the end of January 2021, adidas and the Black Women's Player Collective (BWPC) — comprised of the 43 Black women competing in the National Women's Soccer League — also had joined the effort.
Opening Doors and Eyes
Over the past year, mini-pitches have opened at parks and schools from California to Texas to New York, each featuring images of multiple members of BPC and/or the BWPC. The mini-pitch at Indianapolis' Oscar Charleston Park features murals that also depict entrepreneur Madam C.J. Walker, baseball player Oscar Charleston and Olympic gold medalist Briana Scurry.
At the unveiling ceremony for each mini-pitch, members of the BPC and/or BWPC spoke about topics related to race and social justice and led soccer-related activities for local youth. The professional athletes also have connected with students virtually and through other events to serve as role models and mentors.
"It's important for Black children to see people who look like them and who have made it to the highest levels of their careers," says U.S. Soccer Foundation President and CEO Ed Foster-Simeon. "Not only do children now have more safe places to play right in their neighborhoods, but [also] they have been connected with athletes and mentors who look like them, which is so important to helping them see themselves in all aspects of our sport and society."
The Initiative Expands
The impact of these pitches attracted the attention of other organizations, such as Mutual Assistance Network and Sacramento Republic FC, which this past December helped sponsor the first-ever, four-court mini-pitch complex at Charles Robertson Park. By the end of 2021, the initiative surpassed its goal and completed 18 mini-pitches.
"Every mini-pitch installed through this initiative represents new opportunities for youth to discover the sport of soccer, develop essential life skills and have fun," says Musco President Jeff Rogers. "We couldn't be prouder of everything that's been achieved in the first year, and we look forward to strengthening our commitment to Black Players for Change, the Black Women's Player Collective and the U.S. Soccer Foundation as we move ahead and continue with this important work."
Eduardo Tamez Zamarripa is Soccer Market Manager at Musco Lighting.