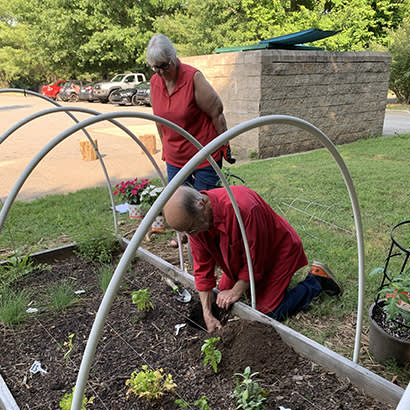 For an enhanced digital experience, read this story in the ezine.
How parks and recreation is helping to create healthier people and happier communities
Park and recreation professionals are key to a fully integrated public health system. As stewards of Community Wellness Hubs, park and recreation professionals play a vital role in meeting the evolving health needs of their community members and creating the conditions that lead to optimal health and social outcomes. With public health and social challenges continuing to escalate and disproportionately impact Black, Indigenous, people of color and low-income communities, park and recreation professionals must build solutions that address the root causes of health and social inequities to advance community health and well-being.
NRPA defines Community Wellness Hubs as trusted gathering places that connect every member of the community to essential programs, services and spaces that advance health equity, improve health outcomes and enhance quality of life. Community Wellness Hubs build on the existing strengths, assets and foundations of local park and recreation agencies to create greater public awareness about health and well-being. They reinforce this work by leveraging partnerships and the resources, skills and knowledge of other sectors to integrate new programs and services across multiple dimensions of well-being into the community. Community Wellness Hubs call upon park and recreation agencies to function in a more holistic, intentional and interconnected way.
At the core of this work is equity. Community Wellness Hubs are grounded in a recognition of unfair systems and how these systems have primarily benefited powerful and privileged social groups while burdening disenfranchised populations. To advance health equity, Community Wellness Hubs must be developed by and with the people most impacted by inequity, and they must focus on systems change approaches, including changing practices, policies, power structures, norms and environments to achieve transformational change.
Between 2020 and early 2022, NRPA worked with 15 communities to develop Community Wellness Hubs specifically focused on supporting food access, improving food security, connecting people to social resources, and providing
evidence-based nutrition education to improve healthy eating behaviors. These projects built off the existing nutrition services that park and recreation agencies were already providing to community members (serving as meal sites for youth and older adults, providing nutrition education, supporting community gardens, managing farmers markets and providing mobile meal services). They also worked to advance innovative and upstream approaches to increase access to healthy food. With support from NRPA and a network of technical assistance providers, including the Alliance for a Healthier Generation, National Association of County and City Health Officials, Farmers Market Coalition and the Food Research and Action Center, grantees were guided through an 18-month-long process to center equity within their operations, programs and services, and implement systems change strategies.
Challenging Norms and Understanding Community Needs
In the first phase of the grant, agencies were guided through two primary phases — partnership building and conducting a needs assessment to better understand community challenges and wants. Agencies formed cross-sector project teams and worked as teams to conduct a needs assessment. Fifteen needs assessments were conducted across the cohort, providing community and individual-level data that was used to inform their hub strategies.
City of Bloomington (Indiana) Parks and Recreation partnered with The Indiana University, School of Public Health Department of Health and Wellness Design – Bloomington to construct and implement a health and nutrition needs assessment survey. Many of the survey results countered what they anticipated and re-directed their attention to the true issues and problems in their community, and opportunities where the park and recreation department could better serve community members at the Banneker Community Center and beyond. Bloomington staff shared that they anticipated the grant to be the conduit for accelerating and expanding nutrition programs. Instead, the assessment demonstrated more opportunity to support their families locally across the community and develop better internal systems, processes and culturally relevant partnerships before expanding the hub.
Bloomington Parks and Recreation prioritized relationship building with other community-based organizations and successfully formed a mutually beneficial partnership with the Plant Truck Project (PTP), a farming initiative led by Black people, Indigenous groups and people of color. PTP worked with its team on design upgrades to the backyard garden space at the Banneker Community Center and to conduct maintenance of the garden. What's more, summer camp participants were provided with hands-on gardening and nutrition education led by people who reflect the community being served. PTP's support and leadership in developing the backyard garden space and working with youth participants were incredibly impactful for youth, families and staff.
In a focus group conducted in Bloomington, one community member, who is a parent, explained that she was motivated by "the continuity of care and knowing that [her] children are safe." She added, "It's like a family." Beyond a safe environment, the parent was comforted by the fact that the staff were relatable to her and her children and that, "to find somebody that looks like [her children] and incorporates these things — it is a whole other level of comfort and security," she noted. Another community member added, "[Banneker community center] remains a very trusting environment for folks, particularly in the Black community."
Changing Environments, Practices and Policies
The second phase of the grant focused on utilizing community input and engaging community members to develop implementation plans and put plans into action. Approaches that focused on system-wide change and long-term sustainability were encouraged. In West Allis-West Milwaukee, Wisconsin, the West Allis-West Milwaukee Recreation and Community Services department created a new program, changing the structure and social environments where meals were served to youth to provide family programming. The Family Meals at the Park program was held once a week in the local park as a sit-down family meal event. Using data to determine the ideal location to provide this service, the program was held in a park where the highest percentage of children qualifying for free and/or reduced meals reside. This helped reduce transportation barriers and increase community access to the free meals.
Through the U.S. Department of Agriculture (USDA) Summer Food Service Program and in partnership with the school district food service vendor and a local food bank, families were able to enjoy a nutritious hot meal together and participate in nutrition education activities provided by a West-Allis Health Department dietician. The program participation, community engagement and nutrition education, which were all products and results of the program, were all significant successes. By coupling its Family Meals at the Park program with its existing Summer Food Service Program, West Allis-West Milwaukee Recreation and Community Services leveraged a captive audience for food access programming that could serve families across generations. Hot meals were catered and served "sit down" restaurant style to make families feel welcomed, special and less stressed from mealtime. Each week, families also went home with activities and supplies that supported the nutrition education lessons provided that week. Community members felt the impact of the program, with more than 50 percent of participants agreeing that outreach and resource materials provided through the Family Meals at the Park program were beneficial.
In Little Rock, Arkansas, the Central Arkansas Library System (CALS) and City of Little Rock, in conjunction with the Be Mighty Little Rock program, worked to increase the number of meals served to children from low-income families through federal nutrition programs by offering meal service at all library locations on Saturdays. Prior to 2020, there were only two to three meal sites operating on weekends. Now, children can get meals from their local library six days a week. On Saturdays, they can get two meals. They also standardized their summer meal offerings, updating a pre-2020 process where libraries decided if they wanted to serve breakfast and lunch. Many opted to only serve lunch due to the need to serve the meals at different times, with a certain amount of time between meals. With the waivers issued by USDA during coronavirus (COVID-19), meal program sites were able to distribute breakfast and lunch meals at the same time.
Piloting New Approaches Through Partnership
Each grantee implemented its hub model, using a variety of methods to influence community health outcomes. The combination of nutrition education, structural design of accessible community gardens and farmers markets, Supplemental Nutrition Assistance Program (SNAP), Special Supplemental Nutrition Program for Women, Infants and Children (WIC), and Pandemic Electronic Benefit Transfer (P-EBT) outreach and enrollment assistance, and policies and practices to increase health equity, all contributed to effective, sustainable, multi-layered interventions for improved community health and well-being. Partnerships were key to these successes.
Little Rock made significant community impact providing SNAP outreach and enrollment assistance. The grant allowed CALS and City of Little Rock to have additional staff at a dozen libraries and community centers, trained to support SNAP application assistance. They partnered with the Arkansas Hunger Relief Alliance to train associates in conducting SNAP enrollment, so they could support community members in applying for and managing SNAP benefits. They conducted food security screenings to inform which resources, such as SNAP, could support each individual through a referral system. In just one year, City of Little Rock and CALS supported 7,495 families with SNAP/WIC enrollment assistance.
In Asheville, North Carolina, Asheville Parks and Recreation's influence on community garden development and education grew substantially. With a community partner, the department built new community gardens to increase community access to free, fresh, healthy foods. This environmental change was supplemented with partner-led garden education that demonstrated how residents can grow their own food in Asheville community gardens, and with grow-your-own food pots distributed to older adults. To supplement garden education and awareness, local artists were commissioned for art pieces to highlight the community gardens in a newly developed adult coloring book. The coloring book included a food resource guide to assist neighbors with locating food resources in Asheville. The work has reinvigorated interest in a community garden council that will connect community gardeners and initiatives for increased food access at the county level.
The Impact
Across all agencies, 17.9 million meals were served to individuals, 228 food access points were established, 327 partnerships were formed or strengthened, and more than 31,000 households were provided with SNAP/WIC outreach. The nutrition education programming also influenced health outcomes with 30 percent of youth increasing their fruit consumption and 35 percent increasing their vegetable consumption. Twenty-seven percent of youth reported a positive increase in meals prepared at home with family and 21 percent of youth reported increased confidence in making healthy food choices. The programming had additional mental health benefits as well, with adults who participated in nutrition education ranking themselves higher via pre- and post-surveys in every quality-of-life indicator, including overall life satisfaction.
Another element of success was the intentional effort to center health equity within this grant, and within each of the Community Wellness Hubs. NRPA worked with Epic Health Solutions to develop Elevating Health Equity Through Parks and Recreation: A Framework for Action over the grant period. Grantees contributed to the shaping of this framework and received direct training and technical assistance from Epic Health Solutions and NRPA during the course of the project. Through the training and assistance provided, 14 percent of professionals reported an increase in health equity knowledge and issues of health equity and social justice, while 43 percent of professionals increased knowledge related to social determinants of health. Feedback from the health equity training and technical assistance sessions included a recognition that "advancing equity requires walking toward discomfort" and having uncomfortable conversations to challenge biases, shift norms and develop concrete goals and objectives to center equity. Grantees also expressed a deeper understanding of systems change approaches and a mindset that embraces continuous improvement. As shared by Integral Youth Services in Klamath, Oregon, "The work is also never fully complete. There are always going to be ways the program can do better."
Moving forward, NRPA will be supporting a second cohort of 15 grantees to create Community Wellness Hubs, working alongside them as they conduct health equity assessments, develop equity action plans, and move through health equity integration in support of advancing community health and well-being. A Community Wellness Hub toolkit and evaluation framework will be released in the summer of 2022 to help park and recreation professionals across the country advance health equity.
Allison Colman is NRPA's Director of Health. Maureen Neumann is NRPA's Senior Program Manager. Liliana Ruiz Fischer is NRPA's Program Specialist.