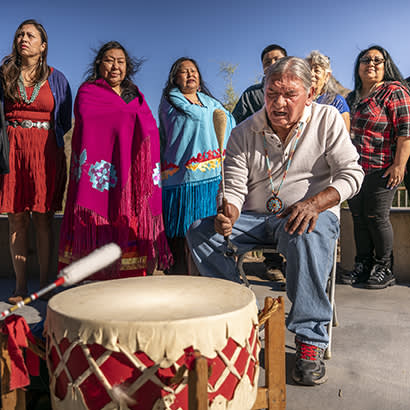 For an enhanced digital experience, read this story in the ezine.
The story behind the cover photo of the July issue of Parks & Recreation magazine
It's no secret that July is a favorite month of the year for many park and recreation professionals across the country and members of their communities. After all, July is Park and Recreation Month. Since 1985, people in the United States have celebrated Park and Recreation Month in July to promote building strong, vibrant and resilient communities through the power of parks and recreation and to recognize the more than 160,000 full-time park and recreation professionals — along with hundreds of thousands of part-time and seasonal workers and volunteers — who maintain our country's local, state and community parks.
This year's Park and Recreation Month theme, "We Rise Up for Parks and Recreation," brings attention to how important it is to rise up and support our field, because every day, park and recreation professionals rise up for their communities in service of equity, climate-readiness, and overall health and well-being. And, our month-long celebration kicks off by highlighting the winner of our annual Park and Recreation Month Cover Contest.
Our July cover photo was taken during the tribal dedication of the Ocotillo Ramada at Piestewa Peak in Phoenix. Formerly known as "Squaw Peak," the derogatory name was changed in honor of U.S. Army Private Lori Piestewa, who lost her life at the age of 23 during the Iraq War in 2003 — the same attack that injured Jessica Lynch and killed other service members. Piestewa, a member of the Hopi Tribe, was the first Native American woman to lose her life in overseas combat while serving in the U.S. military.
Since Piestewa's death, City of Phoenix has hosted the annual Piestewa Fallen Heroes Sunrise Memorial event to honor Piestewa's sacrifice, as well as the sacrifices of other fallen heroes. However, due to the coronavirus (COVID-19) pandemic, the memorial event was put on hold in 2020. During the fall of 2021, Piestewa's family was finally able to gather again in person to honor her with the dedication of the newly-renovated Ocotillo Ramada.
Who Was Lori Piestewa?
Piestewa was the youngest of four children and very quiet as a child, but also very outgoing. Although they may seem like conflicting traits, these attributes manifested as her being a person who constantly wanted to help others, but never wanted the recognition that came along with it.
"She was always helping. Whether it was her friend or somebody who was having some kind of crisis, she was always there to help somebody out," says Percy Piestewa, Lori's mother. "Even the way she perished; she was helping her friend Jessica [Lynch]. That's just who Lori was."
She also was a very active — and tough — kid. She was a commander in the Reserve Officers' Training Corps (ROTC) and on the ROTC fitness team for four years in high school. She also was a talented softball player. Her mother recalls one time when she dislocated her shoulder and continued to compete in a fitness event the next day:
"She threw her shoulder out at a softball game on Friday, and then after the game we had to travel to Las Vegas for her physical fitness competition. We iced her arm every hour — we'd ice it, then the next hour we could eat, then we'd ice it again. A doctor had to pop her shoulder back in place, and she still competed the next day as a top athlete for the ROTC," says Percy.
Piestewa loved her children, Brandon Whiterock and Carla Piestewa, as well. When she decided to enlist in the military, Percy and her husband, Terry, took care of the children, and some of their fondest memories are of visiting her at Fort Bliss in North Carolina every other week to enjoy time with her and Lynch before they deployed. And while Whiterock was only 4 years old when his mother passed away, he still remembers how caring she was and how she was always there for him.
"Everything I remember is just from being small, being raised in North Carolina for a couple of years, but she was always very, very caring and always there to take care of us," says Whiterock. "Especially when my sister came into the picture, you'd think me being the oldest that I would get shut out a little bit, because you have a baby sister who is like identical to my mom and super cute. But no, she showed the exact same love. She just showed us so much love."
What's in a Name?
After Private Piestewa's death in 2003, Janet Napolitano, the former Governor of Arizona, called for the renaming of Squaw Peak, due to "squaw" being a racist, misogynistic and derogatory term that is offensive to Native Americans, specifically Native American women. In April 2003, the Arizona State Board on Geographic and Historic Names voted 5-1 in favor of changing the name to Piestewa Peak, in honor of Lori Piestewa.
"It's like a jewel in the middle of a large metropolitan area. I'm very humble, but proud that the name of this great mountain honors not only Lori, but all the veterans who have sacrificed so much," says Percy. "From the very beginning, my husband Terry — who passed away almost five years ago — and I have insisted that the renaming of the mountain stands for all our heroes."
Due to the large Native American population in Arizona, it was important for the city to acknowledge that it was offensive to have a major landmark with a derogatory name. Further, City of Phoenix Parks and Recreation Department honored local Native American tribes with a land acknowledgement statement:
"The Parks and Recreation Department acknowledges the City of Phoenix is located within the homeland of the O'Odham and Piipaash peoples and their ancestors, who have inhabited this landscape from time immemorial to present day. The landscape is sacred and reflects cultural values central to the O'Odham and Piipaash way of life and their self-definition. This acknowledgment demonstrates our commitment to work in partnership with the Ancestral Indigenous Communities to foster understanding, appreciation and respect for this heritage.
The Salt River Pima-Maricopa Indian Community (SRP-MIC) and the Gila River Indian Community (GRIC) claim aboriginal title (Original Indian Title) to lands exclusively used and occupied by the Akimel O'Odham and Piipaash equaling 3,751,000 acres of South-Central Arizona. Ancestral O'Odham settlements are located throughout the entirety of present-day Phoenix. This land continues to be spiritually connected to the O'Odham of the SRP-MIC and the GRIC, both of which are confederations of two unique cultures with their own languages, customs, cultures, religions and histories. Both the O'Odham and the Piipaash are oral history cultures, and the song cultures of these people are specifically tied to tangible places. These places can be natural landforms like the mountains that surround our valleys, but they also include archaeological sites because they are part of a cultural landscape associated with specific historic, cultural and religious values. Those places are tangible reminders to the O'Odham and Piipaash about shared attitudes, goals and practices that characterize who they are, where they belong and how they related to each other in the past, continuing today and into the future. The Parks and Recreation Department has preserved and continues to steward several Ancestral O'Odham sites and landscapes, and is committed to honor the vital meaning and intent of this land acknowledgment statement."
A Dedication for Fallen Heroes
Due to the annual memorial for Private Piestewa being placed on hold in 2020 and 2021 because of COVID-19, Cynthia Aguilar, director of City of Phoenix Parks and Recreation, knew the Piestewa family should be involved when it came time to dedicate the Ocotillo Ramada at Piestewa Peak in the fall of 2021.
The dedication included the unveiling of award-winning updates to Piestewa Peak's Ocotillo Trailhead, where more than 77,000 square feet of improvements were made, including new trailhead access, Americans with Disabilities Act (ADA)-accessible restrooms, parking and drinking fountains. The project was funded by the voter-approved Phoenix Parks and Preserve Initiative.
"Recognizing that this place is not like a typical park, and that there's a lot of history involved here, we really wanted to do something that included the Piestewa family when we reopened [Piestewa Peak]," says Aguilar. "We just wanted it to be something significant and meaningful, and it was just such a meaningful day for us to have them present."
The dedication and annual memorial event is extremely meaningful for the Piestewa family, as well.
"It brings healing to me in a way, because my mom's comrades and people who were with her on the day she passed come to her memorial every year," says Whiterock. "They want to talk to me and they bring up the good times, the good memories of her. We also bring up the hard memories that are difficult to talk about, but it helps me heal."
Whiterock says having that community of support has helped him get through some monumental things in life, such as graduating from Northern Arizona University, which he recently accomplished. He now works on campus at the Veterans Center, where he assists veterans and their dependents with military education benefits.
"Just knowing that they're still here and supportive of our family and other veterans, and what we want the mountain to stand for, it's just amazing," he says. "Coming together through tragedy and finding something else is just amazing, and something that in our darkest days helps us find light."
Making Piestewa Peak More Accessible and Honoring the Original Stewards
Mountain preserves are such an important part of the history in Phoenix, and the parks and recreation department recognized there was some necessary work that needed to be done in order for Piestewa Peak to be more accessible. Nearly a million people from all over the country visit Piestewa Peak each year, so it was important to invest in this space to ensure everyone is able to enjoy it.
"So many people come to enjoy and explore our trails, but we also wanted to provide space for people who maybe just wanted an opportunity to come, sit and enjoy the serene environment, and maybe pay respect to their culture or history," says Aguilar. "We didn't have a space like that up here before, so the Ocotillo Ramada at Piestewa Peak provides that. But it's so much more than just a ramada, it provides a space to pay respect to Lori, her family and their culture."
Besides the ramada, the department installed ADA-accessible restrooms and other improvements, like trail connections, so that more people could access the beautiful spaces within Piestewa Peak. The department also met with and solicited input from the Hopi Tribe's cultural preservation officer, as well as historic preservation officers from the Gila River Indian Community and the Salt River Pima-Maricopa Indian Community.
"We work closely with the local tribes and have some really well-established relationships with them," says Aguilar. "We work closely to maintain those relationships, so that we can make sure our projects are reflective of what they would like to see us doing in the community."
Whiterock agrees, recognizing the significance of the inhabitants of the land Piestewa Peak sits on.
"It's important to know that our Indigenous neighbors are there, too," he says. "It's just important to pay that respect, knowing this is actually their land and how important it is for us to acknowledge that."
A Space to Honor and Heal
Percy is grateful for all the people who worked so hard to honor her daughter, especially the hikers of Piestewa Peak, who provided a lot of the funding for the Ocotillo Ramada renovation project. She also is extremely grateful for the park and recreation professionals in Phoenix who have dedicated so much of their time and energy to this space.
"We can't forget the workers — the stewards of the mountain — who clean it up and make all of the improvements," she says. "We need to thank them because they are there pretty much on a daily basis to make sure the park is up to par."
Aguilar is extremely proud of how things have come together and how the park and recreation department staff serve such a diverse population. She says it's amazing to see so many people enjoying this space in so many different ways.
For Whiterock, he is grateful that this space is available not only to honor and remember his mother, but also for others who have lost a family member serving in the military.
"Being in the footsteps of having to lose a mom — and I'm probably not the only military dependent who has lost a parent — it's just a true healing place where I can just be myself, talk to people and let other emotions out," he says. "It's just a safe place, and I want to let other Gold Star families know that it's a welcoming place for everyone."
Visiting Piestewa Peak
NRPA is proud to be traveling to Phoenix for the 2022 NRPA Annual Conference this September 20-22. If you are attending, we encourage you to visit Piestewa Peak and pay tribute to Private Lori Piestewa and all the others this mountain honors. Surrounding the base of the 2,608-foot Piestewa Peak, Phoenix Mountains Park and Recreation Area and Dreamy Draw Recreation Area are gateways into diverse desert landscapes that offer everything from fantastic views to secluded valleys. This area boasts dozens of miles of multiuse trails. The Piestewa Peak Trailhead and Ocotillo Ramada can be found at 2701 Piestewa Peak Drive in Phoenix.
To hear more from Percy Piestewa, Brandon Whiterock and Cynthia Aguilar, tune in to the July bonus episode of Open Space Radio.
To learn more about how "We Rise Up for Parks and Recreation" during Park and Recreation Month, visit nrpa.org/July.
Cort Jones (he/him) is NRPA's Manager of Strategic Communications.