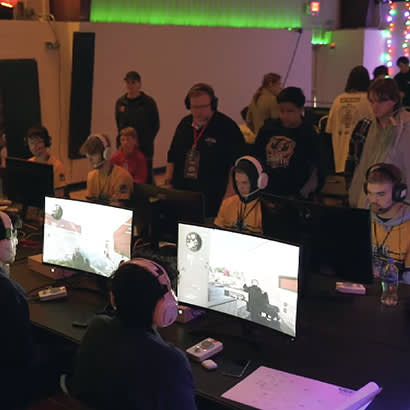 For an enhanced digital experience, read this story in the ezine.
Esports, defined as competitive gaming in a structured environment, is making its way onto the park and recreation scene, and Altus Parks and Recreation is leading the way in Oklahoma. On December 18, 2021, 11 high school esports teams entered the Altus City Gym for the first-ever Oklahoma Call of Duty High School State Tournament, ready to compete against one another for the state title. Altus Esports League (AESL), Click Gaming and Oklahoma Scholastic Esports (OKSE) partnered together to host the massive esports event in Altus that included a total of 44 high school esports student-athletes, 14 coaches, 10 schools from across the state of Oklahoma, two universities (University of Oklahoma and Oklahoma City University), more than 200 in-person spectators, greater than 2,000 spectators live on Twitch, and more than 60 local sponsors. The event created lasting memories, friendships, rivalries and smiles from the student-athletes and coaches who competed.
Before Rec the Halls, Altus Parks and Recreation hosted multiple esports open house events to introduce the general public to what an esports event and venue could be. Approximately 40 people attended the first event, while the second open house event grew to about 100 attendees.
Rec the Halls has been described by coaches, players and spectators as memorable, flashy, fun, exciting, intense, competitive and much more. Each coach and player who was interviewed specifically mentioned the atmosphere being everything you would expect an esports event of this magnitude to be and more; some even claiming, "You'll never get an experience quite like it without coming to see it in person." Brian Morris, executive director of OKSE, says, "Rec the Halls is an annual staple in the Oklahoma Scholastic Esports list of tournaments. It provides students a chance to compete in front of people [who] might not get to see them compete anywhere else."
Rec the Halls II is upping the ante and is currently planned for December 2-3, 2022. The event is being expanded from one game to nine. Laying host to Call of Duty: Vanguard, Halo Infinite and many more games, the event will be changed from a state tournament to a playoff for a spot in the state tournament that will be hosted by Clinton High School two weeks later. Eighty-eight high school teams will compete in total. On top of hosting the Call of Duty and Halo playoffs and Super Smash Brothers qualifier for OKSE, Altus Parks and Recreation will be partnering with Texoma eSports to host its regional qualifier for Super Smash Brothers that will be open to the public. Its latest regional qualifier, "No Man's Land," brought in nearly 200 Super Smash Brothers players from all over the United States. Altus Parks and Recreation looks forward to Rec the Halls growing more and more as the years go on.
Altus Esports League is the branding that Altus Parks and Recreation uses for any esports related activities. OKSE is the K12 organization responsible for governing and overseeing the esports competitions of more than 60 school districts as they play year-round. Click Gaming is owned and operated by Johnny Ryan Weaver, known to the esports world as "Icychiller." Esports is short for electronic sports.
Tyler M. Gray, M.Ed., is a Recreation Programmer at Altus Parks and Recreation.