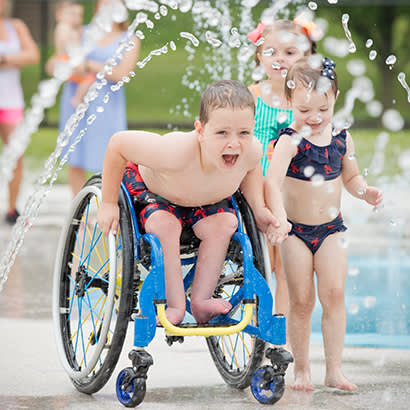 For an enhanced digital experience, read this story in the ezine.
City of Parkersburg, West Virginia, opened City Park Pool in the late 1930s, which drew large crowds. But as preferences for recreation and entertainment evolved, residents lost interest in the facility. Rather than close the pool, however, the city chose to expand the space to include a splash pad that would welcome children and families of all abilities.
"It was not an option for us to build a brand-new water park facility," says Rickie Yeager, development director at City of Parkersburg. "We considered creating a smaller splash pad that would be free to the public, but our research showed the most meaningful impact would be to connect a splash pad to the existing pool, thereby enhancing the facility."
That realization allowed for the city to make City Park Pool a true destination for residents. In addition to creating a fully inclusive splash pad, the city rehabbed the entire space — an Americans with Disabilities Act-compliant ramp was added to the pool, as well as rock climbing walls, a zip line and a new concession stand.
Prior to starting the splash pad design, the project team looked at demographic and health data from the City of Parkersburg, Wood County and Mid-Ohio Valley region. They found that nearly 1,500 young people, individuals ages 18 and younger, have cognitive disabilities or use some type of mobility device. In addition, City of Parkersburg engaged residents to ensure the splash pad met the needs of all the people using the facility.
"Our goal was to provide a space where individuals of all abilities have the opportunity to do something fun and interactive," says Parkersburg Mayor Tom Joyce.
Together with Aquatix® by Landscape Structures and Sparks@Play, City of Parkersburg created an inclusive spray park design. The design encompasses more than 7,600 square feet and delivers fun, safe play experiences in three developmentally appropriate zones.
"It was important to create a space that all age groups could be playing in at the same time," says Yeager.
When designing inclusive spray parks, it's important to consider the placement of spray features, and the project team did just that. The features were created to allow kids to step back and experience a calming moment. A blue ribbon that runs throughout the surfacing design, which mimics the nearby Ohio and Little Kanawha Rivers, guides users to activities with gentle flows that are in or just beyond that mark.
To further embrace inclusive, team and group spray play, the design included a spray station where individuals of all physical and cognitive abilities can gather together to learn and socialize.
In addition to the fun and playful aspects of the splash pad design, City of Parkersburg chose a recirculation system to save millions of gallons of water annually. The City Park splash pad recirculates 4,000 gallons of water at any given time.
The splash pad at City Park Pool opened in May 2019 to rave reviews. The attendance numbers alone speak volumes — participation increased by 700 percent over previous years. While the splash pad opened successfully, the city continues to emphasize the inclusive aspects of this amenity.
Greg Stoks is Director of Product Innovation at Aquatix by Landscape Structures Inc.