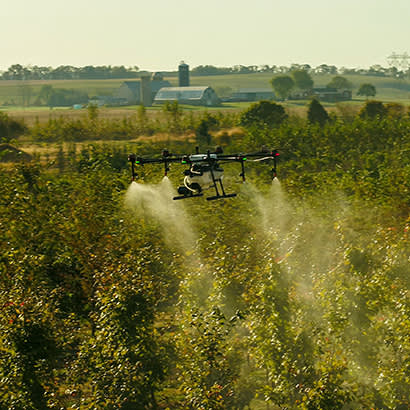 For an enhanced digital experience, read this story in the ezine.
A prediction of what trends will impact the field of parks and recreation in the upcoming year
It is once again time for the Top Trends in Parks and Recreation — an eclectic, sometimes cheeky collection of observations and predictions about what will be the most significant trends to emerge in the field and industry of parks and recreation in 2022 and beyond. So let's get down to it.
Parks as Infrastructure
The American Society of Civil Engineers rates the state of the nation's infrastructure in its quadrennial report to Congress and the president. The 2021 report states that parks support economic prosperity, prevent damage from stormwater and build healthy communities, but that despite increased popularity, "State parks and local parks face a $5.6 billion and $60 billion deferred maintenance backlog, respectively."
A Golden Age of Park and Recreation Infrastructure?
With the passage of the Great American Outdoors Act in 2020 that permanently funds the Land and Water Conservation Act at $900 million annually, and the recent passage of long-sought infrastructure funding in the INVEST in America Act, there will be billions of dollars available for land acquisition, park and recreation planning, and infrastructure maintenance, repair, and development. Agencies that are prepared will be able to tap into funding for roads and bridges, climate change resiliency, renewable energy utilization, waste reduction and recycling, and even "tree equity."
Climate Change
The Role of Parks in Reducing Urban Heat Islands
One of the more pernicious effects of climate change is the trapping of extreme heat in dense urban areas. Often, these highly developed areas contain little heat-absorbing natural cover and have high percentages of impervious heat-collecting surfaces, which amplify extreme heat in the daytime and then radiate it in the night hours. The concentration of waste energy, air pollution and loss of tree canopy cover all magnify the negative health impacts as well, which affect vulnerable and low-income populations the most. Not surprisingly, New Orleans; Newark, New Jersey; New York City; Houston; San Francisco; Boston; Chicago; Miami; and Baltimore have the highest urban heat indexes, according to the Climate Central report, Hot Zones, Urban Heat Islands.
Parks and green spaces are proving to be among the most effective tools to combat the effects of urban heat islands, and cities and urban counties are looking to maximize the benefits of their park systems to combat urban heat island effects.
Macroeconomics of Parks and Recreation
Where Are All the Workers?
The Great Resignation has been identified as one of the most significant trends caused by the pandemic. Many have speculated on why people are quitting their jobs at a higher rate than ever before. While some factors are evident, such as lack of affordable childcare, others may include dissatisfaction with pay, unacceptable working conditions, and a desire for greater purpose in the jobs they choose.
Whether it is an effect of The Great Resignation or not, agencies are suddenly without vitally needed part-time staff who work as lifeguards and provide after-school programming and childcare, to name two examples. Barbara Heller, who leads the park and recreation practice for BerryDunn, a national consulting firm based in New England, says, "The biggest pain point is the recruitment and retention of part-time staff. This trend is off the hook. I am basing my findings on feedback from every agency we work with. This year, it is clearly salary. Parks and rec agencies are competing against Starbucks, Amazon and other private-sector companies that provide better salary and benefits. Fifteen dollars per hour is now the standard, and many park and rec agencies are nowhere near that."
Workers who have multiple opportunities for jobs with better pay and more flexible hours may like the purpose-driven aspects of park and recreation work, but they may find better pay, better benefits and more flexible hours in other jobs of the gig economy.
Kevin Roth, vice president of research, evaluation and technology at NRPA, says, "Parks and recreation is facing the same pressures that retailers, service industries and other employers are in finding qualified workers." The pressures pushing up wages are not necessarily only a result of the pandemic, he says. These are market forces, and many park and recreation agencies cannot keep up. "Cities and agencies may not be able to offer the same range and amount of services to the public that they have in the past," he says. "And, this is not going away in a few weeks or months, either."
Despite the great need and intentions of some agencies to expand out-of-school time programming, there could paradoxically be more agencies getting out of beforeschool and after-school programs, day care, and summer camps due to a lack of qualified and available workers. "This has huge implications for the future," says Heller. "It is really important to quantify the implications and provide this information to elected officials now."
Technology
Drones, Bots, Mowers and More
Kirk Floyd, founder and owner of Kdrone Services in Maryland, flies midsize drones to apply insecticides and fungicides for horticultural and arboricultural purposes and seeds landscape areas with pinpoint accuracy. "Drones can economically reach areas that are inaccessible by any other vehicle, even [all-terrain vehicles]," he says. Floyd says that commercial drones will be utilized in parks. They can fly low-altitude grids to seed pollinator meadows, apply herbicides with precision control, and do inspections of buildings within a centimeter of accuracy.
The $105 billion commercial mowing machine market is rapidly evolving with implications for parks and recreation. In June, Forbes reported on the introduction to the market of fully autonomous commercial mowers by Scythe Robotics of Boulder, Colorado. Other equipment manufacturers, like John Deere and Clean Scapes, are working on similar fully electric, zero emission mowers that are projected to require far less maintenance than internal combustion-powered mowers that often require replacement after just a few short years.
Kiwibot, Starship Technology and a half-dozen other robotics companies already have deployed pedestrian robots that will traverse sidewalks and public paths for deliveries and other services. Amazon and FedEx are now in final stages of testing their delivery bot fleets. Ten states have adopted robot-friendly regulations that appear to be giving bots legal rights as pedestrians. As Axios reports earlier this year, Greg Lynn, CEO of Piaggio Fast Forward, says that some companies want to deploy their bots in bike lanes where they can travel at greater speeds than on sidewalks. Imagine your park rangers attempting to write a citation for a bot involved in a collision with a pedestrian or cyclist.
Recreation Program Trends
Decline in Youth Sports Participation
Multiple studies have found that there has been a sharp and continuing decline in youth sports participation. Concurrently, there also has been a steady decline in physical activity by youth. The Aspen Institute's Project Play State of Play 2021 report shows that before the restrictions imposed by the pandemic, participation in youth sports declined from 45 percent in 2008 to 38 percent in 2018. Most kids ages 6 to 12 playing a team sport quit by age 11, and since the pandemic, three in 10 kids who previously played say they are no longer interested in playing again.
These statistics have alarmed youth sports organizations and child health experts alike. One way some agencies are addressing these issues is by hosting sports sampling programs. These specifically designed programs are held over a day or a weekend, during which sports trainers, players and leaders give kids an opportunity to try a variety of sports out for an hour or two and then move on to another sport. Rachel Banner, director of park access for NRPA, believes that we will see considerable innovation in how sports programs are offered and that there will be a return to community-based sports. "Park and recreation agencies are ideally positioned to be the multi-sports providers," she says.
Josh Medeiros, superintendent of Parks, Recreation, Youth and Community Services in Bristol, Connecticut, says his agency has seen the same decline in participation in youth sports and is now looking at some non-traditional sports. For example, they are supporting mountain biking for youth and have partnered with Bike Bristol, a nonprofit volunteer group, to build a pump track for kids and teens.
Medeiros says that they have instituted pop-up parks in neighborhood parks around the city where they host mini-golf days, family game nights and other recreational activities for kids who most likely have never experienced these games and sports before. He agrees they have seen a big drop off in participation in youth team sports. "[COVID-19] didn't help, either," he says.
Pickleball Ascendant
When does a niche recreational sport go big time? Just trace the history of pickleball since its inception in 1965. Now named as the fastest growing sport in America by The Economist, pickleball is estimated to have more than 4 million people playing it annually. With its exponential growth has come stories and videos of celebrity players and pickleball influencers. The best part about pickleball is its universality. Virtually anyone can play, and schools and recreation centers are expanding opportunities for youth to play in a variety of indoor and outdoor settings.
Is This a Thing? Smashing Pumpkins in Parks?
In October and November, recreation programmers on NRPA Connect expressed keen interest in pumpkins — smashing pumpkins, that is.
Brad Muckenhirn, recreation supervisor in Cottage Grove, Minnesota, says his agency's first-ever Pumpkin Chuckin Party was an unqualified success. "We were blown away by the support from the community. We encouraged the public [to] dress up in their Halloween costumes and bring their after-Halloween pumpkins to the party. We set up the event on a hill and had bowling pins to knock down, jumps to jump and a repurposed playground slide to launch pumpkins into the air. The whole point was just to enjoy watching your pumpkins smash. We took two one-ton trucks full of smashed pumpkins to our town compost facility at the day's end. We are already talking about how we might close down a city street next year and have pumpkin races — like pinewood derbies, you know — pumpkins with wheels."
Kristen Herndon, facility and aquatics coordinator for Greensboro, North Carolina, says they held their first Pumpkin Smash this year on the first Saturday after Halloween. They had participants bring their pumpkins to smash with a hammer or sledgehammer, (small hammers for little kids, of course), or shoot them from a giant slingshot they had erected at the site. "We signed people in, had them sign waivers, and gave them info on what they could do with their pumpkins. It was a great success! We are looking at adding food trucks and music and a firepit next year." How can you top smashing pumpkins for fun? Plan an event for next year.
Quick Takes
Smart Dog Parks
Dog parks are no longer just for dogs and dog owners, says Beth Cherryholmes Miller, CEO and founder of Wagtown, a national nonprofit based in Dayton, Ohio, that advocates for dog-friendly communities. "Dog parks need to be cooperatively planned from the outset," she says, "involving the entire community, government agencies and dog owners."
Miller believes that in the same way that we look for enrichment activities for our children, dog owners look for the same for their dogs. "Our relationship goes from 'you own your dog, your dog is family, your dog is your child,' to 'your dog is your soulmate.'"
Thirty-eight percent of people now travel with their dog, according to research by the National Association of Realtors. Sixty-eight percent of people say that pet-friendly policies influenced their decision to buy or move, 43 percent believe that their dog's opinion matters on where they live, and 13 percent of people would consider moving if their dogs are not happy with where they live! Maybe one way to take this trend seriously is to just imagine dogs as taxpayers and consider their preferences accordingly when planning new dog parks.
Glow in the Dark Plants to Light Trails
A team of chemical engineers at Massachusetts Institute of Technology has made astonishing progress in producing light-emitting plants. Professor James Stranos says they inserted a solution containing light-storing and light-emitting nanoparticles into the spongy layer of leaves, called the mesophyll, in several common plant species. The research is ongoing, but it could lead to being able to landscape trails and park pathways with chemiluminescent plants that would remain lit all night, thus reducing energy costs and lighting infrastructure.
Parks Everywhere
The advent of green roofs is offering new opportunities to site innovative parks. The trend is best exemplified in the Dutch city of Rotterdam, which built DakPark, a rooftop park that adorns a 4,000-foot-long building complete with play courts, gardens, a kiosk selling refreshments and even sheep that graze contentedly. Parks will be everywhere humans can find a spot for peaceful reflection — underground, underwater and on the tops of buildings. Space is the next frontier for parks.
Richard Dolesh is NRPA's retired Vice President of Strategic Initiatives and Editor-at-Large for Parks & Recreation magazine.