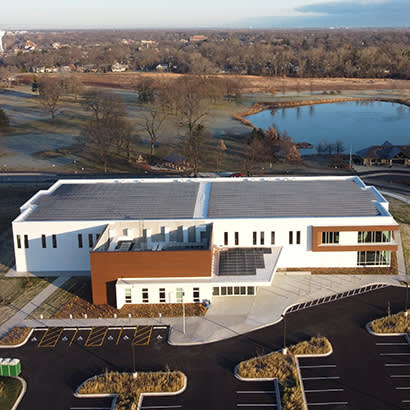 For an enhanced digital experience, read this story in the ezine.
A natural solution for the Northbrook Park District
It is not often that park and recreation agencies bring two multimillion-dollar capital projects to fruition in the same decade, let alone the same year.
The Northbrook Park District, located in Northbrook, Illinois, experienced this perfect storm in 2021 with the construction of Techny Prairie Activity Center, as well as course renovations and a new clubhouse at Heritage Oaks Golf Club.
Through a Comprehensive Master Plan process conducted in 2016, several priorities for investment were identified based on community input, inventory and analysis comparisons to state and national standards, demographics and financial capabilities. This process launched an initiative called New Places to Play.
Both projects were designed using sustainable practices, upholding the park district's overall mission to enhance the community by providing outstanding services, parks and facilities through environmental, social and financial stewardship.
Techny Prairie Activity Center
Techny Prairie Activity Center (TPAC), a 44,200-square-foot net zero energy building, opened to the public in January 2021. This state-of-the-art facility, located in Techny Prairie Park and Fields, offers sweeping views of the surrounding prairie. Users are immersed in nature and open space while experiencing a future-forward highly efficient facility. TPAC offers a fitness floor with cardio and strength training equipment, group fitness studios, an indoor track, a gymnasium, a multipurpose room and office space.
Environmental stewardship was at the forefront of this project from its inception. This six-acre property, acquired in 2011, required extensive remediation efforts to remove pollutants. The site's former factory was demolished, and bricks and metal elements were dismantled and recycled. Following these efforts, the park district received a No Further Remediation letter from the Illinois Environmental Protection Agency.
The park district applied for and was awarded a $1.78 million grant from the Illinois Clean Energy Community Foundation (ICECF), which provides grants for exemplary buildings that maximize energy efficiency through net zero energy building status. Northbrook is only the second park district in Illinois to receive an ICECF grant for construction of a net zero energy building.
Efficiencies were created at TPAC in a holistic manner to meet net zero energy building standards, addressing increased on-site energy production and decreased energy consumption. The energy generated from the 833 rooftop photovoltaic (solar) panels will be greater than or equal to the amount of energy used in the building during a 12-month period.
Design choices throughout the project focused on reducing greenhouse gases and the building's overall carbon footprint — including highly efficient mechanical systems, airtight construction, increased levels of polyisocyanurate insulation, high-performance low-emissivity coated windows that are strategically placed to maximize ambient light, and LED lighting with occupancy and light-level sensors in the building and parking lot. All of these net-zero features are explained through large-format signage in the lobby that also includes real-time performance data.
Inside and out, the property was designed with sustainability in mind. A 200-foot bioswale in the parking lot incorporates native plants to collect, manage and filter stormwater prior to sending it to the nearby prairie basin and a branch of the Chicago River. The landscape plan includes pollinator-friendly naturalized areas, along with 68 newly planted trees and the development of no-mow spaces to reduce the use of chemicals and gas-powered machinery.
Solar production and building consumption numbers are following the model developed by architectural firm Wight & Co., and the facility was recently added to the Illinois Net Zero Honor Roll and Watch List by the Illinois Green Alliance.
Heritage Oaks Golf Club
In response to the priorities identified in the master planning process, Northbrook turned its attention to Heritage Oaks Golf Club (HOGC), formerly known as Sportsman's Country Club, a 27-hole golf facility dating back to 1931. The renewed facility re-opened to the public in August 2021.
An eye toward sustainability led the decision making for both the golf course renovations and the new clubhouse construction. While the property was already Audubon certified, natural components were enhanced by expanding ponds, planting 356 trees, and using permeable pavers to improve stormwater management, retention and reuse on the property.
Additionally, parking lot asphalt was removed, and a dustless grinder was brought onto the site to break the asphalt down for use as a construction base. Then, new concrete was poured using technology that introduces recycled carbon dioxide into the fresh concrete. This process not only reduced the site's carbon footprint, but also transportation effects and construction waste.
With the team from RATIO Architects, design decisions were carefully made — including certified, sustainably sourced wood siding; carpet made from 57 percent post-consumer recycled content that is 100 percent recyclable at the end of its life; Greenguard gold standard laminated countertops and surfaces; and even lawn furniture made of 100 percent recycled milk jugs.
Through careful planning and a commitment to creative and sustainable solutions, the Northbrook Park District will continue to serve as the responsible steward of New Places to Play, fulfilling the mission of this 95-year-old park district.
Joan Scovic is Director of Marketing and Communications for Northbrook Park District.