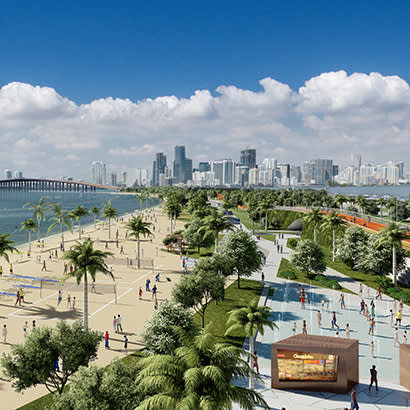 For an enhanced digital experience, read this story in the ezine.
A multi-modal plan is kickstarting a bicycle and pedestrian highway culture change in Miami-Dade
In 2012, the June issue of Parks & Recreation featured Miami-Dade County's Parks and Open Spaces Master Plan, which outlined the 50-year vision of the county to radically improve quality of life in the region and serves as a model for municipalities around the country interested in developing park-centric urban and suburban master plans.
The plan took into consideration the parks, preserves and public spaces of Miami-Dade and included the greenways, blueways and complete streets that connect people to the communities they live, work or play in. Since its adoption, the master plan has been instrumental in encouraging and cultivating partnerships that have built more than 150 miles of greenways and bike trails across Miami-Dade — with more on the horizon.
One of the potential projects is Plan Z, a public-private partnership (P3) proposal that sits at the intersection of architecture, urban planning and public health. As an enhancement to the county's original North Dade Greeway Plan, the creators of Plan Z envision this multi-modal plan as an integral part of the Miami LOOP, which would connect the mainland's Commodore Trail, Underline, Ludlam Trail and Miami River Greenway with Biscayne Bay and its waterfront along the Rickenbacker Causeway.

Accessing the Rickenbacker Causeway
The completed Plan Z and Miami LOOP would deliver safe bicycle and pedestrian access for all 2.8 million Miami-Dade residents and more than 16 million annual visitors to the Rickenbacker Causeway — a public space that has become Greater Miami's Central Park. With more than 2,000 acres of state, county and municipal parklands and preserves, as well as a shoreline of nearly 20 miles of accessible recreational waterfront that opens to Biscayne National Park waters, the Rickenbacker Causeway is one of Miami-Dade's most valuable public spaces.
Unfortunately, Miami-Dade County's infrastructure coffers have not been sufficient in retrofitting this recreational asset to protect cyclists and pedestrians, and to adequately prepare for the threat of rising sea levels. What's more, the Rickenbacker Causeway, with its aging infrastructure, is ranked as one of Miami's most vulnerable public assets. As such, Greater Miami is in dire need of a coastal-resiliency plan that incorporates best practices in green infrastructure with feasible public and private funding strategies to ensure the Rickenbacker's long-term survival.
The asset was named after Eddie Rickenbacker, the American, World War I flying ace who founded and presided over Miami-based Eastern Air Lines. The causeway opened in 1947 and provides access to Greater Miami's most prominent recreational, entertainment and educational facilities that include the Miami Seaquarium, the Miami Marine Stadium, Virginia Key Park, Crandon Park, the Village of Key Biscayne and Bill Baggs Cape Florida State Park on the island of Key Biscayne, among other notable attractions.
The Rickenbacker Causeway is Miami-Dade's most popular recreation corridor, attracting hundreds of thousands of pedestrians, joggers, walkers and cyclists each year. However, the lack of a physical separation between the cars and bikes — combined with excessive speeding and intoxicated drivers — have contributed to multiple fatalities and injuries over the past 20 years. A report produced by the National Complete Streets Coalition found that Florida's biggest cities — Miami, Jacksonville, Tampa-St. Petersburg and Orlando — are some of the most dangerous places to be either a bicyclist or pedestrian in America. Florida's death rate for cyclists and pedestrians was found to be significantly higher than the national rate. The grim reality of these numbers was made worse after learning more about members of the community who were fatally struck while riding their bicycles on the Rickenbacker Causeway — as was Aaron Cohen.
In February 2012, Cohen was killed after a driver veered into the bike lane on the Rickenbacker Causeway in a lethal hit-and-run. This accident not only sparked the "Aaron Cohen Life Protection Act," which was a Florida State measure designed to make penalties for hit-and-run drivers more punitive, but it also catalyzed a movement of local advocates fighting to change Miami-Dade's streets and open spaces.
Bernard Zyscovich is one of those advocates.
Designing and Implementing Plan Z
As an architect, urban planner and lifelong cyclist, Zyscovich launched Plan Z for Miami with the vision to create a separated, partly elevated bicycle and pedestrian pathway that would safely connect Miami's mainland to the Rickenbacker Causeway. Over the years, Plan Z has evolved to incorporate additional elements that would transform the Rickenbacker Causeway from its outdated, dangerous, single-use infrastructure into a world class, multi-modal transportation and recreation asset that promotes equitable public access, health and well-being, coastal resilience, and environmental protection.
For more than 10 years, Zyscovich has been on a pro-bono journey that included a public engagement process where community members and elected officials learned more about Plan Z and why Miami needed a plan that addressed the critical mobility issues it could no longer run away from. Despite the overwhelming community support and excitement Plan Z spurred, these conversations also brought to light the challenges the plan needed to overcome before becoming a viable public infrastructure project. Namely, who was going to pay for it?
The State of Florida and Miami-Dade County have long encouraged P3s through business-friendly statutes designed to incentivize the use of private funding for public infrastructure projects. Traditionally, public agencies have paid for road, park, sewer system, airport and seaport improvements by either raising taxes or issuing bonds. As political sentiment changed and budgets tightened during The Great Recession of 2007, public officials have rejected raising taxes, issuing bonds or increasing fees to pay for infrastructure projects. This dilemma has opened a door for P3s to come in and help see through critical projects.
Understanding the benefits of P3s, Zyscovich formed a team to create the Plan Z Consortium. The consortium submitted an unsolicited proposal — Florida's state statutes allow entities to submit privately-funded public infrastructure proposals to local governments — to Miami-Dade County. The proposal outlined how the Plan Z Consortium would fund, design, build, maintain and operate the Rickenbacker Causeway while building the signature Plan Z bicycle highway, replacing the vulnerable Bear Cut Bridge, elevating the causeway to meet its climate-resilience objectives, and developing a new 20-acre bayfront park within the causeway's right of way.
Miami-Dade County also recognized the importance of this P3 project and launched a Request for Proposal (RFP) process to address the critical infrastructure needs facing the Rickenbacker Causeway. Miami-Dade assembled a team of county transportation, parks, environmental, finance and procurement specialists to determine the feasibility of such a project. Subsequently, a Design Criteria Package was created by a county engineering consultant to guide the county's causeway design objectives. This included hiring a financial consultant to ensure that financial calculations were accurate and achievable.
The time is certainly right for P3s, especially with the federal infrastructure bill encouraging state and local governments to consider this type of funding model for complex projects like Plan Z and other types of multi-modal transportation endeavors.
Former President and CEO of Enterprise Florida and Florida Secretary of Commerce Bill Johnson, an advocate for P3s and Plan Z, says the community benefits of this endeavor "include a transfer of risk for cost overruns that protects taxpayers. The county's RFP for the Rickenbacker ensures a competitive bid process, significant public engagement and the use of private dollars to benefit the greater community."
Johnson also points out that the RFP creates capacity for potential federal infrastructure matching funds. "The federal infrastructure bill will likely increase private activity bond volume for surface transportation projects, a central financing tool for P3 projects that lowers the cost of financing and encourages private interest," says Johnson.
While the future of the Rickenbacker RFP and its scope and timeframe for proposal submissions are currently being reviewed by county elected officials, the Plan Z team remains committed to their vision for transforming the Rickenbacker Causeway. "Plan Z has undoubtedly kickstarted a conversation in Miami-Dade, and we are eager to contribute to this cultural shift by bringing to Miami this critical infrastructure project," says Zyscovich. "What started out as a quest to get some green paint on the pavement grew into a multi-jurisdictional discussion on how to improve overall transportation, recreation and climate resilience."
Jack Kardys is President of J Kardys Strategies, LLC, and a Plan Z Consortium Member.