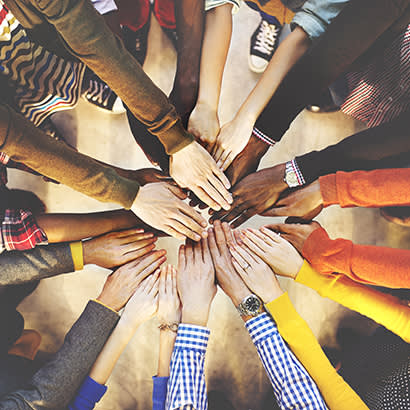 For an enhanced digital experience, read this story in the ezine.
The American Academy for Park and Recreation Administration's Justice, Equity, Diversity and Inclusion Committee aims to create allies and promote diversity
The American Academy for Park and Recreation Administration (the Academy) has been in existence since 1980 and has the history of developing programs and services that encourage excellence in park and recreation administration. The Academy's focus is to inspire and strive to advance public park and recreation administration through the support and guidance of the top 25 educators and 125 practitioners from across the United States.
For years, the Academy has been striving to become more inclusive in its membership and ultimately diversify the profession of parks and recreation. A crucial moment arose in 2020 — Michael McCarty became the president of the Academy, Autumn Saxton-Ross was named vice president of education and the first chief equity officer for NRPA, and the world became transfixed with the tragic murder of George Floyd and the events after that left many feeling helpless and hopeless.
"The Academy is responsible for inspiring, influencing and advancing the profession. We were living the issues that were caused by the pandemic and the nationwide unrest… everything is local, real change starts locally, but you need to connect nationally. If we are going to make change, what better organization than the Academy to do so?" says McCarty. "However, a disconnect remains between local/national efforts and what actually gets done. Clearly, we needed a different approach, different tools and a different conversation. I wanted to bring about real change, and that is why I created the Justice, Equity, Diversity and Inclusion (JEDI) Task Force. I was prepared to leverage my relationships and become a true ally to get this done! It is important to me on a personal and professional level."
What Makes an Ally?
According to the NRPA Equity Language Guide, the definition of an ally is someone who makes the commitment and effort to recognize their privilege (based on gender, class, race, sexual identity, etc.) and works in solidarity with oppressed groups to elevate these other voices, above their own, in the struggle for justice.
When you are an ally, your words and actions are in-sync. A true ally will advocate by lifting others up, will share growth opportunities equitably, will recognize systematic inequalities, will realize the impact of micro-aggressions and unconscious bias, and, most importantly, will listen, support, self-reflect and change first on a personal level, and then as a professional.
"My 'ah-ha' moment came when I participated in a discussion about vocabulary audits, and I realized I was using phrases that I thought were innocuous but in reality were highly offensive to others," says Jane H. Adams, executive director at the Academy. "It was at that moment that I realized that any work we do has to start first within us as individuals."
An ally makes a continual investment of their time in having those brave conversations, supporting others, holding themselves accountable when mistakes are made, apologizing and making the effort to educate themselves to better understand the alternative perspectives. A true ally will listen to those around them, adapt their thinking, rework what they believe to be correct and get comfortable being uncomfortable.
Creating the JEDI Committee
In 2020, the JEDI Task Force was formed and co-chaired by Tracey Crawford and Roslyn Johnson, and consisted of an additional 32 Academy members. The mission was set out with McCarty's objective: to create allies, to make an impactful difference in our profession and to start the conversation about the importance of diversity in our profession. The task force, now an official committee, developed the following purpose statement to guide the work of the Academy:
The Academy is committed to a culture of justice, equity, diversity and inclusion in the profession of parks and recreation. There is no doubt that bias, whether implicit or unconscious, prejudice and discrimination on the basis of human characteristics harms society and are barriers in our profession. Eliminating these barriers requires deliberate and intentional efforts by all of us, especially Academy members who serve as leaders in the field of parks and recreation. Together we must all strive to justly provide equitable parks, recreation, therapeutic recreation, and nature-based opportunities that are essential to the quality of life.
The purpose of the JEDI Task Force is twofold. First, with our Members and our continued efforts to become more inclusive, we will look within, at our governance infrastructure, policies and procedures, leadership, and membership, to identify and eliminate discrimination and bias, while promoting and celebrating diversity without division. Second, we will support the profession externally, through the provision of tools and strategies to provide just, equitable, diverse, and inclusive opportunities for all.
"This is difficult work and will take a team to accomplish, but ultimately every individual in the community, no matter [their] position, has the power to effect change in a transformational way," says Bill Foelsch, 2021-2022 president of the Academy.
Each member of the Academy will be asked to take the pledge to be R.E.A.L.:
Reveal relevant opportunities. Gain awareness of the types of diversity within and across groups, and the context in which diversity, equity and inclusion (DEI) play out across organizations as a whole.
Elevate equity. Acknowledge societal inequities and recognize that, unintentionally, their organization isn't a level playing field; set clear goals toward greater equity, and then act.
Activate diversity. Recognize and engage differences within the organization and membership. Explore the impact of diversity on perspectives, assumptions and approaches, and identify ways to enhance the contributions of all.
Lead inclusively. Foster active, intentional and ongoing efforts to promote the full participation and sense of belonging of everyone. Beyond policies and practices, this includes the ability to envision and enact inclusive ways of leading.
The JEDI Committee presented a list of eight deliverable tasks, which were approved by the 2021 Academy Board of Directors, to focus their efforts moving forward:
1. Create toolkits for agencies.
Look externally at how we can apply DEI practices in our operations (a smart practice for all agencies to adopt).
Create and package accessible educational information for the profession — webinars, blogs, newsletters, conference sessions, online materials and so on.
Be mindful of DEI in decision making and actions.
Address all of the "isms" — racism and sexism, to name a couple.
Recognize racial disparities in the profession and that inclusion goes beyond ethnicity. Communicate our platform.
2. Address systemic racism by acknowledging past and present inequities, and create safe spaces for conversation and growth.
3. Educate and create awareness within the profession so that the professionals can share resources and information about DEI with their agencies, state organizations and educational institutions, and that we can begin to impact and reflect the communities we serve and live in.
4. Bring greater diversity into our profession. Having diverse people in recreation is the best way to advocate. Work with NRPA to find ways to get diverse people into our profession.
5. Ensure our boards and staff represent our community and that we provide our community members of color the same or better parks near their homes.
6. Work with the Commission for Accreditation of Park and Recreation Agencies to explore opportunities for addressing JEDI efforts.
7. Look internally at our industry/profession as to how we can enhance DEI.
8. Create a JEDI Diversity Award. While the work of the JEDI Committee has only just begun, it is clear that this work is evolving and is critical to the future of our profession.
"I am embracing all that I am learning and putting it into action with my team," says Janet Bartnik, Academy 2021-2022 president-elect. "The Academy is full of people that others see as mentors. Serving as such, we can model best practices and others will come along with us on their own journeys. That is what I am most excited about!"
This is the perfect moment to support the Academy, NRPA and our profession. Become an ally in the fight for justice, equity, diversity and inclusion of the professionals in our field and the patrons who access — and even those who don't yet access — our programs and services in our communities.
"The Academy issues a challenge for every member of the profession to begin their own soul searching and do some self-reflection on their attitudes, and words they use, exploring how they feel as individuals, about: race, equity and inclusion," says Adams.
Let's all work together to make our profession, workplaces and communities better and more inclusive places for all people to feel welcomed and their voices heard.
The American Academy for Park and Recreation Administration's Justice, Equity, Diversity and Inclusion Committee
Co-Chairs
Tracey Crawford, CTRS, CPRP
Roslyn Johnson, CPRP
Members
Jane H. Adams
Stacie Anaya
Becky Benna
Bob Bierscheid
Sue Black
Alicia Bradford
Kelly Bricker
Bo Carlson
Michael Clark
Darrell R. Crittendon
Joe DeLuce
Chris Dropinski
Myron Floyd
Bill Foelsch
Seve Ghose
Sean Johnson
Deb Jordan
Jean Keller
Michael Kies
Michael McCarty
John McGovern
Carolyn McKnight-Fredd
Jayne Miller
Ellen O'Sullivan
Greg Petry
Terry Rynard
Ingrid Schneider
Tom Shuster
Cindie Sullivan
Lakita Watson
Cindi Wight
Dr. James Worsley
Tracey Crawford, CTRS, CPRP, is Executive Director at the Northwest Special Recreation Association and Co-Chair of the Academy's JEDI Committee. Roslyn Johnson, CPRP, is Director of Recreation and Parks at Baltimore County and Co-Chair of the Academy's JEDI Committee.