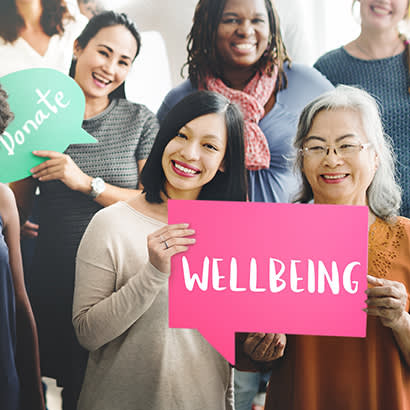 For an enhanced digital experience, read this story in the ezine.
Parks and recreation are essential partners in advancing health equity through policy, systems and environmental change. The welcoming spaces that recreation centers and staff provide are critical community assets. Cultivating a recreation center that champions the holistic health of young people is directly connected to workplace wellness. Healthy employees are more productive, better able to manage stress, and more likely to model healthy behaviors. This cultural change begins with individual action steps we all can take together, and our own workplaces are a great place to start this incremental change. Following are three resources to start a wellness movement grounded in affirmation, voice and choice:
Identity Mapping – One of the guiding principles outlined in Elevating Health Equity Through Parks and Recreation: A Framework for Action is "Focus on Learning." This principle emphasizes a constant examination of self, systems and those around you. A simple activity to bring this principle to life is the Alliance for a Healthier Generation's (Healthier Generation) new "Identity Mapping" worksheet from our Kohl's Healthy at Home resource collection.
As you use the worksheet to reflect on personal experiences, consider what parts of your identity (like talents or hobbies) could encourage workplace wellness. For example, my Healthier Generation teammate, Katie, recently started a monthly meet-up group where teammates do a virtual low-impact bodyweight (no equipment necessary) workout. She turned her passion for physical activity into a company-wide teambuilding activity. Consider how you might use identity mapping during a staff meeting to uncover similar staff wellness opportunities.
Affirming Spaces – Creating a welcoming worksite is essential, especially for staff who identify as LGBTQ+. Healthier Generation encourages folks to explore and share The Trevor Project's LGBTQ & Gender-Affirming Spaces resources. According to Keygan Miller, advocacy manager at The Trevor Project, "Creating a space that is LGBTQ-affirming is not only the right thing to do, it also can significantly impact the mental health and well-being of LGBTQ young people. Compared to their peers, LGBTQ youth face increased risk for suicide largely because of increased experiences of bullying, rejection and discrimination. However, The Trevor Project's research found that LGBTQ youth who reported having at least one LGBTQ-affirming space had 35 percent reduced odds of report the past year. So, when we put in the work to make people feel accepted — whether it be at school, a recreation center or other community space — we are actually helping to save lives."
Staff Voice and Choice – Inclusion and accessibility is key. Another guiding principle outlined in NRPA's Elevating Health Equity Through Parks and Recreation: A Framework for Action is "Reimagine Inclusion." A part of this is considering the "how" of intentionally including all people in the "planning, designing and implementation of park spaces, programs and services." Here are two easily adapted Healthier Generation resources that will help your park and recreation "work family" start a wellness movement by ensuring all staff have a meaningful role:
The Family Vision Board is a printable template that can help to craft team goals and a vision for worksite wellness.
The Family Agreements one-page worksheet can be used to decide on shared values, action steps and a sustainability plan.
Starting a wellness movement at work not only supports the mental and physical health of staff (and their families), but also creates an opportunity to work together as a community — something park and recreation agencies are experts at.
Editor's Note: This article has been edited from its original version.
Daniel W. Hatcher, MPH, is Director of Community Partnerships at Alliance for a Healthier Generation.