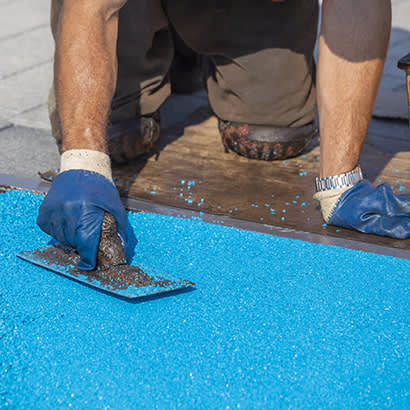 For an enhanced digital experience, read this story in the ezine.
What is the best surfacing for playgrounds? This is one of the commonly asked questions that I and my fellow Certified Playground Safety Inspector (CPSI) training instructors get. Unfortunately, there is no one best answer. Many factors contribute to making the best selection for each situation, including cost (initial vs. long term), height of the equipment, installation, maintenance and accessibility. The more we know, the better decision we can make.
In June 2020, the Department of Justice (DOJ) entered into a settlement agreement with the Iowa City (Iowa) Community School District (ICCSD). The issue centered around a complaint that claimed the surfacing system installed and maintained by the ICCSD did not meet the requirements of the Americans with Disabilities Act (ADA). A DOJ investigation revealed every ICCSD school did not satisfy the ADA requirements for their surface systems.
DOJ found issues with both unitary — rubber tiles, poured-in-place (PIP) rubber, artificial turf — and loose-fill — engineered wood fiber (EWF). However, the settlement agreement clearly does not state any of these surface types are unacceptable for ADA compliance.
To meet the requirements of the ADA standards, a surface system within the play area must be firm and stable. This means the surface system allows a user to propel themselves and be able to turn using the same amount of work as if they were propelling and turning themselves on a hard surface slope of 1:14 (or 7.1 percent). Another element of accessibility is removing any barriers on the accessible route to, into and through a play area. A barrier is any abrupt change in elevation greater than half of an inch.
There are several lessons from the DOJ Settlement Agreement with the ICCSD that can help us meet the ADA standard.
EWF, rubber tiles, PIP rubber, rubber mulch and artificial turfgrass can be acceptable accessible surfaces. However, installation, regular inspections and frequent maintenance are key to sustaining the surfaces as accessible. The International Playground Equipment Manufacturers Association Voice of Play has an excellent guide on best practices for installing and maintaining playground surfaces.
Perform your due diligence on design, specifications and installation for surface systems. Ensure the design intent is carried out through installation. Anticipate where issues can happen and be proactive through the entire process. It will be nearly impossible for one to sustain an ADA-compliant surface if the initial installation fails to meet the requirements.
Train maintenance personnel how to sustain ADA compliance with the appropriate techniques and tools. Once a playground is opened and in use, inspecting and maintaining the surface system are vital to an ADA-compliant play area. Regularly inspect the play area to identify the surface depth, changes in condition and other potential issues. With loose-fill surfaces, check the transition areas, kick-out areas, and access and egress areas where surfacing can be easily displaced. For unitary surfaces, check for debris, loose objects and separation or seams splitting apart.
Another piece of the training is communication. What is the process when something is damaged or needs attention? To sustain ADA-compliant surfacing, it is important to know who is responsible and what appropriate corrective action to take if an issue arises.
Contact the manufacturer's representative for best maintenance and repairs for their surfacing systems. Play-area owners should avoid making repairs or changes to the surface without consent from the manufacturers to safeguard from voiding the product warranty.
With proper care and attention to the details, park and recreation agencies can bring out the best attributes in any accessible surfacing systems for their playground areas.
Antonio Malkusak, PLA, CPSI, is President and Landscape Architect at Abundant Playscapes, Inc.
Editor's Note: This article has been edited from its original version to include a link to the full settlement agreement.