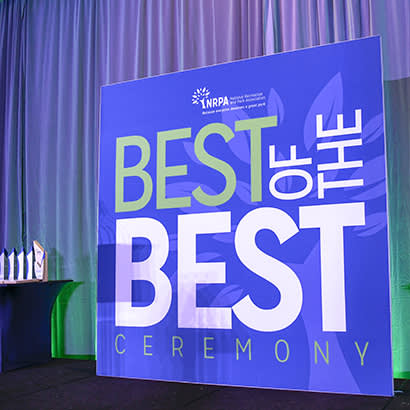 For an enhanced digital experience, read this story in the ezine.
Now through March 25, 2022, NRPA is accepting applications for its 2022 Awards Program. NRPA awards consists of the following:
The National Gold Medal Awards, governed and administered by the American Academy for Park and Recreation Administration in partnership with NRPA, honor park and recreation agencies throughout the United States and armed forces recreation programs worldwide that demonstrate excellence in delivering superb park and recreation services.
The Innovation Awards showcase the inspiring work park and recreation agencies do to improve and empower their communities through innovative practices in park design, health and wellness, conservation, and equity.
The Spotlight Awards are presented to individuals to honor their efforts — both professional and personal — in the field of parks and recreation. Award winners include park and recreation professionals, volunteers, engaged community members and park advocates.
Fellowships and Scholarships provide recipients with the opportunity to attend and explore the operation of the field at the NRPA Annual Conference.
The Hall of Fame inducts individuals who have made extraordinary and lasting contributions to the advancement of the park and recreation movement.
Learn more about NRPA awards, scholarships and fellowships.
Taking the Mystery Out of the Awards Process
What can you do to make sure your application stands out from the rest? How does the scoring process work? And, what are some pitfalls to avoid? In the webinar, "Taking the Mystery Out of the Innovation and Individual Awards Process," representatives from the NRPA Awards and Scholarship Committee shed light on the awards application process.