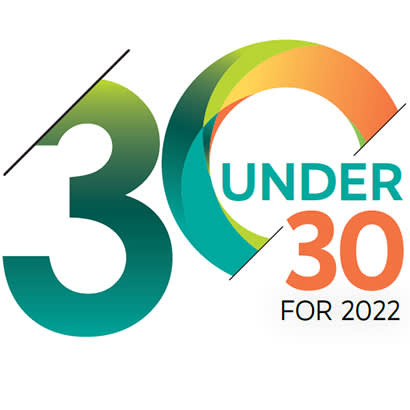 For an enhanced digital experience, read this story in the ezine.
Parks & Recreation magazine and NRPA's Young Professional Network present the second annual program honoring 30 of the top young park and recreation professionals in the field
Once again, NRPA's Young Professional Network (YPN) and Parks & Recreation magazine are excited to present our "30 Under 30." This recognition program is a joint effort by the YPN and this publication to recognize 30 of the top young professionals whose work and contributions have made a lasting difference in their communities. More than 100 nominations were received, forming a diverse group of nominees from 27 different states. The scoring committee evaluated the nominations on one or more of the following criteria:
Impact on the agency's community and service population
Contributions to the professional development of the field of parks and recreation
Innovative ideas, programs or research in the field of parks and recreation
Following are the profiles of this year's outstanding Parks & Recreation 30 Under 30 winners. From varying backgrounds and with varying specializations, these exceptional individuals have each had profound impacts in their own way. Their stories are full of inspiration, ingenuity, talent and passion.
Brandon Altenburg, 29
Grant and Special Project Administrator, Wheat Ridge Parks and Recreation (CO)
As grant and special project administrator, Brandon Altenburg not only secured more than $908,000 in revenues, discounts and supplies in 2020, but also his efforts resulted in improved programs and opportunities for members of Colorado's Wheat Ridge community. His work led to improved playground facilities, greater trail access, enhanced outdoor health and wellness opportunities for individuals of all ages and abilities, emerald ash borer mitigation within the city's tree canopy and more. In 2021, he guided the department though the Commission for Accreditation of Park and Recreation Agencies (CAPRA) reaccreditation process, from start to finish, and took on a leadership role within the department's service sustainability process.
Robert Basford, 29
Director of Parks and Recreation, City of Jersey Village (TX)
Since joining the City of Jersey Village, Texas, as parks and recreation director, Robert Basford has made great strides in transforming the department with his innovative ideas and implementation of new programs. Basford has been instrumental in creating city-organized athletic leagues for residents, including adult kickball and volleyball leagues. He also has worked hard to supplement the department budget with grants, utilizing grant funds to improve parks and facilities. Under his leadership, the department has secured sponsorships for many events, creating opportunities that lower the cost of events for the city and bring about great visibility for the businesses. He also is a part of the emergency management team, preparing the city for hurricanes and natural disasters. This includes meal planning, purchasing food and overseeing staff wellness during an emergency.
Megan Carter, 27
Outdoor Recreation Supervisor, Mountain Recreation (CO)
Megan Carter, Mountain Recreation's (Colorado) outdoor recreation supervisor, keeps access and equity at the forefront of her work. Carter, who identifies as a queer female and an LGBTQ+ advocate, has taken a lead role in the agency's diversity, equity and inclusion work and providing community members with equal access to the outdoors. Her mobile gear library project focuses on bringing education, gear, access and equality to the community. To Carter, the project is about helping others experience the health benefits of the outdoors, building relationships with others, and teaching the next generation to love and appreciate the vast wilderness.
Maria Cepeda, 26
Senior Recreation Specialist, Mecklenburg County Park and Recreation (NC)
Maria Cepeda demonstrates innovative program design and implementation, and provides exemplary diverse communication to Mecklenburg County's (North Carolina) historically underserved Eastway community. She serves as project lead for summer camps, manages child watch facilities, engages preschool populations and more. While Cepeda is bilingual in English and Spanish, her communication with historically underserved Latinx populations does not end there. She is fluent in working with individuals with disabilities and frequently administers therapeutic modification plans. Cepeda is a certified interpretive guide through the National Association for Interpretation. She also is a highly sought-after member for departmental workgroups focused on reaching members in the most underserved communities.
Matt Colwell, 23
Sports and Aquatics Specialist, City of New Brighton (MN)
Matt Colwell began working for the City of New Brighton, Minnesota, as a temporary staffer in the agency's Mission Possible program. This new program offered students, whose guardians couldn't work from home during the pandemic, a place to do online learning while their caretakers were away. His impressive work earned him an internship, which led to a full-time position as sports and aquatics specialist. He brings a specialness to programs, takes on everything that is thrown at him, asks for extra opportunities to learn and seeks growth opportunities. Colwell will serve as chair for Minnesota's Young Professional and Student Network.
Colleen Coyne, 29
Senior Analyst, KABOOM! (MD)
In 2020, Colleen Coyne was part of founding the KABOOM! inaugural Measurement and Evaluation team. In this role, she led efforts to revolutionize KABOOM!'s data approach — from supporting the development of new organizational impact outcomes to mapping access and quality of playspaces across the country. For example, she created the KABOOM! Playspace Priority Assessment via the mySidewalk platform. This assessment helps communities identify areas of potential need for playspace investment based on the intersections where large populations of kids; Black, Indigenous and people of color; and low-income people live. It drives resources to areas historically most likely to experience disinvestment.
Emily Croke, 28
Director of Parks and Recreation, Springfield Township, Montgomery County (PA)
In June 2019, at age 25, Emily Croke became the Springfield Township (Pennsylvania) director of parks and recreation. Croke sought to revitalize the community by establishing open communication with local sport, civic and volunteer organizations to assess the needs of residents. Croke began planning for future capital improvements to provide equal access to park and recreation facilities, which became critical to the community during the coronavirus (COVID-19) pandemic. While focusing on providing inclusive play structures, she increased play areas for patrons of all ages that promote inclusiveness and diversity to accommodate different physical needs, intellectual abilities and social skills.
Caralie Fennessey, 30
Operations/Communications Director, Endless Highway, Inc. (NY)
With a master's degree in integrative design and as operations/communications director at nonprofit Endless Highway, Inc., Caralie Fennessey, CTRS, is changing the landscape of accessible recreation across the Greater Rochester Region (New York) from infrastructure to culture to community. Fennessey has expanded inclusive recreation programming for youth with and without physical disabilities to increase parallel play; more than doubled the organization's budget to provide direct financial support and recreational equipment sponsorship for disabled youth through grant writing; and leveraged her knowledge and certification in inclusive design solutions to improve built environments and disability awareness in the context of recreation.
Nathan Fort, 27
Parks and Recreation Director, City of Dayton (TN)
Nathan Fort is the youngest parks and recreation director in Tennessee. Fort is bringing increased diversity and inclusion policies and procedures for the city as an "out" gay parks and recreation director. He also has created new initiatives with different community organizations and other community members for them to become more involved in the park and recreation department. What's more, he established the largest doubles pickleball tournament in the state. Fort continues to contribute diversity and inclusion programming with language and mental health-based programming, such as his September Suicide Prevention Words of Encouragement Wall and American Sign Language classes.
Casey Grice, 25
Recreation Assistant, City of Colorado Springs (CO)
As the recreation assistant with the City of Colorado Springs' (Colorado) Therapeutic Recreation Program (TRP), Casey Grice is a professional who sees a need and takes action. In 2021, Grice observed that many TRP participants had declined in health. He saw the need for further exercise-based programs due to this decline. Thus, Grice created a partnership with the City of Colorado Springs' sports program and introduced the TRP participants to Boxercise. He brought life to this new program and to a facility that often is overlooked and underutilized. Boxercise started as one session and has now expanded into two multi-week sessions.
Gabe Hackney, 28
Facility Manager, Mecklenburg County Park and Recreation (NC)
Gabe Hackney serves as facility manager of Tom Sykes Recreation Center in Mecklenburg County, North Carolina. This center is among the city's smaller complexes, but yields the largest participation in summer camp, after-school and school-age programs. The facility is popular because of Hackney. He is currently the lead facilitator for a cycling initiative in Mecklenburg County, called Learn to Ride. It focuses on teaching people proper techniques to learn how to ride a bike. Hackney has implemented hundreds of private bike lessons to community members. Whenever people in Mecklenburg County inquire about bike lessons to the department and local nonprofits, they contact him.
Amy Jean-Baptiste, 30
Assistant Director, City of Sunrise (FL)
Amy Jean-Baptiste began as assistant director of leisure services for the City of Sunrise, Florida, in August 2021. The Leisure Services Department includes more than 320 full-time, part-time and seasonal employees serving approximately 100,000 Sunrise residents. Jean-Baptiste not only was tasked with quickly learning a new large-scale operation, but also had to do it in a telecommuting environment, due to the pandemic, with out-of-the-ordinary facility and programming operations. She quickly took on two longstanding incomplete projects and successfully implemented programs for both park instructors and field rentals — both programs had a great impact on the Sunrise community.
Kori Jones, 30
Recreation Supervisor, Howard County Department of Recreation and Parks (MD)
Kori Jones serves as a recreation supervisor II with Howard County, Maryland's Department of Recreation and Parks. Jones helped create Rec Zone, a program for families who needed assistance with childcare during virtual learning due to the COVID-19 pandemic. He also worked with schools to hold listening sessions to create a sense of belonging for staff and students, including conversations around identity and what an inclusive building looks like. Jones also leads the diversity, equity and inclusion efforts and committee for the department. What's more, the Maryland Recreation and Parks Association chose Jones for the volunteer position of equity officer.
Joy Kacoroski, 30
Interpretive Specialist 2, Washington State Parks and Recreation (WA)
Joy Kacoroski, interpretive specialist 2 for Washington State's Deception Pass State Park (DPSP), has made a significant impact toward the development of DPSP's environmental education program. Kacoroski ensured the curriculum, pre-testing and post-testing were consistent with science and technology standards. As the pandemic began, Kacoroski was among the leaders who quickly adapted to multiple platforms that would support virtual learning. Kacoroski also was responsible for collaborating with the Samish Tribe and Swinomish Tribe as Kacoroski developed a Junior Ranger book specific to DPSP. Kacoroski also partnered with the Samish Tribe on interpretive panels for the tribe's story pole, Ko-Kwal-A-Woot.
Sarah Kent, 30
Outreach Manager, Great Parks of Hamilton County (OH)
Sarah Kent's role as outreach manager for Great Parks of Hamilton County, Ohio, started when she was hired to open a new nature center. The center's location is in a food, recreation and nature desert. Nature Center at The Summit allows Hamilton County's Roselawn residents walkable access to explore nature. Starting from an abandoned room, Kent organized and created the center. She fashioned space for local teens to come, sit and do homework or read from a nature library. Kent also set up a crafting and discovery area for younger learners and designed an animal engagement area for all visitors to enjoy.
Kimberly Krieger, 25
Graphic Designer, Palm Beach County Parks and Recreation Department (FL)
Kimberly Krieger joined Palm Beach County Parks and Recreation Department in Florida, first as an intern and then as a graphic designer for its outreach and marketing team. Her ability to communicate in Spanish combined with her passion to enrich the lives of others allowed the department to expand its outreach efforts to include the growing number of Spanish-speaking communities through participation in health and wellness fairs and community engagement events in multicultural neighborhoods. Her passion for improving her community also is evident in the way she communicates the benefits of parks and recreation through her graphic design work.
Andrew J. Lopez, 29
Parks and Recreation Supervisor, City of Hialeah (FL)
As the parks and recreation supervisor for the City of Hialeah Department of Parks and Recreation in Florida, Andrew J. Lopez oversees all aquatics facilities. The biggest challenge he faced early on in his role was a shortage of lifeguards. With applications slowly coming in, Lopez created a program where patrons could obtain lifeguard and cardiopulmonary resuscitation (CPR)/automated external defibrillator (AED) certifications through the city for free or at a low cost. Also, applicants had the opportunity to be hired by the city (seasonal/permanent). The program proved successful, as Lopez hired more than 10 lifeguards to reopen the water park facility to an eager public.
Christiana Marasa, 24
Recreation Aide – Fitness, City of Port St. Lucie Parks and Recreation Department (FL)
As a key member of the Port St. Lucie Parks and Recreation Department (PSLPRD) in Florida, Christiana Marasa is a testament to commitment, dedication and innovative leadership. In her role for the department, Marasa works in two city fitness centers, leading fitness classes and working with a diverse membership, providing personal training, instruction and more. Her impact on the community is demonstrated through her focus on innovative research in the field of parks and recreation. Marasa specifically focuses on research connecting neuroscience through fitness. She has risen quickly as a major contributor to the life-altering programs and services that PSLPRD offers.
Chasity McCurdy, 29
Assistant Recreation and Parks Superintendent, Greenville Recreation and Parks (NC)
Chasity McCurdy began her career as a recreation assistant for specialized recreation with the City of Greenville Recreation and Parks in North Carolina. As an assistant, she planned and implemented programs for individuals with special needs. McCurdy also worked with nonprofits, such as Easter Seals, to secure funds for the department's inclusion program and adapted programming. Acquiring these funds broke down barriers for individuals who otherwise would not have been able to participate in recreational programs. After proving her leadership and initiative, McCurdy was promoted to recreation supervisor for specialized recreation, creating standards and best practices for inclusion services.
Ashton Miller, 27
Recreation Coordinator, Borough of Quakertown (PA)
As recreation coordinator for Borough of Quakertown, Pennsylvania, Ashton Miller has innovatively established the Parks and Recreation Department within the community. The department, which previously had limited programming and events, now encompasses more than 29 programs and events. Miller uses her hometown knowledge to draw community engagement and improve community access. Among her biggest accomplishments has been community engagement. She helped establish the Sounds of Summer Concert Series. From 2020 to 2021, Miller secured talent for the concert series, including The Beach Boys, Marshall Tucker Band and Chris Janson. The series generated more than $500,000 in revenue and attracted more than 10,000 attendees.
Bertrand Oubida, 29
Recreation Leader, City of Stamford Recreation Services (CT)
When Bertrand Oubida became recreation leader for City of Stamford Recreation Services in Connecticut, he helped take the position to a new level. In fact, he was promoted into the role from aquatics director partly because he revamped the aquatics department from a program that made $25,000 in 2015, to $42,000 the year after Oubida took over. Today, as recreation leader, Oubida and this team have grown the program to a point where the city has allowed the department to lease a building where they could hold most of their programs and avoid passing on high program fees to patrons.
Cassandra Paddock, 27
Recreation Programs Supervisor, City of New Braunfels Parks and Recreation Department (TX)
According to Cassandra Paddock, recreation programs supervisor for City of New Braunfels Parks and Recreation Department in Texas, summer camp for 120 kids generally sells out quickly and has more than 150 on the waitlist by the end of the first day of registration. She recognized the city's lack of available and affordable day-camp options for working families. However, through persistence in the budgeting process year after year, Paddock was approved to start a second summer camp for the city, providing that extra childcare resource and recreational opportunity for an additional 75 to 120 campers per week.
Josue Pasillas, 26
Communications Supervisor, Waukegan Park District (IL)
Josue Pasillas, MPA, is communications supervisor for Illinois' Waukegan Park District, where he oversees all digital marketing efforts in English and Spanish. Pasillas has been an integral part of the development of innovative communications strategies to make content available in Spanish and increase access for the community, which is primarily Latinx. With the park district's board of commissioners, he launched "Park Happenings," a bilingual video series reaching thousands of viewers with the latest news, programs and events offered to the community. Pasillas also translated the Waukegan Park District's first bilingual program guide, which is the first of its kind in the state.
John Penn, 27
Athletic Program Manager, City of Douglasville Parks and Recreation (GA)
As the athletic program manager for the City of Douglasville, Georgia, John Penn strives toward offering more inclusive and equitable programs to the community. He's handled individual athletic breakout camps, such as basketball, to help promote the city's inaugural youth basketball season this winter; youth volleyball to encourage youth girls' participation in sports that Penn knew the city lacked; and all-sport camps for different age groups to introduce youth to untraditional sports, such as badminton and pickleball. He believes in identifying the needs of the community and mapping out innovative avenues to ensure equitable programs and community awareness.
Gillian Rossi, 30
Park Ranger Supervisor, City of Colorado Springs (CO)
Since becoming park ranger supervisor at Colorado Springs (Colorado) Parks, Recreation and Cultural Services, Gillian Rossi has guided the management of its open space properties, won statewide and national recognition for programs she has nurtured, and implemented systemwide Leave No Trace (LNT) principles. Rossi established LNT goals for the Regional Parks, Trails and Open Space division, including having all properties designated as LNT gold-standard sites. Colorado Springs became the first park system in the country with all full-time staff trained as LNT trainers and aims to establish an accredited LNT youth program.
Rosie Santos, 30
Conservation and Parks Manager, Great Parks of Hamilton County (OH)
Over the past six years, Rosie Santos has led organizational strategy, project management, planning, development and fundraising for prominent park agencies in Ohio and Northern Kentucky. She has successfully fused agency goals with social justice principles to create responsive action plans in politically complex environments. At City of Covington, Kentucky, Santos was responsible for 30 parks and facilities. To equitably distribute resources, she designed a transparent process to expedite capital development. Utilizing a community engagement framework, she designed and constructed three $80,000+ park redevelopments. Santos has engaged in fundraising to address critical funding gaps, totaling $350,000 over five years.
Patience Talley, 28
Director of Community Centers and Programs, City of Monroe (LA)
Patience Talley, director of community centers and programs for City of Monroe, Louisiana, works to provide quality resources in poverty-stricken areas, focuses on community health and well-being, and shines a light on the park and recreation field. During the wavering spike of COVID-19, Talley took the initiative to reach out to local healthcare institutions to host city-wide COVID-19 vaccination sites at community centers located in areas that have little-to-no resources or access to healthcare providers. The vaccinations reached more than 200 citizens of Monroe. In addition, during a significant snowstorm in February 2021, she did not hesitate to open community centers as safe havens for the homeless population.
Austin Tasler, 29
Park and Recreation Supervisor – Aquatics, City of Des Moines (IA)
To provide aquatics programs and services to the Des Moines, Iowa, community during the pandemic in 2020, Austin Tasler, park and recreation supervisor – aquatics for the City of Des Moines, developed a new plan that kept patrons and staff safe and healthy. He worked with the agency's internal COVID-19 team and created the Return to Play plan, which outlined new guidelines and procedures for COVID-19 scenarios and how to handle them, internally and externally. The City of Des Moines was honored recently for these efforts by earning an award for its Coronavirus Response Plan by Aquatics International.
Hashim Taylor, 28
Recreation Program Manager, Prince William County Parks, Recreation and Tourism (VA)
Hashim Taylor, recreation program manager for Prince William County Department of Parks, Recreation and Tourism in Virginia, was instrumental in developing innovative program offerings for youth — streamlining effective processes for equitable access to services and developing a strategic professional development plan for more than 275 full- and part-time employees. During the pandemic, he ensured compliance with Virginia's licensing process and requirements, which includes records management and audit action plans for five preschool locations. Additionally, he served as system administrator overseeing recreation cost-recovery implementation, where cost-recovery rates improved from 84 percent to 115 percent, and a budget that surpasses $8 million.
Victoria Ward, 27
Recreation Supervisor, Morehead City Parks and Recreation (NC)
As recreation supervisor at Morehead City Parks and Recreation in North Carolina, Victoria Ward takes challenges and makes new and exciting programs out of them. When COVID-19 struck the community, Ward developed a virtual recreation project offering daily activities, such as Barre fitness, science experiments, sports activities, cooking classes, crafts for children and adults, and beyond. Each video was featured on Facebook live and Instagram and ranged from one to 30 minutes. With thousands of views per video, the community was clearly impacted in a good way. This program was featured in North Carolina Recreation and Park Association's RECRE8 magazine.
Thank You to Our 30 Under 30 Scoring Committee
Chris Bass, CPRP, Douglasville Parks and Recreation (GA)
Neelay Bhatt, PROS Consulting, Inc.
Chamreece Diggs, CPRP, City of Greensboro (NC)
Ryan Eaker, City of Austin Parks and Recreation (TX)
Augustus Hallmon, Ph.D., CPRP, James Madison University (VA)
Roslyn Johnson, CPRP, Recreation and Parks at Baltimore County (MD)
Cameron Levis, CPRE, AFO, City of Bowling Green (KY)
Angel Obert, CPRP, AFO, Unified Government of Wyandotte County and Kansas City (KS)
Lisa Paradis, CPRP, BerryDunn
Paula Sliefert, The Toro Company
Ronnetta Spalding, Indy Parks and Recreation (IN)
Anne-Marie Spencer, PlayCore
John Stutzman, CPRP, City of Golden Valley (MN)
Kimberly Zygmant, CPRE, AFO, City of Victoria (TX)
To hear more from 30 Under 30 winners Rosie Santos and Hashim Taylor, tune in to the February bonus episode of Open Space Radio.
Michael Biedenstein, CPRP, AFO, is NRPA's Volunteer and Awards Manager.