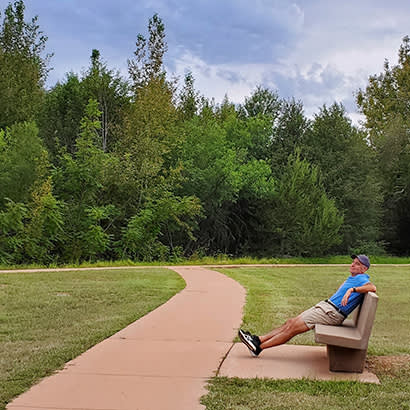 For an enhanced digital experience, read this story in the ezine.
Rumbling traffic, blaring car alarms, pinging message alerts, upsetting 24-hour news — today we are more bombarded with noise and stress than ever. In fact, the World Health Organization considers noise from traffic one of the worst environmental stressors for humans. Further, it calls stress the health epidemic of the 21st century.
This problem has a simple, powerful solution — quiet time in natural settings. More than 100 studies have shown it reduces stress.
But in today's noisy, hectic, high-tech world, we are more cut off from quiet and nature than ever. Even when we are in natural settings, often, we don't know how to make the most of them to reduce our stress.
A new program unlocks this solution: Quiet Hour. Quiet Hour is a meaningful offering for park visitors. In fact, it was created by a visitor.
The 60-minute guided program is a unique way to serve current visitors or attract new ones by helping them enjoy the stress-relief benefits of being quietly present in natural settings. Quiet Hour incorporates several techniques that research indicates have a calming effect, and is designed for people of all abilities ages 12 and older.
Benefits for Park Visitors
Quiet Hour offers many benefits for visitors, including:
A new way to experience nature – However, it's not by learning about it or playing in it, but by feeling inner peace in it. While some visitors might have felt this by chance, Quiet Hour offers them a structured way to feel it often.
A new way to enjoy the serenity of solitude in the outdoors – It also includes the safety and support of a group and the guidance of a leader.
Easy to participate in – Quiet Hour includes visitors who might not be able to participate in other programs that are faster paced, information-rich or physically active. This increases inclusion and access for underserved communities, such as people whose first language is not English and people with disabilities.
Benefits for Park and Recreation Professionals
Quiet Hour also offers many benefits for park and recreation professionals:
A new way to serve visitors and communities – The program makes natural public spaces a stress-relief and wellness resource.
A likelihood of increasing participants' positive feelings about the agency offering the program – The program appeals to their emotional connection with, and desire to protect, nature.
Easy to conduct – The program involves little speaking, very few materials, and no expertise, physical fitness or equipment. The relaxed pace allows time for leaders to preview each step of narration as they go, and for narration to be bilingual or interpreted into sign language.
A way to measure impact – Optional surveys allow agencies to instantly collect feedback from participants and leaders to access the program's effectiveness.
Flexible – The program can be modified as needed.
Ready-to-Use Guide
Quiet Hour is easy to add to a current collection of staff- or volunteer-led programs, or as a stand-alone program. To conduct it, leaders do not need any special training and can simply follow the steps in a ready-to-use guide for group leaders.
The user-friendly booklet has all the information a staff member or volunteer needs to lead the program regularly or test it in a pilot program.
Heather Chase is an author and the main creator of Quiet Hour.