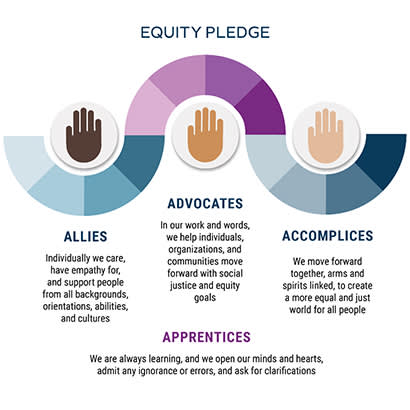 For an enhanced digital experience, read this story in the ezine.
There is a lot of focus on diversity, equity and inclusion (DEI) these days, thank goodness. Equity is not a separate thing we should "do" — it is a cultural concept and value that needs to be integrated into all organizations, personal ethics, training, plans, communications and engagement strategies. We need to nurture inclusive spaces and environments in our communities to ensure that all people and employees, no matter race, color, religion, gender, sexual orientation, national origin, citizenship, veteran status, age, physical or mental disability, or any other defining characteristics, can benefit.
It is helpful to start with ideas for which roles we as individuals, employees and community leaders can really play. We also need to better tell our story to the decision-makers in our communities and the public we serve, so we can provide equitable service to all residents, improve preventive health and social engagement, equitably manage the public dollars we receive, and show an appropriate return on investment for our work.
Today, there are a lot of equity-enhancing resources available for parks and recreation. For example, NRPA has released a suite of resources centered on equity: an equity statement, a story map, Equity Action Plan, and the Elevating Health Equity Through Parks and Recreation: A Framework for Action resource. Here we delve into some concepts that can help us blend NRPA's Three Pillars of Equity, Health and Wellness, and Conservation in our communities.
How We Can Take Appropriate Action
1. Set expectations. Ensure there is a lens of equity applied at all levels — individually, organizationally and extensively across all services provided to the community. After working with various DEI topic experts around the country, some organizations have adopted an Equity Pledge that helps set expectations internally and externally. The figure on page 23 shows a sample Equity Pledge with emphasis on four "A's": allies, advocates, accomplices and apprentices. The pledge requires open minds and hearts to identify and admit any ignorance while asking for clarification on anything needed. We need to first ensure that we check our own biases and become allies, so that we can then advocate and become an accomplice in creating an improved community. However, regardless of how much training and knowledge we gain on this topic, we will all forever be apprentices. Acknowledging this fact allows us to have open conversations, build trust, apologize when we mess up, and better work together.
2. Do the work. After setting expectations and checking our internal biases, we need to foster an environment that addresses internal and external needs, shortcomings, "elephants in the room," and operates and serves with an equity lens on an ongoing basis. This is not a "one-and- done" type of project.
Provide trainings and resources for individuals as needed. After communicating expectations, there will be staff and/or decision-makers who need support, additional resources and conversations to help address existing and identified biases and structural system changes that are needed. Each individual and organization is likely at a different level of understanding on different elements of DEI.
Incorporate inclusive and representative staff and community engagement in all practices and programs. Conduct demographic research and identify priority communities and geographies for targeted outreach and engagement. Who lives in your community? Demographics are changing rapidly. What populations are underrepresented? Are you reaching out to all segments of your population? Is your marketing and program participation reaching all segments? If you don't currently have strong representation on staff, can you work with and compensate other community organizations and partners to make sure you are reaching out, building trust and hearing the needs of those you serve? Strong community engagement processes and needs assessments should at least be part of master planning efforts every five years, but community engagement should be an ongoing, authentic process with dedicated time and resources.
Conduct an equity analysis of your offerings. This includes assessing equitable access, safety and availability of places and programs for all residents to get preventive health benefits through what we provide. This can include spaces and education for physical activity, nutrition, increasing social engagement, reducing stress/addictive behaviors through positive activities, and conservation. Assessing local public health data related to rates of chronic disease, life expectancy, health behaviors and other indicators of health can help you identify where places and programs should be prioritized to address disparities.
Identify needs and action items. We can visually show where the gaps are in equity of services using component-based inventories of our programs, lands and facilities, and levels of service analyses. Once we know what exists, we can create plans to fix the gaps. The map on page 22 provides an example of how Mesa, Arizona, has identified and is addressing gaps in equitable service, using walkability as one key indicator.
3. Keep in mind unintended consequences. We know that park improvements can provide positive preventive health benefits and economic return on investment, especially through increased property values as the quality of neighborhoods improves. However, this also can work to decrease equity if we are not mindful and don't plan with consideration of these impacts.
Representative and equitable focus on expectations, community engagement, planning and ongoing analysis of outcomes will help educate our professionals and create an improved culture. We should listen to all of the voices that need to be heard and provide better services to our communities.
Teresa L. Penbrooke, Ph.D., CPRE, is Director of the Healthy Communities Research Group for GP RED and Co-Director, Parks and Recreation Emerging Professionals Program for University of Colorado - Denver School of Public Affairs Institute.