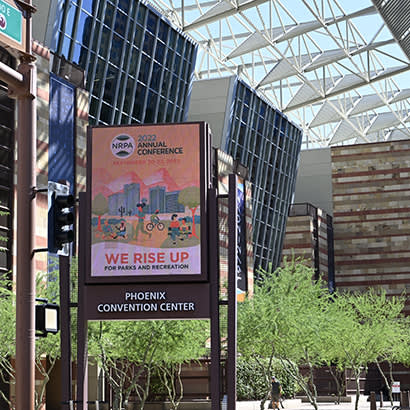 For an enhanced digital experience, read this story in the ezine.
Thousands come to Phoenix while others opt for a virtual experience
On September 20-22, NRPA hosted more than 8,000 park and recreation professionals in Phoenix, Arizona, and virtually for the 2022 NRPA Annual Conference. Inside the Phoenix Convention Center, attendees walked the expansive exhibit hall floor where nearly 400 exhibitors showcased their latest products and services. The bright-colored playground structures and interactive equipment on display brought out the kid in many attendees, inviting them to go down slides, climb up simulated rock walls, or pick up a paddle for a game of pickleball. What's more, 11 companies added to the excitement at the event by sponsoring a scavenger hunt, daily door prize, daily cash giveaway, speed sessions and other special events.
"The exhibit hall was fantastic; I made so many great connections. I cannot wait to bring some of the ideas back to my organization as we continue to plan out our parks," says attendee Monica Tierney, director of parks and recreation, Lower Makefield Township in Yardley, Pennsylvania.
In addition to a robust exhibit floor, NRPA offered a feature-packed week with opening and closing general sessions, pre-conference trainings, education sessions, awards receptions and myriad networking opportunities. Following are some highlights from this year's conference.
General Sessions Shine a Light on Health and Equity
The opening and closing general sessions are among the most well-
attended events during conference, and this year's presenters didn't disappoint. On Tuesday, September 20, Carolyn McKnight-Fredd, chair of the NRPA Board of Directors, kicked things off by welcoming attendees to the conference and thanking park and recreation professionals for their continuous hard work. "Excellence is a hallmark of this field, and this conference is about supporting you," she says. "It's about making sure that you can strive to do more." She also stressed the importance of park equity and racial justice and creating spaces that allow us to see each other in our full humanity. "This week and each day forward, I want you to think about the power of our public spaces and what you can do to make them stronger."
Next, NRPA President and CEO Kristine Stratton took to the stage to first honor park and recreation professionals who passed away in 2022 by leading the audience in a moment of silence. She then segued to this year's conference theme, "We Rise Up for Parks and Recreation." "We rise up means a lot of things," she says. However, Stratton asserts the theme reflects the journey that we have been on for the past two-and-a-half years. "Living through… the pandemic, we are stronger and wiser," she notes. "We've learned to make the tough decisions with grace and sensitivity." While we've all been challenged, Stratton says the field didn't give up, "because every single day in your communities, you rise up." She also says, "NRPA wants to make sure that we support you with the tools and the resources and information and know-how to bring our communities together and to make you stronger."
Stratton then introduced this year's keynote speaker, Dr. Sanjay Gupta, chief medical correspondent for CNN and host of the CNN podcast, Chasing Life. His presentation, "World War C: Lessons From the Covid-19 Pandemic and How to Prepare for the Next One," is inspired by his recently published book.
"According to the Global Health Security Index, the United States was actually ranked number one in terms of pandemic preparedness going into the pandemic. And then we saw the reality unfold," Dr. Gupta says. "[There are] all sorts of reasons for this to be sure, but one that can't be ignored…was the overall health of the citizens of the United States going into the pandemic. Even before all of this began, life expectancy in the United States was already going down, which is hard to believe. And we spent $4 trillion a year on healthcare, more than twice as much per capita as the next most expensive country."
He points out that during the pandemic, the two biggest risk factors were age and pre-existing conditions — such as obesity and diabetes. "[W]hen you look at the United States, you realize that more than half the country is overweight or obese," says Dr. Gupta. The good news is that people can turn this around by heeding what park and recreation professionals already know: being out in nature improves overall health.
"When we breathe in the aroma of the forest, we are doing something that is necessary for our bodies," says Dr. Gupta. "Those receptors have to be activated and the best way to do that is to play in the forest…[to] recreate in the parks."
NRPA's week of learning came to a close on Thursday, with the Equity in Practice endnote panel discussion. NRPA's Stratton talked to keynote speakers KABOOM! CEO Lysa Ratliff, American Forests President and CEO Jad Daley, and National Summer Learning Association Vice President of Programs and Systems Quality Brodrick Clarke.
"We designed this endnote conversation to dig into practical steps that you can take in your agencies and in your communities to support just and fair access to quality park and recreation services and spaces," Stratton says.
The panel explored how to expand equity when building new playgrounds, considering tree coverage in communities and hosting educational programs for youth. Ratliff explained the importance of gathering and examining data as well as outlining key goals, strategies and partners at the beginning of any project. "It's really important for us to continue to center community," she says.
Daley discussed the direct correlation between wealth and race and tree cover, as shown by data. "Tree equity is not about trees, it's about people," Daley says. "Making change requires getting buy-in and participation from everyone, at all levels."
"Quality matters," Clarke says. "When we focus on quality, we are moving the needle with respect to equity in programming." Achieving high-quality, equitable programming starts with incorporating youth voice and choice into programs and experiences. Parks and recreation provides spaces that make youth feel safe and supported, which allows them to thrive. Fostering open and honest conversations with youth participating in programs also is important, he says.
Education Sessions Engage and Enlighten
This year's education programming touched on a variety of topics, offering one-hour sessions and 20-minute virtual speed sessions. Here's a small sampling of the sessions presented.
Hot Topic: Integrating Wildfire Resilience Into Parks, Trails and Open Spaces
Attendees gathered to learn how to plan for future wildfire response and recovery during this engaging session.
"We manage meaningful acres of open spaces," says Carly Klein, senior planner for Pitkin County, Colorado. This makes it important to develop broad, strategic plans for wildfire response and recovery. It also is important to take a seat at the table when communities begin discussions about plans for future wildfires or recovery efforts after an event occurs.
Attendees also heard about the integral role parks and recreation played during the destructive wildfire that swept through Paradise, California, and the involvement the agency has had during the rebuilding, explained Jonah Susskind, senior research associate at SWA urban design firm.
Building Opportunities for Kids With Disabilities
Advancing equity in parks and recreation requires integrating programs that welcome children of all abilities. The importance of this and strategies for implementation were the topic of discussion during this one-hour session.
"There is an amazing shift happening around how we address racism boldly," says speaker Jessica Pullar, education manager for Move United. "We can apply those same principles to disability and other marginalized groups." Organizations must start open conversations to identify what groups they are not serving and make plans to change this moving forward.
Educating youth about people with disabilities is an important place to start. "We need to educate all children about disability awareness and inclusion," Pullar says. That is why Move United developed the Inclusive Playbook curriculum to help equip those running programs with the information needed to start this conversation. During this session, Taylor Smith, adaptive recreation manager for Salt Lake County (Utah) discussed ways their agency prepares for and serves children of all abilities.
Climate Change Mitigation and Adaptation in Urban Parks: Strategies to Thrive in a More Inhospitable Climate
This session — presented by Seattle Parks and Recreation professionals Craig Chatburn, senior planning and development specialist, and Amy Lindemuth, senior landscape architect — explored cost-neutral landscape design and maintenance tactics that park and recreation professionals can use to make park spaces more resilient and less resource-dependent in an increasingly inhospitable climate. In speaking about a pollinator park project, Lindemuth explains, "We partner that effort with informational signage, and the signage communicates why these messier-looking landscapes exist, and how they're working ecologically. In this way, we're trying to help evolve cultural ideas of what our park landscapes will and should look like, and their ecological value."
The Privilege of Privilege: Being a Voice in the Room for Those Not in the Room
During this session, speaker Jason Elissalde, senior project manager at Next Practice Partners, LLC, spoke with attendees about how we can create spaces where conversations about race and identities can safely happen, the rolls we play in creating these spaces, and the importance of defining the words we use in these conversations. One example posed by Elissalde was that of white saviorism, which he says consists of motivations like "I will help you, but only if I lead," and "Being involved will help my reputation," versus allyship, which consists of thoughts such as "I will sacrifice my own self-interests and utilize my privilege," and "I will let them lead and not try to be at the center."
Honoring Professionals in the Field
The conference is not just about the exhibits and education — it's also about celebrating excellence in the field. On Tuesday, September 20, the American Academy for Park and Recreation Administration (AAPRA) presented the 2022 Grand Plaque honors in the 2022 National Gold Medal Awards Program. This annual awards program is administered by AAPRA in partnership with NRPA and sponsored by Musco Lighting.
The following agencies received the Grand Plaque award after first receiving the Finalist award:
Class I (population 400,001 and over): Recreation and Park Commission for the Parish of East Baton Rouge, Baton Rouge, Louisiana
Class II (population 150-001-400,000): City of Des Moines Parks and Recreation, Des Moines, Iowa
Class III (population 75,001-150,000): South Bend Venues Parks and Arts, South Bend, Indiana
Class IV (population 30,001-75,000): Waukesha Parks, Recreation and Forestry Department, Waukesha, Wisconsin
Class V (population 30,000 or less): Town of Fountain Hills Community Services, Fountain Hills, Arizona
Armed Forces category: Naval Submarine Base Kings Bay, Kings Bay, Georgia
On Wednesday, September 21, guests gathered in the Phoenix Ballroom at the Sheraton Phoenix Downtown to recognize and celebrate the most inspirational people and programs in parks and recreation at Best of the Best. The awards ceremony was sponsored by Play & Park Structures and featured guest speaker Dr. Temple Grandin, who shared with the audience about the importance of including different kinds of thinkers in our design processes. "Engineers calculate risk; visual thinkers see it," she says.
Following Dr. Grandin's speech, emcee Neelay Bhatt led the recognition of newly CAPRA-accredited and reaccredited park and recreation agencies, certified professionals, scholarship and fellowship recipients, and the following 2022 award winners:
Spotlight Awards
Robert M. Artz Advocate Award – Ted Schoenborn; Bend (Oregon) Park and Recreation District
Robert W. Crawford Young Professional Award – Kristen Herndon, CPRE; Person County (North Carolina) Recreation, Arts and Parks
RWJF-NRPA Award for Health Equity – Velma Bailey; Saint Louis Torchbearers 2
National Distinguished Professional Award – Dr. Michal Anne Lord; Texas Recreation and Park Society
Innovation Awards
Innovation in Health – Tallahassee Senior Center UPSLIDE; Parks, Recreation and Neighborhood Affairs Department; Tallahassee, Florida
Innovation in Conservation – Palos Preserves Urban Night Sky Place; Forest Preserves of Cook County; Cook County, Illinois
Innovation in Equity – Hillsborough County Wheelchair Football; Hillsborough County Parks and Recreation; Tampa, Florida
Innovation in Park Design – Maker Playground; Fishers Parks and Recreation Department; Fishers, Indiana
Best in Innovation – Palos Preserves Urban Night Sky Place; Forest Preserves of Cook County; Cook County, Illinois
Fun in the Valley of the Sun!
Some attendees arrived in Phoenix a day or two before the start of conference to partake in special events and networking opportunities. On Monday, September 19, some park and recreation colleagues took to the fairway to compete in NRPA's golf tournament at the Whirlwind Golf Club at Wild Horse Pass, while others went horseback riding or on special tours of Hance Park Conservancy, Rio Salado or Maricopa County Parks' Lake Pleasant. The next evening, conference goers headed to the Duce in downtown Phoenix for the NRPA Opening Reception sponsored by GameTime, where they caught up with longtime colleagues while enjoying cocktails, food and music. Others, however, opted for a more Zen-like experience on Wednesday, September 21, at sunrise yoga at the Japanese Friendship Garden of Phoenix. NRPA began the final day of conference early Thursday morning with the 5K Fun Run Walk and Roll in the historical Heritage Square Park.
For those wondering about the overall conference experience, Jay Tryon, superintendent of community recreation, Mecklenburg County Park and Recreation in Charlotte, North Carolina, says: "The NRPA Annual Conference is my favorite week of the year. I look forward to the conference every year and return home motivated and energized to continue to grow our teams and improve the lives we serve. When you bring 6,000 passionate professionals together, amazing things happen and the impacts we make every day become known and shared so we can continue to serve."
Mark your calendars for the 2023 NRPA Annual Conference, October 10-12, in Dallas, Texas.
Vitisia Paynich is Executive Editor and Director, Print and Online Content at NRPA. Lindsay Hogeboom is Managing Editor of Parks & Recreation magazine. Jennifer Fulcher is Manager of Online Content at NRPA.