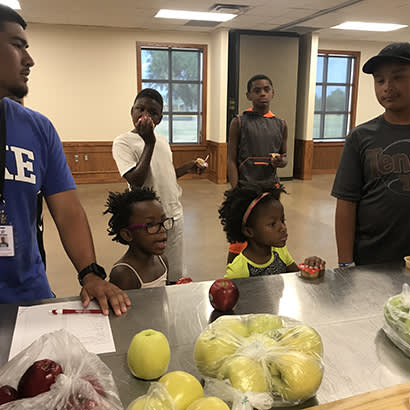 For an enhanced digital experience, read this story in the ezine.
How park and recreation agencies should emphasize mental well-being
Often, when people think of park and recreation agencies, they may think of large-scale events, kids playing outdoors, athletics leagues and families making memories in our programs. While we see our community members laughing and smiling, what we might not be seeing is what's happening beneath the surface. According to the National Alliance on Mental Illness, one in five adults and one in six adolescents have experienced mental illness, and a staggering 4.9 million Americans have been unable to access much-needed mental healthcare. These people are not just statistics — they are our friends, our families, our coworkers and members of our own programs.
Frederick Law Olmstead, who is widely considered one of the founders of the American parks movement, found in 1870 that access to green spaces was "transformative" for populations. He designed parks that he considered equitable to all residents, regardless of socioeconomic background, so that they could cultivate community through a shared outdoor experience.
NRPA also has noted through its three pillars that outdoor time is critical in decreasing stress and depression symptoms, and that mental health states can be greatly impacted by access to green spaces. Knowing this, how can we continue to change with the world around us, adapting to the needs of our community?
Holistic Programming
By putting an emphasis on equitable, holistic programming, park and recreation agencies can provide complementary health and wellness opportunities for their communities. Holistic programming focuses on the mind, body and spirit of the individual in their entirety. This can look unique across the nation, being effectively tailored to each city's needs. From providing yoga or pilates classes outdoors where participants can connect with nature, to art classes that provide creative expression, holistic care already is at the heart of all that we do.
With the determination to provide equitable, holistic care, City of Temple's (Texas) Wilson Park Recreation Center created new programming for 2022. Programs like Mindfulness and Meditations sought to aid participants in recognizing and reducing anxiety by learning the importance of breathing and how to reframe negative thoughts. Additional programs in our holistic offerings are the "Positively Pink" and "Blue Brigade" clubs. These provide a safe space for youth to discuss things, such as stress, anxiety and peer pressure, as well as learn real-world skills. We also added two art programs, "Listen to Your Art" and "Art in Your Neighborhood," which encourage participants to get outside and express themselves through a variety of mediums, such as painting and photography.
Equitable access to opportunities that promote mental wellness are truly at the core of park and recreation programming. Now is a perfect time for us to be more mindful and targeted in our initiatives to meet these needs. We can show our community that there is something for everyone at their local park and recreation agency. What we do should not strive to solve every problem, but we can show our community that we care and that access to holistic wellness opportunities might be closer and more attainable than they think.
Miranda Maloy, CPRP, CPP, is Program Coordinator for City of Temple Parks and Recreation.