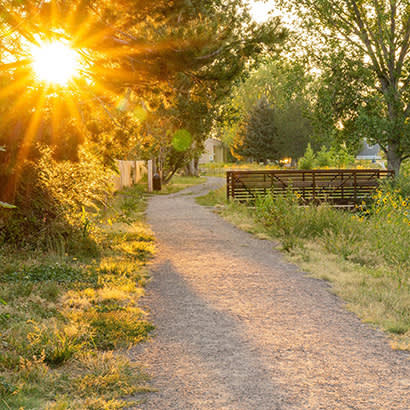 For an enhanced digital experience, read this story in the ezine.
The Inspire Trail and Nature Kids Discovery Zone combine nature and play
Can "nature" be built?
The answer may not be as important as why one might ask it. A recent built space in Colorado highlights that access to "naturalized" urban landscapes might be almost as good as the real thing. "Nature," as it turns out, can be a fluid and fickle concept that eludes definition and ignores boundaries.
Running by neat rows of neighborly homes in City of Lafayette, Colorado, a municipal drainage line called Drainage #4 had become a well-trodden route for trespass. Locals headed across town on foot, particularly kids headed to and from school, scrambled on uneven terrain along social paths made by necessity to save a few minutes on the way to their destination.
The Inspire Trail and Nature Kids Discovery Zone opened to the public in September 2019. Fully designed and built natural resource lands, constructed along the city's Drainage #4, these unified projects created opportunity for lower-income residents to engage with the natural world in a densely urbanized area. Barbed wire fencing and "keep out" signs were removed to make way for new natural areas built for exploration and play. With a mile of new soft surface trails, meandering streams, community gathering areas, and hand-picked logs and boulders, this invented wilderness created a brand-new, integrated ecology and an ever-changing natural space for people to enjoy daily.
This effort highlights three important trends in parks and recreation:
It serves as a model for "building nature" and creating a new urban wild for people to access.
It exemplifies green infrastructure as a better way to envision underutilized public spaces.
It showcases nature play as an impactful way to introduce kids and families to the natural world.
An Inspired Vision
This project is remarkable in that it resulted in a new natural resource area that did not exist previously. While parks, for example, are typically manicured and intended for recreation, this effort added wilderness to the city with nature as a primary user. Managed as "open space" lands, fallen trees stay where they lay, plant succession is encouraged, and policies and practices allow local wildlife to thrive. Places that in the past were kept behind locked gates now allow users to skip to school, stroll downtown, sit on a rock, climb on a log, or build a sandcastle — all surrounded by a brand-new and ever-changing "ecoscape."
A vision made possible by a 450-page grant application assembled by Keith Desrosiers of Thorne Nature Experience, the project was awarded $2.8 million in the inaugural Great Outdoors Colorado Inspire grant cycle. In addition to a full year of public outreach and 500,000 programming hours in backyard-to-backcountry education, funds were also earmarked for capital improvements across the city. Most of those dollars were focused on Drainage #4 with matching funds provided by City of Lafayette and project partners.
The built work, designed by Design Concepts, ended up with a $2 million price tag. The project team navigated a gauntlet of reviewers and approvals, vocal neighbors, enthusiastic partners, red tape, budget issues and setbacks. With unwavering support from city leadership, including Project Manager Rob Burdine and Director Monte Stevenson, the effort stayed on track. Eye-on-the-prize nudges from the grant manager, steady and persistent problem solving by the civil engineer, and impeccable construction work by the contractor also ensured the project was completed to success.
Access to Nature
This effort was driven by a dire need for access — both to places and experiences. While the new trail links residents to schools and businesses, it also creates an immersive everyday experience abuzz with local wildlife, vibrant flora and dappled tree shade. In a busy and built-up part of town that until now has been isolated from any natural areas, it provides equity and improves quality of life for nearby residents.
Many neighbors in this part of Lafayette have never been to the summits or the riverine valleys of the Rocky Mountains or even the Front Range foothills, less than an hour away. Barriers of time, transportation or finances can be insurmountable, so the project team brought the majesty and wonder of that experience to them.
For decades, Drainage #4 was a concrete trickle pan surrounded by infrequently mowed weeds and restricted by fencing. This utility channel was transformed into the Inspire Trail corridor. Native grasses and shrubs, reeds and rushes now serve as a backdrop for an Americans with Disabilities Act-compliant, soft surface footpath with pedestrian bridges that cross back and forth over a winding creek. Narrow single-track trails also were added for a sense of adventure and exploration, complete with steppingstones across the creek bed. A chance encounter with a dragonfly or swooping hawk, or the rush of being engulfed in wildflowers are now everyday occurrences for trail users.
The centerpiece of the project, a two-acre nature play zone, was created on the grounds of Alicia Sanchez International Elementary School. The property had been inaccessible, fenced in years ago for a reason that no one seemed to recall. Intended as a gateway to the natural world for young people and their families, the idea was to transform this unused spaced into a magical place that would enchant the kids, and in so doing, enchant their parents.
Local students were engaged early in the process to find out what "nature play" meant to them. Places to hide and explore, to be in and around water, and objects to climb on, over and under were identified as priorities. By enticing kids to engage with nature as a play experience, our intent was to foster a lifelong appreciation for wild places and their irreplaceable gifts to humanity. The ultimate goal was to create a place that would offer the many well-documented benefits of simply being in nature, such as improved personal wellness and a sense of stewardship, to neighbors who had never been given the opportunity.
In the years since being built, the Inspire Trail and Nature Kids Discovery Zone have become well-worn, wildly successful local amenities. Access to outdoor gathering spaces became essential in our new pandemic world early in 2020, only six months after construction. In this time of crisis and uncertainty, the project offered respite and recreation to nearby apartment dwellers and mobile home residents, just outside their front doors.
Green Infrastructure
Green infrastructure, a popular concept these days, is "a set of practices that mimic natural processes to retain and use stormwater". This notion conflicts with the more traditional approach to civic infrastructure as off limits and reserved for utilitarian function. Green infrastructure acknowledges that a natural environment is ideal to accommodate flooding and storm capacity while it also offers more to people than a sterile, overly engineered utility.
The evolution of Drainage #4 into the Inspire Trail corridor showcases green infrastructure at work. The built project created wildlife habitat, walking trails and stone-skipping spots for people, and enhanced flood capacity for stormy weather. In so doing, it exemplifies the power of places intended to serve both nature and humanity. It highlights the inherent, expansive value of wild spaces. These overlapping values recognized by green infrastructure in design are referred to as ecosystem services.
The idea of ecosystem services drives design that supports utility, hydrology, ecology and recreation — all at once. This very concept is a departure from the long-standing approach to creating our urban places, which has sought to distinguish utility spaces from people spaces. This old approach has proven problematic, as we are now reminded daily with the impacts of climate change front and center in global news cycles. The new approach, driven by greening our infrastructure, allows for the broad range of ecosystem services as solutions not just to our climate crisis, but also a growing need to address mental and physical public health issues.
As a result, strategies of resilient, low-impact design have taken hold that enhance both utility and human quality of life. Naturalized stormwater systems, which allow for smaller and more aesthetic interventions, have become a best practice in many situations. Much of the well-intentioned work of past decades is being reconsidered as an urgency grows to undo heavy-handed engineering, break up the pavement, and design spaces for nature to thrive and for people to enjoy.
Nature Play
Nature play has been met with quite a bit of press in recent years, with good reason. Nature play spaces have been defined as places in which "children of all ages and abilities play and learn by engaging with and manipulating diverse natural elements, materials, organisms and habitats through sensory, fine motor and gross motor experiences". The benefits of nature play spaces abound with impacts on health, education, economics, environment and equity.
Studies have demonstrated that nature play:
Improves mental and physical health; decreases stress, anxiety and depression; and improves ability to assess risk in the environment
Creates a connection to the natural world that promotes environmental stewardship, improves focus and attention span, enhances academic performance, and has been shown to reduce bullying and absenteeism
Saves money as nature play elements are affordable to install and easy to replace, such as logs and stumps, or are infinitely durable, such as stone
Boosts investment in local suppliers, quarries and nurseries, as nature play spaces can be built entirely of local materials
Improves water quality, reduces runoff, recharges groundwater, reduces urban heat island effect and reduces carbon footprint
Enhances social justice with access to nature, as less affluent communities typically have less green space nearby
That's a lot of upside.
With these benefits in mind, the Nature Kids Discovery Zone was designed as fun place to play and a pleasant spot to spend time outside with friends and family. The "Zone" offers various elements to engage new and well-
seasoned nature lovers alike. These include:
Three formal play pits with massive log climbers and boulder play features designed with resilient surfacing and adequate critical fall zones
Two shed-style pavilions with rustic detailing, such as corrugated roofs, wood paneling, timber posts and sandstone capped integrated seatwalls
A "treehouse" of tiered platforms beneath mature evergreens for outdoor instruction and shaded gathering year-round
An adventure trail of massive beetle kill pine stumps, fallen logs and boulders that lead to a hilltop summit
A kid-size rustic cabin with an authentic ore trolley to honor local mining history
A visitor-activated creek that runs past sandy banks and over river cobbles as it moves through the site
A viewing platform overlooking an educational wetland fed by the creek for nature programming and school instruction
Steppingstones leading to "habitat islands," intended to showcase upland ecology and wetland ecology side by side
Tree selections and plant species highlighting various Colorado ecosystems
Stone circles and moveable stumps for informal seating and creative gathering
Lessons Learned
Today, a visitor to the Inspire Trail and Nature Kids Discovery Zone will witness users big and small enjoying the space in ways the designers never envisioned. The project design was only a starting point, as it turns out, for infinite explorations in landscapes both real and imagined. With "nature" as the backdrop, whether native or designed, it appears anything is possible.
An Interview With Rob Burdine
When a landscape is set in motion, there are bound to be surprises as much a design team tries to anticipate them. Burdine, City of Lafayette Open Space Superintendent and city lead on the project, replied to a few questions and shared his experience managing the properties during the past couple years.
Carter L. Marshall III: Hey Rob! It has been a couple years since construction. How's it going out there?
Rob Burdine: It's been exciting to watch the vegetation heal in from mostly natural rainfall and transform the Discovery Zone to a wilder experience for visitors. Vegetation management is our biggest challenge thus far, from controlling invasive weeds to establishing native vegetation throughout.
Marshall: Do you have a favorite aspect of this project?
Burdine: Watching the students! When they are set loose to explore, it's a raw, wild experience. There is no structure or restraint — it's fun to see the kids let go of all inhibition and take risks with pure joy on their face.
Marshall: What kind of response have you had from visitors?
Burdine: Most, if not all, share their experience, and I hear from patrons all the time how wonderful it is to have such an interactive amenity so close to home. The community has really taken ownership of this site, they care about its appearance and upkeep.
Marshall: What is the is the most unexpected thing you have seen working out there?
Burdine: A flash flood this spring! It's something we knew could affect the property, but until we experienced it, we weren't sure what to expect. Now we have experience making repairs and understand the potential that future flooding in this drainageway will impact our management.
Marshall: We installed irrigation to establish the native grass seed in the nature play area. This is unusual on open space property, I expect. Has it impacted the way you manage the property?
Burdine: Irrigation is not typical to open space properties in Lafayette. The irrigation has been a good resource for vegetation establishment upfront, which helps in weed suppression. One factor that remains a challenge is managing the property irrigation through third party Boulder Valley School District. Sometimes priorities of land management don't coincide with school district priorities, and we will continue to work through those challenges with partners.
Marshall: We opted for "roots, not rip-rap" and planted wetland reeds and rushes instead of granite boulders to prevent erosion on the channel bottom. How did that more cost-effective eco-friendly approach work out?
Burdine: It's been a huge success. Erosion has been minimal, and vegetation establishment has been good. The local stormwater district accepted the drainageway maintenance after just two years of vegetative establishment and weed suppression. It is an example of what can succeed if all parties are willing to think creatively about the ecology surrounding natural drainageways in their communities.
Marshall: Access to work vehicles is limited in some spots. Has that been a problem?
Burdine: It provides challenges. Thus far we have been able to manage around. When the flash flood upended climbing logs and play pits, we utilized mini-excavation equipment and manual labor to reset the structures. Volunteers are also assisting with weed management, replacement plantings, and general maintenance helping to off-set the need for large equipment access.
Marshall: Have there been any big lessons learned in managing these sites? Anything you might do differently?
Burdine: Major challenges exist around weed management. Ensuring imported soil is weed free, or topsoil repurposed on-site is treated for weeds, should be a priority when herbicide use is prohibited. Hand pulling, biological controls, and a new innovative steam eradication technique are currently unable to keep pace with the weed management at the site. Additional staff will be hired to help with vegetive management at the Lafayette Nature Kids Discovery Zone going forward. Originally little maintenance was anticipated at the site, but in reality, daily maintenance is required to maintain the high standards of an award-winning nature discovery area.
Carter L. Marshall III is Associate Senior Project Manager at Design Concepts.