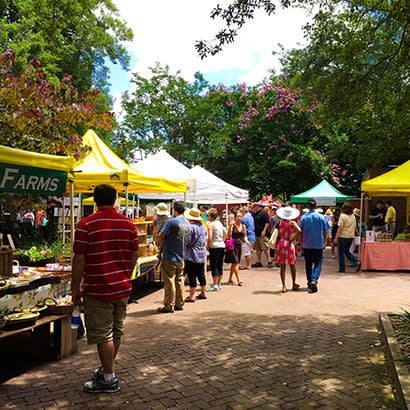 For an enhanced digital experience, read this story in the ezine.
The partnership between local parks and recreation and farmers markets is a natural one that supports both entities as stewards of the land and connects community members to health and well-being opportunities. Over the years, we've seen an increase in park and recreation agencies hosting farmers markets themselves or entering into a shared-use agreement with a local market to support access to local agriculture opportunities. But how does hosting a weekly market support broad conservation efforts?
Often, markets located on parkland are in central, walkable locations, which creates more equitable access to the market and reduces transportation burdens, like fuel use and emissions. Additionally, these markets promote the advancement of emerging farmers who diversify the agriculture business, increase product variety, and who understand the role of health food in their community and the importance of responsible land-use techniques.
The collaboration of markets and parks and recreation also can serve a responsive role. When months of rainfall depleted local crops in Arkansas City, Kansas, in 2019, the Arkansas City Recreation Commission continued to host its weekly market. Although a limited number of produce growers could sell at the market, the weekly activity provided a chance for people to support the agriculture community while still enjoying the social connections the market provided. The recreation commission provided evening meals through the federal child nutrition Summer Food Service Program with complimentary entertainment, like scavenger hunts and live music. All of this led to sustained market attendance, something that supported local growers as they returned throughout the season following the devastating impacts of local flooding.
As a direct result of the coronavirus (COVID-19) pandemic, the Arkansas City Recreation Commission and Tunica (Mississippi) Parks Board, both key players in their local agriculture and farmers market systems, saw their communities face local economic hardships, resulting in limited meal programs, limited income for community members to purchase healthy foods, and barriers to accessing those foods, such as limited transportation options. Arkansas City distributed evening meals to children during market hours and introduced Supplemental Nutrition Assistance Program (SNAP) Electronic Benefit Transfer (EBT) card acceptance at their market. To support community members, $190 in SNAP EBT tokens were distributed over three months, with $167 in token redemption at the market — all supporting local farmers who also were impacted by the pandemic.
Using its land as a key resource, Tunica distributed produce grown in its onsite hoop house and community garden to those in need through a community-supported agriculture program. Produce was planted, grown and harvested by youth during out-of-school time programs, then shared through boxes available for pickup. SNAP recipients had first access, with remaining produce distributed at the Paul Battle Arena through a partnership with the Mid-South Food Bank. During eight donation days, 270 community members received 15-pound boxes of fresh produce — a total of 4,050 pounds of food. This use of hoop houses and community gardens continued through 2021, with direct input the community. To ensure no food was wasted, the board surveyed community members in the fall of 2020, asking what produce they would be most interested to receive. Based on the results, the requested seeds were planted and harvested, reducing the amount of food waste while supporting the health and nutrition of community members.
The relationship between parks and recreation and farmers markets is important and scalable for communities across the country to support more resilient communities. From sustainable land management practices, to reducing carbon emissions, to equitable community agricultural trade and advancing the importance of land stewardship, farmers markets are a key part of the impact parks and recreation has on community health and well-being.
For more information and resources, visit NRPA's farmers market resource webpage.
Maureen Neumann (she/her) is Senior Health Program Manager at NRPA.