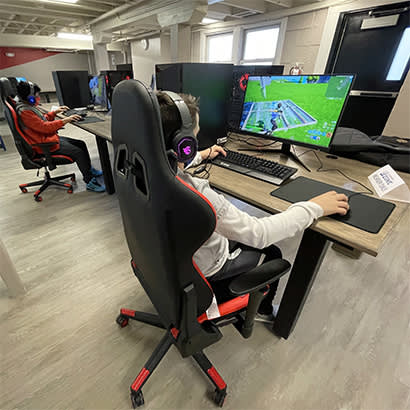 For an enhanced digital experience, read this story in the ezine.
As esports continue to grow and evolve, local park districts and communities are learning more and more about ways to engage youth and adult gamers alike. A recent poll by the National Alliance for Youth Sports found that 70 percent of kids stop playing sports by the age of 13, while 90 percent of kids ages 12 to 17 play video games. Providing a space for kids to play esports in your community can be a great way to keep them involved with your park and recreation department.
One way of growing your community's esports program is by creating a gaming center (or a LAN — local area network — center) where community members can use gaming personal computers (PCs) or consoles. However, this does not have to be limited to just esports and gaming. It also can be used for programs in game design, 3D animation and many other science, technology, engineering and math (STEM) fields.
The Beginner's Mindset
What are some of the most important things to consider when just beginning the process of setting up a gaming center? We talked to Pat Bodame, superintendent of recreation for Hoffman Estates, Illinois, who just recently finished the process of creating a gaming center in their community — known as the ESports Zone — to get some insight into the process. Here are some of Bodame's suggestions:
Space – "Space is probably the number one thing to think about. You want to create an environment that works for gamers. It is finding that look and feel so when they enter the space, there is the 'wow' factor. Within park districts, spacealways can be a challenge. But if you have the right room and aesthetics, it should work out nicely."
Computers – "Plan ahead on your technology needs. This was the one area we put all of our resources into to ensure we had the best computers and gaming systems for the public to use. We all know how quickly technology can become obsolete, and it's worth it to spend a little more now and get the top-of-the line systems."
Sales and Marketing – "Think about packages/memberships/daily fees/rentals. This all needs to be part of your business plan and will help lead to success for your space. The number one thing that was and is still on my mind is how to generate more revenue within that space."
Budget – "We completed our ESports Zone for $35,000 in upfront costs. That does not include yearly items, such as internet and salaries. Our space used to be a teen center that would cost the district anywhere between $6,000 to $10,000 a year to operate."
In addition to these suggestions, it will be helpful to gather some data points early on from your community to guide your decisions during the planning process. One of the first things you may need to do is simply survey your community to see whether there is interest in a space like this. Following are some questions that will help guide you in designing your gaming center to meet your community's needs:
How many gamers are there currently in your community?
What games are they playing?
What gaming systems are people in your community using? (e.g., PC, Xbox, PlayStation and Nintendo Switch)
What types of events would gamers like to see at a gaming center in your community?
What days and times would gamers be most likely to visit the community gaming center?
Researching What to Purchase
Creating a center with gaming capable computers and peripherals does require a bit of research into what specific brands or types of computers you may want to go with, but you will benefit from spending as much time researching and comparing prices as you can. The process of selecting and purchasing equipment can seem like a daunting task. However, breaking it down into sections will help make the process easier.
Internet, Space and Layout
It's important to make sure all PCs and consoles have access to the internet within your gaming center. Ideally, you will want to have wired internet for all the gaming stations, but wireless also will work.
PCs, Consoles and Peripherals
You will need at least six PCs in your gaming center, with 12 PCs being the optimal number. This will ensure that there is enough equipment for teams to be able to utilize the gaming facility. Each PC also should be outfitted with a monitor, headset, mouse, keyboard and gaming chair. In addition, you will need gaming consoles and controllers. The most popular consoles are PlayStation, Xbox and Nintendo Switch. Each gaming console will require access to a TV or monitor. It is recommended that you have at least one of each gaming console to start your gaming center.
How to Fund the Space
While initial starting costs may seem high, there are a multitude of revenue streams that can be generated from a gaming center. "Funding of the space should be done through daily fees and memberships," says Bodame. "There are also ancillary services, such as rentals, birthday parties and tournaments, that all can be used to generate more revenue in the space." Some of the primary forms of revenue gain can be found through daily fees, membership fees, special events, private events and local partnerships. "[Tournaments/leagues] were our best event," Bodame says. "Running monthly tournaments is a great way for people to check out your space at a small cost. It gets people engaged and creates a fun atmosphere for the players."
Educational Benefits
Outside of being used for gaming leagues and events, gaming centers also provide ample educational opportunities. Gaming PCs are powerful enough computers to run beginner level game development software and other computer programs that will introduce users to STEM career fields and paths. Some examples of STEM-focused software include Unreal Engine, Unity, Adobe Suite and Blender. Gaming camps that utilize competitive, team-based games also can provide leadership opportunities to older and more experienced players in the form of coaching. Utilizing near-peer mentorship through esports coaching can be a great way to teach social-emotional learning values to young gamers in your community.
A Worthwhile Investment
While creating a project such as this can be intimidating, with preparation and a pre-planned budget, a gaming center can become a reality for your local community. As esports continue to grow in popularity, there are many successful gaming centers that currently exist across the country to look to for examples. A gaming center can be an extremely worthwhile investment for your community in a world that continues to rely more and more on technology and careers in STEM.
Ivy O'Shaughnessy is Partner Success Manager for GGLeagues. Greg Boehm is Partner Success Manager for GGLeagues.