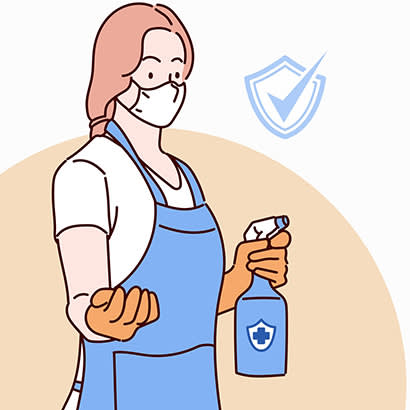 For an enhanced digital experience, read this story in the ezine.
Whether you are a first-time NRPA conference attendee or you're a returning participant, the 2021 NRPA Annual Conference will be a one-of-a-kind experience for everyone. Here are answers to some of the questions you may have about this year's event.
What makes the 2021 NRPA Annual Conference a hybrid event?
The 2021 in-person and online conference components will be offered simultaneously September 21-23. Various parts of the "live" conference, such as education session content and exhibit hall product announcements, will be broadcast through NRPA's online platform. General Sessions will be pre-recorded and presented to both in-person and virtual attendees through various mediums.
---
How will NRPA take action to ensure health and safety protocols are enforced during the conference in Nashville?
The safety of our staff and attendees is of the utmost importance to NRPA. We will follow all federal, state and local guidelines set for in-person gatherings, as well as the recommendations provided by the Centers for Disease Control and Prevention (CDC) and the World Health Organization (WHO). In-person attendees can expect daily health and wellness check points, physical distancing and face covering requirements, as well as other health and safety protocols.
Personal Accountability
Any person who is feeling ill or has been exposed recently to the coronavirus (COVID-19) within the two weeks leading up to the conference should stay home. A Code of Conduct, to include a Personal Accountability Commitment, has been adopted for 2021 and will be a required agreement prior to completion of the registration process for those who will be attending the conference in Nashville, Tennessee.
Masks
Masks will be mandatory while attending the conference and all associated functions. Masks will be available on-site should any participant arrive without one.
Physical Distancing and Contact
All attendees must agree to follow and engage in appropriate six-foot physical distancing procedures and protocols when inside the convention center lobbies, corridors and exhibit hall. Education session room seating will be set at three feet apart, all seats facing forward and must not be altered. Crowd-flow procedures, signs and floor stickers must be adhered to in lobbies, registration areas, session rooms and the exhibit hall. Attendees will be discouraged from shaking hands, fist bumping, high-fiving or embracing.
Cleaning Services
All public areas, including restrooms and lobbies, will be cleaned before, during and after events. Conference equipment will be cleaned between users. Meeting rooms used for education will be cleaned during extended breaks between sessions and overnight, and the exhibit hall will be cleaned overnight.
Sanitizing Considerations
The convention center has 101 hand sanitizing stations with 70 percent alcohol content located within the convention center. There are 248 sinks in the convention center, each equipped with touchless water and soap dispensers. All restrooms have touchless paper towel dispensers and will be closed regularly for cleaning. Attendees will be asked to sanitize their hands upon arrival at the center daily.
On-Site Medical Protocols
Daily wellness questionnaires and temperature checks will be required for all people attending in Nashville. Attendees, exhibitors, vendors or staff presenting a temperature of 100.4 degrees or higher will not be allowed access into the convention center. Emergency medical technicians will be on-site and have an isolation first aid room and emergency care plan in place for anyone who begins to feel sick or present COVID-19 symptoms during the conference.


---
What is the registration fee? What does the registration cover?
You can find all registration information at the Conference Registration site.
Are there any meals included with my full registration package?
A boxed lunch will be provided on either Tuesday or Wednesday, based on each attendee's learning pod assignment. In addition, a gift card to be used at a Nashville restaurant will be provided to those who attend one of NRPA's evening socials.
What is the cancellation and refund policy for the conference?
Registration refund and cancellation requests must be provided in writing by Friday, August 20, 2021, no later than 5 p.m. CDT, and will incur a $100 processing fee. No refunds will be issued if requested/postmarked after the August 20, 2021, cut-off date. More specific details regarding cancellations, refunds and the option to transfer your registration can be found on our conference website. For additional information, please contact us via email or at 972.349.7715.
If I have specific questions about my registration or housing, or need to make changes. Whom can I contact?
You can call our registration and housing partner, MCI, at 888.385.8010 (or 972.349.5891) or email.
How will I receive my badge and registration materials for the 2021 in-person conference?
NRPA will no longer be mailing badges ahead of the in-person conference. Badge pickup will be available on-site at registration. Registration will be located in Exhibit Hall A and will open on Monday, September 20.
How will NRPA handle physical distancing requirements for the education sessions?
To ensure proper physical distancing is achieved, those who attend the education sessions will be divided into two groups: Learning Pod A and Learning Pod B. Separating into these groups will help facilitate physical distancing in lobbies, corridors and the exhibit hall, as well as during breaks. Each learning pod will have established attendee arrival times and schedules:
Learning Pod A will attend sessions on level one and in the Davidson Ballroom.
Learning Pod B will attend sessions on level two and in the Grand Ballroom on level four.
Breaks between education sessions will be longer than usual to allow for meeting room and equipment cleaning. During these breaks, attendees will be encouraged to visit the exhibit hall (based on their Learning Pod assignment), explore the virtual platform on their mobile device, or head outdoors for a brief walk and some fresh air. Additional information regarding learning pods will be provided closer to the conference dates.
Additionally, NRPA will continue to monitor all federal, state and local guidelines, as well as recommendations provided by the CDC and WHO as they relate to in-person gatherings and will communicate any changes to these policies.
I have more questions — where can I get more information?
You can find more information and frequently asked questions by visiting the 2021 NRPA Annual Conference.