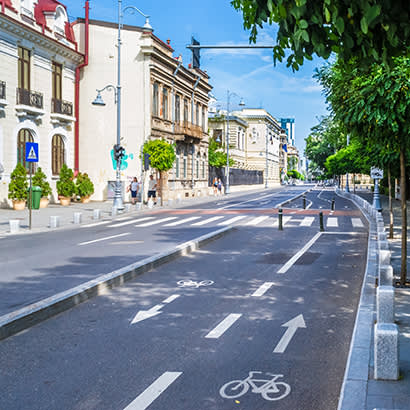 For an enhanced digital experience, read this story in the ezine.
I remember arriving in the United States with my mom in the late 1990s when I was 16 years old. Similar to many immigrant kids who could not speak English, I struggled, along with my mom, to make ends meet and adapt to our new home. I attended high school during the day, worked at a shoe store in the evenings, and I cleaned houses with my mom on weekends. One particular challenge was walking to the store or even our local park, which proved nearly impossible given the multiple lanes of fast-moving cars. We had to ride three buses from our apartment in the Langley Park/Long Branch corridor in Prince George's County, Maryland, to clean mansions in Chevy Chase, Maryland. Although it was no more than 12 miles away, it took almost two hours to ride buses each way — that's nearly four hours in a single day dedicated to transportation. But that was not the only problem. Add to the situation: streets with high-traffic flow; lack of sidewalks, bus shelters and streetlights (particularly during the winter time when it got dark by 6 p.m.); and the incredibly frustrating infrequency of buses, disregarding the needs of working people who relied on them.
Indeed, we were facing an inefficient and dangerous anti-people, anti-worker, anti-environment, anti-progress transportation network.
So, as one can imagine, my life experience helped me develop an acute desire for improving our streets and land use for people.
Challenging the Status Quo
The status quo continues to be a set of disconnected and piecemeal improvements that fail to effectively manage our streets as a system of public spaces that embraces people of all abilities. It is an unacceptable tragedy every time someone dies or is severely injured in a traffic collision that could have been prevented if streets had been designed for people. These tragedies affect more than the victims of the crashes; they severely impact entire communities by creating barriers to achieving physically healthy communities.
Solutions to overcome these tragedies must be among environmental justice efforts. People reject walking and biking for recreation or transportation purposes if they perceive them as unsafe in their neighborhoods. That's why we need a community revolution — from coast to coast — to break the status quo of violent street designs.
Today, we are seeing several projects to efficiently connect our communities, including the awaited Purple Line light-rail linking Montgomery and Prince George's counties in Maryland, protected bike lanes connecting to bike trails, and dedicated bus lanes. Yet, we are not moving fast enough — as communities remain heavily dependent on automobiles, making our transportation system a major contributor of greenhouse gas emissions while climate change threatens our future.
Our dependence on driving is rooted in decades of efforts to facilitate the movement of cars as quickly as possible at the expense of making spaces accessible for people to walk, roll and bike; developing dedicated transit lanes; and designing spaces to plant vital street trees that also contribute to making our communities safe, healthy and enjoyable.
We must invest in safe streets to move people to parks, trails, restaurants, transit stops, schools and jobs. This is about creating a sense of belonging in our communities that sparks economic and environmental sustainability.
The low-density development near transit and the auto-centric shopping centers that are accompanied by multiple lanes of high-speed roads need to be redeveloped and redesigned, and soon. Currently, they limit access to the commercial core and create a safety hazard for people traveling, regardless of the transportation mode.
Reimagining Our Public Spaces
Furthermore, when we combine this traffic violence with rising inequality, the loss of jobs due to the coronavirus (COVID-19) pandemic — including in the restaurant and childcare industries, in which a significant number of people of color worked — and the ongoing threat of climate change, we must understand that our economic recovery and our environmental justice responsibility must include reimagining a crucial public asset: our streets. By reshaping the ways our community resources are linked, we can provide community members with safe and effective access to spaces and opportunities — such as parks and recreation — that advance the health, well-being and quality of life for all.
Natali Fani-González is former Vice Chair of the Montgomery County (Maryland) Planning Board and an advocate for environmental and economic justice.