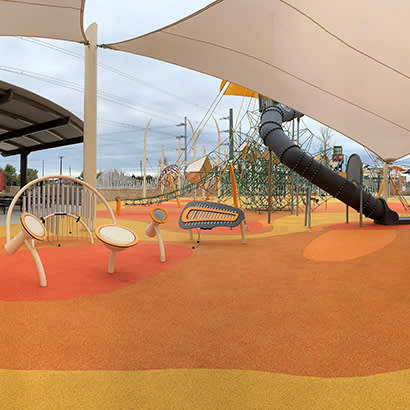 For an enhanced digital experience, read this story in the ezine.
A study of this all-abilities playground uncovers valuable data for inclusive park design, community engagement and fundraising
My friend Katie recently shared the difficulties she has playing with her three-year-old daughter, Adeline, at the playground. Katie is a 20-something entrepreneur raising her only child in rural Texas. There are not many other little girls her daughter's age in her neighborhood, so Katie is her daughter's primary playmate. My friend also has multiple sclerosis. She has begun using a cane and will eventually need a wheelchair. Her disability has forced her to give up things she loves, like running and being on her feet all day selling her homemade hand pies at festivals. Now, this disease is robbing Katie of her ability to play with her daughter.
"I can only take Adeline to the park for an hour or so because I can't stand very long and everything to sit on is painful," Katie says. "I usually sit on a swing, but that means I can't follow Adeline around and interact like I want to. And if I bring a wheelchair or walker, it still doesn't do me any good because it's not accessible. Disability just overall affects human interaction in our society, and it shouldn't be that way."
It shouldn't be that way. People with disabilities are often stigmatized, underserved and left out of experiences, like playing on public playgrounds. Play helps us develop physically, socially, emotionally and intellectually and builds confidence, creativity and empathy. Without equally accessible playgrounds, these benefits are not fully realized by people with disabilities. A move toward inclusive playground design addresses the access gap, but such spaces are limited, expensive, misunderstood or misused, and often do not invite play among people with all ability levels. One playground taking on this challenge is PlayGrand Adventures, a 10-acre, all-abilities playground in the heart of Grand Prairie, Texas.
PlayGrand Adventures: A Case Study
As a doctoral student at Baylor University, I conducted an illustrative case study on PlayGrand Adventures to understand how the community engaged as supporters. I focused on visitor utilization, donor behavior and perception, asking how visitors utilized PlayGrand Adventures, how donors supported PlayGrand Adventures, and how community perception of PlayGrand Adventures drove engagement. Through an online questionnaire, semi-structured interviews and playground observations, I uncovered information that will help PlayGrand Adventures and other all-abilities playgrounds respond to community needs, raise funds for development and sustainment, and design spaces where everyone can play together, regardless of ability level. Findings from this study are highlighted below.
Visitors with and without disabilities share many values: safety, inclusion and socialization. Visitors to PlayGrand Adventures expressed satisfaction with the equipment and amenities, praising the quantity, variety and intentional inclusivity of features. The most-mentioned features were the family seesaw, in-ground merry-go-round and inclusive swings. Visitors noted the unique experiences provided by these features — especially the ability for families to play together due to the size- and ability-inclusive designs. Safety was another important factor. Parents, especially mothers, appreciated the soft, cushioned surface for injury prevention and the thoughtful design and arrangement of features to promote high visibility from multiple vantage points. This attention to detail made PlayGrand Adventures stand out as a great place for families to play.
Donors respond to opportunities that are easily understood, immediately actionable and personally relevant. The key themes in donor motivation proved to be relevance and connection. Many large donors shared an affinity with PlayGrand Adventures, including location, healthcare, engineering or design. While less lucrative, opportunities to name benches and paint tiles adorning the playground provided a direct connection between donors and PlayGrand Adventures. All-abilities playgrounds are expensive to build and maintain, so PlayGrand Adventures was wise to diversify donation opportunities to attract and reward different levels of engagement.
PlayGrand Adventures is perceived as an engaging, safe and unique playground that motivates support via visitation and donation. Common words used to describe PlayGrand Adventures were "safe," "fun," "inclusive" and "different." These words show what visitors and donors value in the playgrounds they visit and financially support. The perception of safety applied to every aspect of PlayGrand Adventures, including the location, the surfacing, the sightlines, the well-lit parking lot and the thoughtfully designed equipment. In addition to safety, participants valued PlayGrand Adventures as a place where everyone could have fun playing together, setting the playground apart from less diverse playgrounds. This was critical for families impacted by disabilities, but families without disabilities also noted the importance of exposure and collaborative play in building empathy for others and decreasing stigma.
Applying the Findings
In addition to PlayGrand Adventures, the implications of my findings extend to multiple stakeholders.
PlayGrand Adventures – Based on findings, PlayGrand Adventures is on the right track with its design, features and amenities. Continued expansion will offer new play zones to accommodate different age groups and sensory needs that did not receive attention in the first phase. Participants noted that children love to climb, so adding additional climbing features will satisfy that desire. Participants also loved the inclusive equipment that encouraged collaborative play and features that could be enjoyed by the whole family regardless of age or ability level. Some specific suggestions included a laser harp, splash pad and mirror maze. These features could be enjoyed by anyone and diversify the offerings at the playground.
As support continues to grow, the PlayGrand Adventures team should strive to balance funding streams. Large donations are necessary to purchase and maintain expensive equipment, but peer-to-peer fundraising opportunities and creative campaigns build critical community-level support. Playgrounds need both large donors and community visitors to thrive. Keeping supporters engaged at all levels will encourage individuals to spread awareness about the playground, in turn, bringing in more visitors and financial supporters.
PlayGrand Adventures should consider increasing opportunities for community engagement outside of general visitation and sponsorships. This could include volunteer opportunities — such as playground clean-ups, playground information providers or Best Buddies-type play partners. Other opportunities include educational presentations on topics related to all-abilities playgrounds, social events for affinity groups, or city-sponsored events and festivals.
Communities aspiring to build similar playgrounds – People who encounter inclusive playgrounds often become interested in replicating the designs, but there is a lack of consistency in classifications, information and a clear process for building such playgrounds. There are significant hurdles to building all-abilities playgrounds, including space, funding and ensuring the design is engaging for multiple audiences. Cities wishing to replicate Grand Prairie's vision of PlayGrand Adventures would be wise to learn from those who have come before them. The PlayGrand team visited several inclusive playgrounds and consulted inclusive playground equipment manufacturers when planning their own playground, which informed their design and implementation.
While seamlessly integrated all-abilities playgrounds might be impractical for smaller parks and private spaces, there are several changes that existing playgrounds could make that would benefit visitors with and without disabilities. Based on findings at PlayGrand, upgrading to poured-in-place rubber surfacing in place of wood chips or other surfacing would prevent injuries and increase perceptions of safety. Likewise, in-ground merry-go-rounds are not only accessible, but also safer than traditional counterparts. Finally, there are many playground equipment options that can be enjoyed by everyone, including spinning sensory wheels, musical instruments with responsive lights, funhouse mirrors and splash pads. Investing in these items could prove to have a higher return on financial and space investment than highly specific inclusive equipment.
Families who visit playgrounds – Playgrounds can be a place of bonding and learning for families. I observed parents engaged with their children at different levels, but research indicates child-parent interaction is critical for appropriate attachment, development and learning. There are many activities parents can enjoy with their children on any playground, like pushing them on the swings, spinning them on the merry-go-round, helping them climb, or simply racing or playing catch. However, all-abilities playgrounds with family-sized equipment make these opportunities more accessible and comfortable for adults. In addition to playing together, playgrounds provide an on-location classroom for teaching children empathy, how to appropriately interact with others, and how to understand disabilities.
Potential playground partners – Playgrounds can exist without external partnerships, but engaging through formal connections can increase awareness, sustainability and growth opportunities. School partnerships might include fundraising opportunities or curriculum development for field trips, as in the case of PlayGrand Adventures. Corporate social responsibility programs and community clubs could be sources of funding and volunteers. Partnerships with medical providers could lead to greater awareness, educational opportunities and treatment in a novel location. While these partnerships help day-to-day playground operations, they also can build relationships and personal connections that develop lifelong supporters.
Making a Difference
My friend Katie deserves to play with her daughter, and at playgrounds like PlayGrand Adventures she can. These all-abilities playgrounds are not just providing places for children to play. They are places of human interaction, socialization and engagement. What would it be like for Katie to play with her daughter like any other parent? What would it be like for Katie to meet with a group of other mothers with disabilities to engage in conversations and connect while their children play together? What would it be like for others to learn from my friend how disability affects her life, but has not robbed her of her ambition, success or joy? Katie and I cannot wait to find out. PlayGrand Adventures and other all-abilities playgrounds are making this vision a reality.
Dr. Taylor D. Bunn is Executive Director for Hope 4 All.