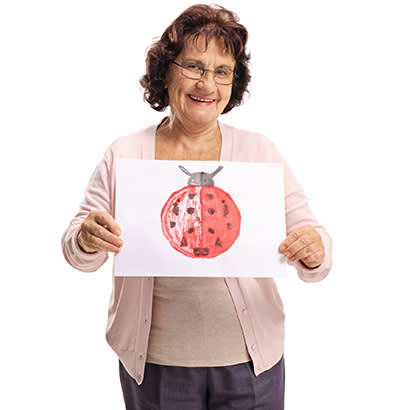 For an enhanced digital experience, read this story in the ezine.
When the coronavirus (COVID-19) pandemic hit, intergenerational programs — those that unite younger and older generations in meaningful, purposeful activities — scrambled to maintain social connections between people of all ages while meeting critical needs in their communities.
Kind2Kupuna, a project of Age-Friendly Honolulu in Hawaii, began collecting hopeful messages and pictures from keiki (elementary, middle and high school students) for kupuna (older adults). The messages and drawings have been made into collages and distributed to kupuna in several assisted living communities, senior centers and kupuna meal provider locations.
As the world went virtual, many other intergenerational programs turned to online platforms. SAGEConnect, a program of SAGE — a national organization that provides advocacy and services for LGBT elders — launched in April 2020 to address growing concerns of social isolation for all ages. The program connects LGBTQ+ older adults across the United States with casual, weekly phone or video calls from a younger volunteer.
Other programs looked for ways to safely connect older and younger people outdoors. As part of its AGE to Age program, the Northland Foundation in northern Minnesota sponsored 11 community gardens in 2020, bringing together nearly 200 young people and older volunteers. While maintaining safe distances, people of all ages worked together to plant and maintain the gardens. The harvested produce benefited the volunteer gardeners and was shared with local assisted living facilities and food banks.
Other examples of how intergenerational professionals adapted programs and activities during the COVID-19 pandemic can be found in Generations United's new resource on intergenerational programs and the COVID-19 pandemic.
These programs' creative attempts at building strong, albeit virtual or physically distant, communities are in line with this year's theme for Older Americans Month, "Communities of Strength," and can serve as inspiration for park and recreation professionals who are seeking creative, engaging ways to meet the needs in their own communities.
Even before the COVID-19 pandemic forced all ages to self-isolate, the United States was facing a loneliness epidemic affecting both older and younger generations. The negative impacts of social isolation and loneliness are well documented, and research suggests that remaining socially engaged can improve these outcomes. In fact, a 2018 survey by Generations United and The Eisner Foundation found that 92 percent of Americans believe intergenerational activities can help reduce loneliness across all ages.
Intergenerational programs — like Kind2Kupuna, SAGEConnect and AGE to Age — intentionally unite the generations in ways that enrich participants' lives. Those programs, according to Generations United's Making the Case for Intergenerational Programs, also build on the positive resources that younger and older generations have to offer each other and their communities.
A growing body of research shows that every age group benefits when different generations come together for a common cause. For young people, intergenerational programs can lead to outcomes, such as improved academic performance, heightened self-esteem and higher rates of civic engagement. Older adults experience benefits, such as decreased social isolation, improved quality of life and greater sense of purpose. The reciprocity of benefits is what makes intergenerational programs a win-win.
At Link Generations in Maryland, where middle and high school students engage with older adults, the young people learn resilience by hearing stories of how people have managed to get through challenges. Older adults, in turn, feel optimistic about the future when participating in intergenerational programs.
Other models include Hope Meadows and the Yukon-Koyukuk Elder Assisted Living Facility in Galena, Alaska. The latter is intentionally designed to ensure older residents can stay in their communities near family and friends. This proximity makes it easy for local youth to help elders with housekeeping responsibilities and elders to share their knowledge of tribal culture and tradition.
That transfer of wisdom also happens at Hope Meadows, a model intergenerational neighborhood in central Illinois that provides community support to families adopting children from foster care, most of whom are people of color. The older retired neighbors serve as mentors and "grandparents" to foster and adoptive families.
Intergenerational practitioners — including park and recreation professionals — can nurture and reinforce the strengths of all ages by designing programs "that help children help seniors, help seniors meet the needs of families, and help families meet the needs of children and seniors. The result will be that all benefit, and communities will become stronger."
Generations United is the national organization working to improve the lives of children, youth and older adults through intergenerational programs and practices. For more inspiration and resources to develop intergenerational programs, visit gu.org.
Lori N. Marks, Ph.D., is Executive Director of Link Generations and Adjunct Associate Professor of Gerontology at University of Maryland Global Campus.