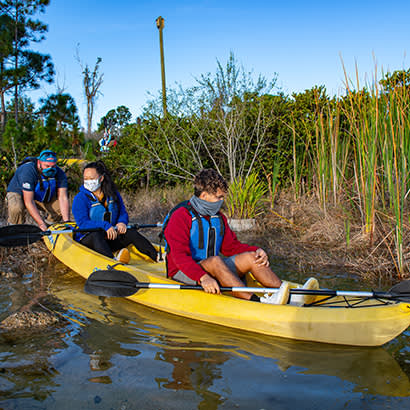 For an enhanced digital experience, read this story in the ezine.
How a South Florida park and recreation agency overcame challenges to reopen at the height of the pandemic

During the early days of the coronavirus (COVID-19) pandemic, headlines and local news leads were indicative of the pent-up demand for parks: "Miami-Dade residents say reopened parks and open spaces were 'needed'"; "Cars and people lined up hours before areas, such as parks, marinas and golf courses, in Miami-Dade opened their doors Wednesday during the ongoing coronavirus pandemic."
Our community lives an out-of-doors lifestyle, but in March 2020, as COVID-19 cases began to rise, county residents were ordered to stay home. Only essential businesses remained open and all parks, beaches and recreational facilities were closed.
Stopping the spread of the virus was paramount. But, with millions of people confined to their homes, the rallying cry for the need for public open spaces was almost immediate. As the COVID-19 positivity rate spiked, so did stress levels, and even people who had never noticed their neighborhood park began to demand access.
The community awoke to the realization that parks are essential to health and well-being, and are significant contributors to everyday life. As park and recreation departments across the United States rose to meet needs, communities exerted tremendous pressure to reopen parks.
Miami-Dade Launches a Plan in Three Phases
Given the complexity of our park system, Miami-Dade County Parks, Recreation and Open Spaces (MDC Parks) set out to rapidly develop a coordinated and prioritized set of protocols for how to open parks, as well as a communications plan to explain the transition to a "new normal," bringing people together and maintaining guidelines mandated by the Centers for Disease Control and Prevention (CDC).
Miami-Dade County is a metropolitan region with 2.8 million residents who enjoy year-round outdoor activities on more than 13,000 acres of open space, which includes 270 community and regional parks, marinas, golf courses, Zoo Miami, 17 miles of beaches, nature centers and campgrounds and additional 26,000 acres of natural areas. Additionally, the county's 34 municipalities own and manage hundreds of park and recreation areas.
MDC Parks quickly established an expert panel through our Parks and Open Spaces Workgroup and convened weekly meetings with the South Florida Park Coalition (SFPC), a forum of city, county, state and federal park agencies that we had developed a decade ago as part of the Miami-Dade Parks and Open Space Master Plan's coordinated vision of sustainability. By April 2020, Miami-Dade County's leadership determined that parks could actively address some of the health impacts of the sequestered community. The Florida sunshine and sea breezes enabled open-air activities, with physical activity programs and access to contemplative spaces for mental health.
Consulting with our Parks Workgroup of physicians and public health professionals, state and local officials, organizers of children's programs, and representatives from the boating, fishing and golfing industries, we identified activities that could be safely conducted in each of our parks and on what schedule. We focused on marinas and boating activities, as well as reopening beaches and returning golfers to our greens. We established protocols for activities determined to be safe to ensure the continued reduction in COVID-19 cases and prevent any rise in new cases.
We created a three-phased approach. Phase I opened access to individuals and groups from the same household to engage in passive uses that included walking and cycling on one-way paths, while wearing facial coverings and keeping CDC-mandated physical distances. Groups of 10 people or fewer from the same household were permitted to stroll, but shared equipment remained closed. Phase II established skills and drills protocols for multiple sports. Phase III gradually advanced to full recreational programming with requisite public health precautions.
Phase I also included guidelines for each unique type of park condition. Marina access depended on capacity limitations for boats, limited hours of operations, and strict protocols for ramps and fish cleaning stations. We drew on the recommendations of the nation's largest golfing associations to establish the rules for our golf facilities, staff and play. Enforcement of safety rules remained a concern due to lack of staffing resources to enforce compliance. The beaches presented a greater challenge for enforcement due to the large scale of the beach operation and large number of expected visitors; and therefore, access to beaches was delayed.
Forging Partnerships
Recognizing that even with safety protocols in place, much of the population remained inside, MDC Parks launched "The Playground" video series, partnering with the NFL's Miami Dolphins, NBA's Miami Heat, MLB's Miami Marlins and the U.S. Soccer Federation to provide online camps for children and families to enjoy from home. We added EcoAdventures, and the world-renowned Zoo Miami partnered with T-Mobile to keep the Zoocademy open, connecting students with wildlife and conservation online.
Through weekly SFPC meetings, our agency coordinated communication and an ongoing exchange of ideas and best practices. Parks took on a new look with signage and made adjustments to meet the standards of safety regulations. Parks staff and 400 new park ambassadors joined park rangers and county employees from other agencies to enforce safety protocols.
On April 29, 2020, MDC Parks and its municipalities were one of the first park systems in the United States to successfully reopen.
After six weeks of living a life mostly confined inside, our parks provided a welcome diversion. After the successful reopening of parks, marinas and golf courses, beaches followed in June with "beach ambassadors" ensuring masks were worn, six feet of distance was maintained and canopies and tents were prohibited. In August, as the public schools reopened virtually, we hosted study halls in our recreation centers, providing a safe place for the children of frontline and essential workers to attend school online, under the supervision of parks' staff.
As unemployment numbers rose due to COVID-19, so did the number of food-insecure families in our community. Consequently, MDC Parks were tasked with mass food distribution for the county. Coordinating with the county's Emergency Operations Center, the Miami-Dade Police Department and state and federal food banks, we held more than 250 food service events serving more than 190,000 families. Parks also became COVID-19 testing centers, with thousands of patients served at drive-thru testing sites. Recently, we have designated selected parks as vaccination sites.
The Work Continues
As most of these protocols remain in place, we have paused to assess strategies that should extend beyond this pandemic. The design of parks will need to incorporate the lessons learned, from managing the implementation of protocols to the delineation of large open spaces to accommodate safe gathering. Organizationally, online meetings enable more frequent communication. Our SFPC meetings continue on a biweekly basis, reinforcing our interconnections over the abstraction of district and municipality boundaries.
Similarly, we have the "proof-of-concept" on how parks serve as an essential service and a convening body. Now that our transportation, public works, health and human services departments have engaged MDC Parks as key partners in meeting community needs, we need to formalize these relationships. We also need to bring our elected officials this evidence of how the county benefits when MDC Parks participates in critical infrastructure planning.
For MDC Parks, the quality of life of our residents is always the priority. Now, everyone is clear that our shared product is the health and well-being of our community, underscoring the need for more parks and public spaces, with equitable access and funding. And once we have experienced that clarity, it is incumbent upon us to lead a new path forward.
Maria Nardi is Director of Miami-Dade County Parks, Recreation and Open Spaces, and a member of Parks & Recreation's Editorial Advisory Board.