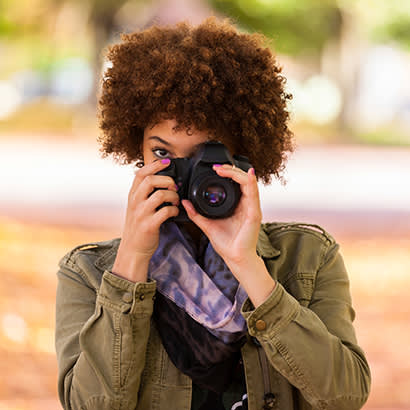 For an enhanced digital experience, read this story in the ezine.
Promoting your park and recreation agency through quality photography
Ask most professional photographers how they would describe the merits of storytelling through photographs, and their response likely will be: "A picture is worth a thousand words." But if that image lacks focus in quality and context, its value could be diminished to a single word — uninspiring.
For park and recreation agencies, using imagery can help to market and promote their vast portfolio of parks, sports facilities and recreation programming to community members. What's more, compelling stories that clearly convey a community's wants and needs allow agencies to make a case for increased park and recreation funding and future capital investments to stakeholders and elected officials.
"Residents enjoy seeing pictures of people, places or events that are familiar to them. Whether it's a photo of a park, trail, recreation center or someone they know, it always helps for our residents to make a connection to the services that we provide through an image," says Cynthia Booth, senior public affairs analyst at Durham Parks and Recreation (DPR) in North Carolina.
What's Being Conveyed?
Generally, the marketing and communications team at a park and recreation agency will hire professional photographers to capture images. However, given the sheer number of events and programming an agency might produce on a regular basis, they must be selective about the projects that warrant professional photography, as marketing budgets may be stretched.
"We use a professional photographer for our larger events, as the marketing team is typically busy engaging with participants and cannot capture all components of the event," notes Booth. "For our regular programs, activities or events, the marketing team will take pictures or ask the staff who plan the activities to take photos."
Kim Mabon, founder and creative director of Creative By Design, suggests offering guidance and training to staff beforehand. "More often than not, when the staff are taking the photos, they don't have the end-use in mind," she says.
Paige Donahoe, a professional photographer and owner of Inspired Marketing & Photography, agrees. A lot of times, people just take pictures as an afterthought, she says. Thus, staff need a clear direction.
Capture candid moments at a park or facility. For example, if you're taking photos of children in a park using a splash pad during summer, Donahoe says the best photos would be of two or three children running around and enjoying the splash pad. However, with your camera, you want to get a tight shot of a few of them playing and laughing. "Get that shot as tight as you can, but not to the point where the designer can't crop [the image]," she advises.
Mabon says that when you're going for those candid shots of people, "make sure that you angle the camera to where you can see at least half of their face, [especially] if they're doing something." Photos that capture engagement, emotion and experience of people are the most powerful because that emotion engages the audience, she explains.
Photos also should reflect the faces of the people who reside in a community, and not simply highlight a select few. "Photography as it relates to equity should be approached gently. Through our experience in engaging our diverse community, we have seen ourselves or partners rush to capture the moment and overwhelm our diverse participants coming out for the first time," says Eduardo "Eddie" Campos, marketing and communications manager at Mountain Recreation Metropolitan District in Colorado. "My advice is to take a step back, let your participants enjoy the moment and take photos when appropriate. We want to encourage more to participate through photos of this group, but do so gently," as you don't want to make a spectacle nor make anyone uncomfortable.
He adds that equity is critical to his agency's photography, as he and his team seek to ensure their diverse community is represented and feels a sense of belonging in their community centers. "Photography plays a huge role in bringing down stigmas and beliefs that our spaces are only for certain groups of people; our spaces are for everyone," says Campos.
According to Booth, "Durham is one of the most culturally diverse cities in North Carolina. DPR's mission is to provide opportunities for the entire community to play more by connecting them to wellness, the outdoors and lifelong learning. To do so, we are careful to ensure that we are equitable when selecting images to promote our programs, activities and events."
Smartphones and Photography
Today, most people forego using a traditional camera in favor of a convenient smartphone. When you take a photo with a smartphone these days, it's usually very high quality, especially with these recently released models, according to Mabon. "However, if you're using a phone that's five years old, that's not going to be the case. But if you've got a phone that's been put out in the last year or two, it's probably got a really good camera on it with some good resolution."
She adds, "One of the challenges with the smartphones is that people often take the photo with their smartphone, but they're not exporting it correctly. You have to make sure that you export it to your computer or send it to your email…. If you're getting it off your iPhone, you need to make sure that it's set to the original quality and not anything less." See figure 1. Note: Using Airdrop or when exporting on an Android via email, it will send the original size automatically. But if given a choice, always go for the largest size.
Tips for Taking Picture-Perfect Photos
Here are 10 tips for achieving the best results:
Leverage the light. Donahoe says, "The way to take the best picture is using light. Get as much light in your photo as possible, so your camera has to do less work." However, the people being photographed shouldn't look directly toward the sun, as you don't want them to be squinting. "Also, if your back is to the sun and you're taking a picture, chances are your picture is going to come out with nice color," she says.
Seize the "cloudy" day. "It's ideal to take photos on a cloudy day versus a really sunny day," says Mabon. "The lighting will be more even-toned."
Move to the shade. When outdoors, if possible, shoot photos of people in the shade. However, Mabon says, "if you are using a big tree that gives you enough shade, be careful of little light spots that shine through the leaves. And, you don't want any of those bright spots on people's faces."
Don't forget the flash. Once you have your subjects positioned in the shade under a tree or overhang, be sure to turn on the flash on your smartphone or camera. "It gets rid of all of the weird shadows that happen on people's faces," advises Donahoe.
Avoid unnecessary shadows. "If you're indoors or outdoors and you're using a wall as a background, the person [you're photographing] needs to stand about two feet away from the wall in order to get a good photo," Mabon says. Otherwise, you end up with a harsh, black shadow behind the person standing in front of the wall instead of it serving as a backdrop.
Consider indoor light options. Mabon says if you're taking photos inside a recreation facility, find the spot with the best lighting. "If you don't have it, position a couple of lamps [but] be careful, as the lamps can create harsh shadows," she says. Ask someone to hold up a white sheet or large piece of white paper a foot away from the light source, which will soften the harsh light. "There are a lot of LED light rings out there, too [with] different color modes that you can purchase for $20," she says. "Those things really improve lighting, especially for indoor options."
Get candid. Posed pictures, where everybody is looking at the camera, are fine for staff photos or as team photo keepsakes. But for storytelling, capture those candid shots and catch people in action.
Try portrait mode. For those who opt to take photos via their smartphones, Mabon suggests using the "portrait mode" setting. "It can greatly improve the image when there is a single person or object you are photographing," Mabon says.
Think print resolution, not web resolution. An image saved to a website or social media is going to be at a lower resolution than an image that will be printed in marketing materials or a magazine. If your photo is high enough resolution for print, that image can be used across multiple media platforms — but not vice versa.
Invest in a camera. If a park agency takes a lot of photos in-house, Mabon says it might be worth investing $500 to $600 for a good SLR (single-lens reflex) camera. "You can get a really inexpensive SLR body. Try to spend a little bit more money on the lens versus the body, because the lens is what makes the better photo, and you'll get some really high-quality images," she says.
Are Model Releases Necessary?
"In a public space, they're not required," says Donahoe. However, she advises using them, especially if you're photographing children, to protect yourself and your agency. She adds that there are free model release mobile apps available that make it convenient for people to fill out on your phone or tablet right on the spot.
"Our organization does have a photo and video release, which is built into each point of registration," notes Campos. "This allows our organization permission for reasonable and proper use of any photo or video taken at any of our facilities and during our programs. This is key in our goal of being transparent with our community and protects both parties."
Why Image Resolution Matters
When it comes to print publishing, many people seem perplexed by image resolution. After all, if an image looks good on an agency website, why won't that same photo work in a printed direct-mail piece or magazine article?
"All images that you see on any website are done in 72 dpi [dots per inch]," says Mabon. "Everything that's done in print is 300 dpi or higher. So, it has more dots per inch than the web resolution, which makes it a quality high enough for printing." See figure 2 on page 37.
Donahoe says, "The difference with high resolution…especially in a digital format, is the amount of pixels that make up the photograph." You can have a low-resolution photo by the way you take it or by how many times a JPEG (a compressed file) has been saved.
"And when you have a compressed file, it loses bits of data over the course of that file and it gets smaller," she says. "So, if you have a standard compression of 300 dpi to 600 dpi, the more dpi you have, the less there is data loss. The lower the dpi or file size, the more data loss."
The bottom line is you can't up-size an original photo that lacks the required pixel dimension without losing quality. "So, if the original is not that pixel dimension, don't try to make it bigger because you lose quality," she says. For a list of correct image specifications for print publishing, see the chart above.
Share Your Park and Recreation Story
Clearly, park and recreation agencies should market to their local constituents; however, they also might want to promote themselves to a national audience. Such efforts not only can draw attention to your community and agency, but also might elevate the park and recreation field overall.
In April, for example, NRPA launched its annual Park and Recreation Month cover contest, inviting park and recreation agencies throughout the country to submit their image that best represents this year's theme, "Our Park and Recreation Story." The selected photo will earn the agency the sought-after cover of Parks & Recreation magazine's July issue, along with bragging rights in the industry.
Mabon says that Park and Recreation Month is a huge opportunity for park and recreation professionals, because it gives them added national exposure for activities at their agency and their location. Mabon has firsthand knowledge about the process, as she serves as the publication's contracted designer. "You want to make sure you put your best foot forward when you're taking those photographs," she advises, while offering tips such as ensuring images are high resolution and that the composition is vertical with enough room for the magazine's logo to appear at the top as a cover. "It also must be enticing and inviting," she asserts.
There are plenty of other opportunities to tell your park and recreation story, such as sharing your images with NRPA to use in its marketing collateral, research studies and educational materials. The organization sources all images and provides photo credit to the department or agency. Parks & Recreation and other trade publications also rely on photo submissions for a variety of field-related subjects, such as playgrounds, youth sports and older adult programming.
Put It Into Focus
What's the best way to tell your park and recreation story? Perhaps Booth sums it up best: "They say that a picture is worth a thousand words, and that's so true. Photos also tell a compelling story and allow viewers to see them doing the same activity and having fun. That is an even more compelling reason why we are equitable when using images to market our programs, activities and events."
Vitisia Paynich is Executive Editor, Print and Online Content at NRPA.