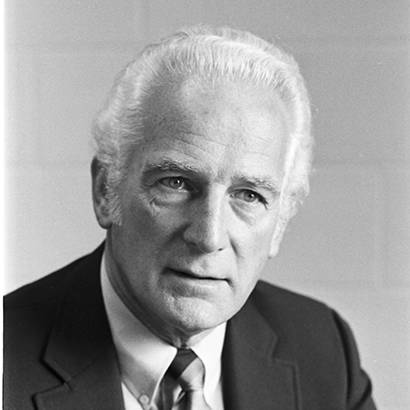 For an enhanced digital experience, read this story in the ezine.
James "Jim" Peterson, who passed away Wednesday, December 30, 2020, was instrumental in shaping the park and recreation profession through his joint appointment at Indiana University (IU) and Purdue University; his initiation and leadership of IU's Executive Development Program; and his presidency and trustee work at NRPA. He remained active for most years post-retirement as a commissioner with World Urban Parks (formerly International Federation of Park and Recreation Administration), an advisory board member for the Eppley Institute for Parks and Public Lands, a coauthor of a risk management text and a participant in many other activities.
Peterson was born in Elkhart, Indiana in 1925. After graduation from high school in 1943, he enlisted in the U.S. Marine Corps and served a three-year term during World War II.
In 1947, Peterson enrolled at Hanover College, where he earned "Little All-American Honors" in football during the 1948 and 1949 seasons before graduating in 1950. He immediately enrolled in the Department of Park and Recreation Administration at IU, earning a Master of Science degree in 1951, which kickstarted an outstanding career in the park, recreation and conservation field.
After spending two years as a recreation center director and senior recreation supervisor in the Kansas City, Missouri Department of Recreation, Peterson spent the next eight years as the first superintendent of recreation in Emporia, Kansas. In 1960, he was employed as superintendent of recreation in Evansville, Indiana, a joint position between the City of Evansville and the Vanderburgh County School Corporation.
After five years in Evansville, Peterson was asked to fill a newly created position between the Cooperative Extension Service at Purdue University as park and recreation specialist and a professor of parks and recreation at IU. Peterson said, "It was the opportunity of a lifetime to work with the Extension Agents in the 92 counties of Indiana in addition to teaching at Indiana University."
Peterson had distinguished himself by authoring Recreation Use of Airport Lands, coauthoring Recreation and Leisure in the Changing Scene, and Risk Management for Park, Recreation, and Leisure Services, now in its seventh edition. Peterson was once asked, "How is it possible to work for two great universities at the same time?" He replied, "If you love what you are doing, no task is impossible."
Other highlights of Peterson's career include implementing and serving as director of the executive development program for park and recreation professionals at IU; serving as president of the Kansas and Indiana park and recreation associations; induction into the Kansas Recreation and Park Association's Hall of Fame; serving two terms as board member for the American Recreation Society; serving as program chair for the first NRPA Annual Conference in Washington, D.C.; receiving the NRPA National Distinguished Professional Award; and many more.
Peterson was one of the giants in the park, recreation and conservation movement locally, nationally and internationally. His journey was completed with purpose and an overflowing legacy of service, fortitude and light that will forever shine in treasured memories. He had a large-than-life-presence and will be missed by all who had the pleasure of knowing him.