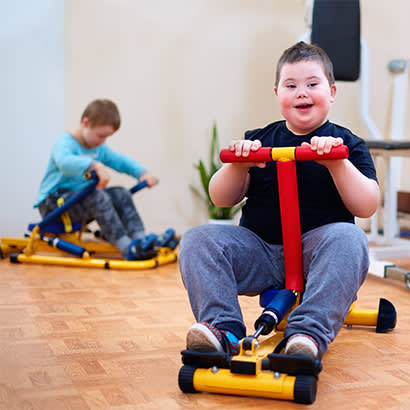 For an enhanced digital experience, read this story in the ezine.
People with intellectual disabilities (ID) are one of the most medically underserved groups in the world. Barriers prevent people with ID from fully accessing healthcare programs and services. In 2016, Special Olympics introduced a new strategy, called inclusive health, designed to improve overall healthcare for all people, including Special Olympics athletes with ID. Special Olympics' vision for inclusive health is the inclusion of all people in mainstream health policies and laws, programming, services, training programs, and research and funding. Our hope is that by pushing for inclusive health, opportunities will be available for people with ID to access health services and programs to achieve their full potential of living a healthy life.
Why Inclusive Health?
Inclusive health guides existing programs and services to become comprehensive and accessible, rather than creating separate programs for people with ID. Historically, because of the lack of medical service support for those with ID, these community members typically face significant health disparities, including obesity, diabetes, chronic pain and heart disease. Including people with ID in existing health programs, like those offered through parks and recreation, not only can improve their health opportunities, but also has the potential to reduce healthcare costs for the public.
Inclusive health is built on two foundational principles: equitable access and full participation.
These two foundational principles were developed to address barriers people with ID face when trying to acquire healthcare and access to public health systems. These barriers include:
Attitudinal – Misconceptions that people with ID cannot live long, healthy lives
Communication – Use of complicated and inaccessible language
Programmatic – Failure to make reasonable accommodations for people with ID
Social – Lifestyle conditions that limit accessibility
Physical – Structural challenges that block mobility
How Can Park and Recreation Professionals Support Inclusive Health?
Park and recreation professionals are uniquely suited to deliver programming and services that advance the health and well-being of their community members. They often serve as stewards of community wellness hubs — trusted gathering places that connect everyone to essential programs, services and spaces that advance health equity, improve health outcomes and enhance quality of life.
Park and recreational professionals can take action to remove barriers and improve access for people with ID by implementing these strategies:
Create welcoming spaces – Ensure your programming and physical spaces are accessible and welcoming.
Use accessible communication – Ensure your communications are in plain language (no more than a sixth-grade reading level and straight to the point). Avoid the use of jargon, acronyms and abstract statements.
Awareness and training – Understand your community, and train your staff on the challenges and barriers faced by people with ID, and identify ways to remove these barriers. Establish sustainable and intentional inclusion – Build this by changing organizational culture to value and understand inclusion.
Develop a formal inclusion policy – The movement toward inclusive health can start small and grow. People with ID will be your best resource when striving to make your organization inclusive. Ask them about the challenges they face every day or ask for their suggestions on how to improve programs. You can even hire people with ID to join your organization.
By focusing on inclusive health, park and recreation professionals can become a community wellness hub for all. The Inclusive Health Promotion toolkit, created by NRPA with support from Special Olympics, provides a framework for park and recreation professionals to be more inclusive in programs and services, ensuring that agencies are prepared to make a push for intentional inclusion.
Everyone should have the same access to health opportunities. Remember, if it is not for everyone, it is for no one.
Deon Villasencio is an Inclusive Health Specialist for Special Olympics.