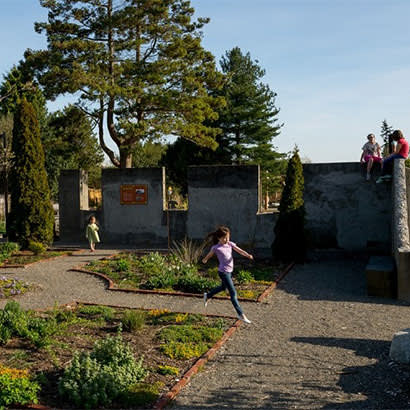 For an enhanced digital experience, read this story in the ezine.
At the 2009 launch of the SITES rating system — a tool for the creation, maintenance and improvement of sustainable landscapes — NRPA's then-chief public policy officer and Sustainable SITES Initiative Steering Committee member Richard J. Dolesh announced: "The new system has potential to make a large impact on local and regional parks throughout the country. Many park planners, landscape architects and park administrators have told us that they've always felt there is a lack of an equivalent system for landscapes to the LEED (Leadership in Energy and Environmental Design) rating system, the international standard for green building, and thus, there was no way to receive credit for exemplary practices."
Barbara Tulipane, NRPA's then-president and CEO, also weighed in: "This initiative directly supports our forward-looking ideas regarding stewardship in efforts to connect children with nature, to increased development of community gardens in parks, and our efforts to gain funding and federal resources for parks to serve as catalysts in promoting livable communities."
In the decade since, the program pioneered by NRPA, the American Society of Landscape Architects, Lady Bird Johnson Wildflower Center, the U.S. General Services Administration and the U.S. Green Building Council, among others, and updated in 2014 to SITES v2, is bearing fruit. Scores of local parks have drawn inspiration and guidance from the SITES certification process.
"SITES was invaluable in helping us transform Boedekker Park into a safe, inviting and green oasis in San Francisco's Tenderloin — the city's densest and poorest neighborhood that is also home to a large population of children and seniors," explains San Francisco Recreation and Parks Department General Manager Phil Ginsburg. "Nature is woven throughout the project, allowing urban residents to reap the mental and physical health benefits of time in nature."
In Nashville, Tennessee, home of the SITES v2 Gold-certified Centennial Park, "the principles of sustainability guide decision making on all of our capital projects," says Tim Netsch, assistant director for planning and facilities development at Nashville Metro Parks and Recreation. "For landscape projects, SITES has proven to be a useful tool to help organize our sustainability strategy, ensure that we cover the full breadth of considerations and quantify the outcomes."
"In this day and age, we focus too often on the here and now," reflects Kevin Burke, director of design at the Atlanta BeltLine. "That is why we adopted SITES for the Atlanta BeltLine. SITES ensures we optimize the parks for the community, providing both short- and long-term benefits."
The growing list of municipal park projects certifying or requiring certification ranges from small neighborhood parks to regional rail-to-trail projects and spans the country, including those shown in the table to the right.
In its second decade, SITES promises to use its growing influence as a municipal governance tool with the goal of codifying NRPA's Three Pillars — Health and Wellness, Equity, and Conservation — into local policy. A recent journal article by Frederick Steiner, "Landscape governance: the prospects for the SITES rating system", highlights how New York City, Chicago and Atlanta, as well as the state of Rhode Island and the U.S. General Services Administration, look to SITES as a policy tool for guiding sustainable landscape development to protect and restore ecosystem services.
The local government value of SITES was underscored in a Duke University case study, in which Sarasota, Florida's park planner found that "having a structured framework, such as SITES, to present at public meetings when considering projects, can be a valuable tool. Certification programs can provide greater credibility to the ideas being put forth, allowing discussion to move from attempting to reach high-level consensus on big-picture ideas to allowing for greater focus on more immediate details pertaining to the project at hand. Further, having a set of guidelines can help to add metrics to the county's sustainability goals."
As parks are called on to do more under increasingly tight fiscal constraints, municipal policymakers, parks officials and advocates may find SITES to be a useful off-the-shelf tool to advance parks, recreation and environmental conservation efforts that enhance the quality of life for all people.
For information on these SITES projects and more, visit sustainablesites.org/projects. If you are interested in promoting discussions about SITES in your community, contact the SITES team at SITES@gbci.org.
Paul Wessel is Director of Market Development at U.S. Green Building Council.