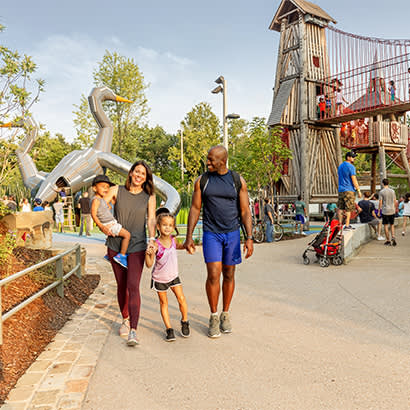 For an enhanced digital experience, read this story in the ezine.
One hundred years after the Greenwood District Massacre, Tulsa, Oklahoma, is employing diversity equity, inclusion and accessibility as key park design principles
Gathering Place, Tulsa, Oklahoma's riverfront park, is a community park with an intentional goal to balance social accountability with social entertainment. In the first two years of its operation, the park averaged 2.5 million visitors per year and was named the number one new attraction in the United States by USA Today, voted one of TIME magazine's World's Greatest Places and one of National Geographic's Top 12 Mind Bending Parks.
But to properly understand the context in which Gathering Place originated and exists, one must go back to exactly 100 years ago when Tulsa was the oil capital of the world and one of the country's fastest growing and innovative cities. During this time, also thriving in Tulsa was a small African American community, called the Greenwood District. Greenwood was dubbed "Black Wall Street" by Booker T. Washington.
Then one day in 1921, a 19-year-old African American shoe shiner, named Dick Rowland, was accused of assaulting Sara Page, a white 17-year-old elevator operator. Rowland was arrested, and Black leaders tried to protect Rowland from being lynched. One single gunshot started what would later transpire to be the worst race massacre in the history of the United States. In just two days, from May 31 to June 1, the Greenwood District was completely burned down, 10,000 African Americans were left homeless, 100 people were killed, and millions of dollars were lost.
Now fast forward 100 years. Today, Tulsa is a progressive city on the path toward healing, but with a very long and steep climb ahead. The Tulsa community continually grapples with this terrible sin of the past, but there is agreement that the current efforts are not enough.
Unifying a Community
Gathering Place was the brainchild of Tulsa's philanthropic "difference-
maker," George Kaiser, who, with more than 80 different community donors — including the city of Tulsa — gifted $465 million to create a community park like no other. This donation to Gathering Place is the largest one-time donation to a community park in the history of the United States. From the park's origination, Kaiser wanted it to be a place that would have a tremendous impact on his beloved community. The hope was that it would be a public space of unity, where Tulsans would feel welcome to visit and gather.
Before the park opened, Gathering Place Executive Director Tony Moore, even being African American himself, had to learn and work to understand the emotional needs of this Black community 100 years after the Greenwood Massacre. He quickly discovered that current day descendants of the massacre still have very real and active emotional scars.
As a park operator, Moore had to build relations with the community by getting to know both residents and community leaders. During this process, he was fortunate to have fostered a relationship with one of the few remaining survivors of the massacre, affectionately referred to as Mother Randle, now 106 years old. Moore learned that his interactions in the community had to be sustained and seasoned with time for them to mature into a relationship of trust; and even then, it only takes one inconsiderate action to erode years of genuine work.
To develop this park, the park staff and designers were guided by an acronym developed more than 10 years ago: DEI, which stands for diversity, equity and inclusion. The meaning and impact of DEI continue to expand to be more encompassing. Some organizations even expanded the acronym to DEIA with the "A" referring to accessibility. To refer to DEI as a "movement" implies that this may be a temporary objective. However, it's more than just a social movement; simply stated, it's a belated understanding and acknowledgment of the needs of people who may have otherwise been overlooked, with an accountable and sincere effort to address these issues with value-producing results. A community outreach initiative referred to as 3E — engage, educate and excite — was implemented. Engage the Tulsans in their community where they live and play. Educate them about the park and its mission with hopes of getting buy-in. Excite them to visit the park. More than 1,000 community tours of the construction site were given to different cultural and community groups.
To be even more inclusive, the designers of Gathering Place were highly committed to creating accessible park features. Thanks to them, the park not only meets Americans with Disabilities Act (ADA) requirements, but also incorporates many principles of universal design. Since its opening in September of 2018, the park provides a very inclusive environment for people of all abilities.
Designing Accessibility Into the Park
Gathering Place provides a high level of physical access from the time you enter the park. The walkways are a hard surface with running slopes no steeper than 5 percent. The U.S. Access Board that develops ADA standards provided a study on the usability of walkways with running slopes between 5 percent and 8.3 percent. The study concludes that approximately 11 to 12 percent of individuals with mobility devices are unable to physically push or walk up these slopes. The lower running slopes below 5 percent allow for more individuals to independently use the walkways and make it easier for people pushing strollers and pulling wagons.
In addition to the gentle slopes, the walkways are wide at more than 12 feet in some locations. The ADA requires walkways with passing spaces to be a minimum of five feet and a turning circle, or "T" turn, to be a minimum of five feet as well. Studies by Dr. Ed Steinfeld of the University of Buffalo ("Anthropometry of Wheeled Mobility Project" can be found at the Center for Inclusive Design and Environmental Access) confirm that these wider spaces provide more realistic turning spaces for people using mobility devices. These walkway widths also allow for travel in both directions, while allowing people to walk side by side with plenty of space for guests coming from the other direction to pass. This design is more inclusive for both people using mobility devices and larger groups of guests.
The large playground area, known as the Chapman Adventure Playground, provides experiences, such as swinging, sand playing, sliding and climbing. In addition, its large vertical play structure provides an interactive group feature. To move water up the structure, a group of up to 10 individuals need to work together at different levels. The mechanism to move the water can be operated several different ways, by a hand crank, a seat that a guest sits on and rocks back and forth, or a large loop bar that a group of guests can grab and move back and forth to operate. This type of play provides opportunities for children and adults of various abilities to interact and play together.
Also within the Chapman Adventure Playground area is a bank of single-user restrooms. These restrooms have been designed for both child and adult accessibility. Each single-user restroom provides the spacing for larger mobility devices, as well as a private space for individuals who need assistance.
In addition to the physical accessibility features of the park, there are features designed for children who are on the autism spectrum. It provides desensitizing spaces for those who need a quiet area to relax and avoid becoming over-stimulated, including the single-user restrooms and Williams Lodge, a large indoor area for the public. There also are sensory bags that include such items as noise-canceling headphones, fidget toys, glasses with colored lenses and an umbrella. These items and spaces help children interact and experience the park without sensory overload.
The efforts made in the design and development of this park have been well received by the community. The park also has been visited by many park professionals and operators to incorporate these ideas and designs into their park projects.
Social Conscience
The intentional objective of understanding and implementing DEIA principles in the park is a discussion many people are currently having. Moore believes it's important not to get sucked into this movement out of guilt, corporate pressure or from a compliance, box-checking perspective. If the commitment is not sincere, it ultimately will be exposed as such. If the community relationships are not solid and genuine, they will fracture and fall apart. The events of 2020, such as the death of George Floyd and the subsequent conversations of injustices, and even more recently the events of January 6 at the U.S. Capitol, are truly challenging incidents affecting our social conscience. How we respond to these events will have a profound impact on how our employees and community view us and, perhaps, even how they relate to our facilities and brands.
We are realizing that in order for these efforts to be effective, there must be a strong sense of accountability. Efforts must be validated by the end-user, whether directly or indirectly. We also must be honest in admitting that we don't have it all figured out — no one does. So, take your time, be sincere and accountable in your efforts. This is fast-moving, uncharted waters for all of us to navigate — mistakes are costly, so pilot on with consideration and care.
We are not alone in this journey. As park operators, we must seek counsel and reference from our fellow operators and industry colleagues. Together, we will manage intelligently, pivot with understanding and exercise genuine care. At the end of the day, this will make us better, more responsible operators.
Mark Trieglaff is President of Accessibility Consultation and Training Services, Inc. (ACTServices, Inc.) .