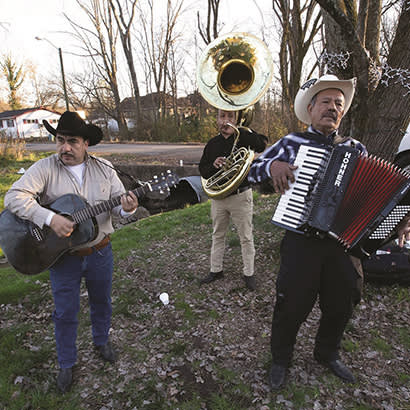 For an enhanced digital experience, read this story in the ezine.
How Parks Build Community aims to improve a local Chattanooga community
NRPA is heading to Chattanooga, Tennessee, for the next Parks Build Community (PBC) project to build a new park in the Oak Grove neighborhood. Located on the southeast side of the city, the park will provide outdoor recreation and healthy activity options for the nearby community, as well as help to restore the local environment.
The NRPA PBC designee was chosen based on a series of criteria, all focused on selecting a community where the impact would be extensive. "While 2020 was not a year like any other, it provided an opportunity for deep reflection and a chance to refocus our work and ensure that it was centered in our values and Three Pillars," says Rachel Banner, NRPA's director of park access. "This year, due to budget, construction and community engagement challenges, NRPA searched for projects in several major cities in the southeast. We also implemented new equity-based selection criteria for Parks Build Community to ensure the maximum health, environmental and economic benefits for the local community."
"Lynnbrook Park not only met those selection criteria, but also went above and beyond with their engagement and design to maximize a 1.4-acre space and the benefits it provides to the community," says Banner. "First and foremost, the park reflects the culture and values of the community. It also provides a space to engage in health-promoting activities, solves a critical flooding challenge, connects people to nature, and creates a safe place for play and a community gathering place."
Improving the Health of People and Place
Access to parks is key for NRPA. NRPA works to ensure everyone has access to the multiple benefits of parks, and defines access not only as the physical features that make it accessible, easy to get to and beautiful, but also defines access as belonging — creating a space that feels safe, culturally relevant and welcoming to everyone. In each community, access may look different. For Chattanooga, part of its access challenge is proximity, with only 37 percent of people in Chattanooga currently within ready access to quality local parks and recreation.
This area is prime for more park and green space development. In particular, the small, diverse Oak Grove neighborhood has an even mix of Black, Latino and white community members of all ages, more than 1,000 of which have limited access to parks.
Focusing not only on area residents' health, Lynnbrook Park also will heal and repair the surrounding environment. Currently, the site is composed of an empty lot, half of which is paved, with a drainage ditch running the length of the property. The ditch was created during the Works Progress Administration (WPA) era (1930s-1940s) as a public works project to allow stormwater to drain from the area into the Dobbs Branch stream and eventually out to the Tennessee River. Over time, it has lost its functionality, and the ditch currently flows inefficiently, causing flooding in the area. The City of Chattanooga is looking at the site to not only provide a park for residents, but also to improve water flow and quality through reclamation of the site.
For project manager Akosua Cook, it made sense to combine the environmental improvements with the creation of a park. "It has these cumulative benefits — it would bring over 3,000 residents within a 10-minute walk of a park, it would reduce heat island effect, it would improve the overall flooding issues in the area, and it would improve that whole watershed, [which] would improve water quality for the residents. It is a great overall location and will provide a great overall impact for the area," says Cook.
Envisioning a Future Park
What sets this project apart from many others is its creative community engagement process. "We wanted to be intentional with this space, really listening to this adjacent neighborhood, and focusing on the needs and desires of that community," explains Cook. "In 2016, our local Trust for Public Land office, along with our Public Art department, applied for a National Endowment of the Arts grant. They used it to do a creative engagements strategy, where they hired a local artist to do a series of public engagement events to find out what type of park would make the most sense in this area."
For NRPA, it's the community relationship that makes this project coalesce. "I think collectively what makes this project come together is the arts-based, inclusive and intentional engagement used to create the park that had a cascading effect on the project," says Banner. "To begin, the engagement was led by a local artist who centered the community culture in his engagement and sought not only to build a park, but [also] to truly build community through the process. The process started by asking how people currently enjoy the outdoors and what memories they would want to create in the space, as opposed to asking what amenities they would like to see. Ultimately, it led to a design that creates a place for people to feel safe, [and to] connect with nature, water and people in their community in addition to so much more."
Spearheading the public engagement was local artist, lawyer and writer Josiah Golson. "I approach community engagement with the belief that its process should genuinely reflect the culture of the community that I am serving," Golson states in the Lynnbrook Community Design Sketchbook. For this project, Golson assembled a team of forward-thinking individuals to help create a place where community members could "engage authentically with their own experiences and help us imagine the potential for the space." Golson's diverse team included Daniela Peterson from The Trust for Public Land, architect Roy Wroth and multimedia artist Botany Rain.
Through their work, the group "seeks to unpack the complexity of communities and issues through images, symbols and poetry in order to discover patterns, connections and ideas that one would otherwise fail to see," according to Golson. The group worked with the Oak Grove community to create the park's conceptual layout and determine desired amenities, all of which are summarized in the design sketchbook. Community events, such as Fiesta Lynnbrook and Design Over Dinner, offered the community opportunities to discuss their needs and aspirations for the space in a comfortable, in-person environment. Community members were involved in determining themes and design elements that are included in the park's creation.
For Golson and his team, their participation didn't end with the park design. Involvement with the community continues today and will be integral in the future as public art is chosen for the site. The result of the process is a design that is intentional and not only meets the needs of the community, but also is driven by the community.
For Cook, as a park planner, this project and relationship with local residents and business owners could be a blueprint for other projects. "It's been a process that has involved the community from the start with the creative engagement strategy that was implemented. We haven't done that for any other park, but it's something that we would like to see if it works here and how we can utilize that strategy again. We like to experiment — not everything always goes to plan, but we do like to try to be creative and find different ways to engage with the community because our old ways of having a standard community meeting are becoming less and less effective," says Cook.
Making Progress
While this project had planned to move forward with existing resources, NRPA's involvement has made it possible to deliver a more complete vision of the park to the community. The park is scheduled to have traditional park elements, such as a playground and an open lawn area, and more community-specific elements, including a pavilion for group gatherings and an adult gaming area. The once-derelict drainage will be converted to an ecologically restored stream with plantings along the banks that function as a critical component to the site's sustainability and aesthetically as a natural water feature. A constructed wetland and a series of small bridges will create a natural space that people of all ages will enjoy, embodying how green stormwater infrastructure can be an integral component of environmentally resilient community parks.
The move toward a healthy environment is fast approaching for the Oak Grove community. Lynnbrook Park's planning and conceptual designs are finished, and the construction documents are nearly complete with a plan to open the park in spring 2022.
Projects like Lynnbrook Park wouldn't be possible without our PBC donors. For more information about the PBC project and how you can be involved, contact Nury Márquez, NRPA's senior director of development.
Paula M. Jacoby-Garrett is a freelance writer based in Las Vegas, Nevada.