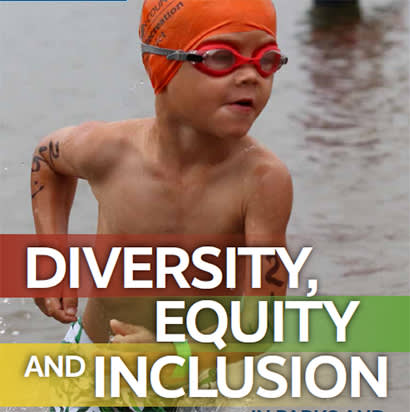 For an enhanced digital experience, read this story in the ezine.
Park and recreation professionals are essential, serving on the front lines of many of today's most pressing challenges. Given your agency's mission to make communities better places to live, learn, work and play, you are in a unique position to champion efforts that advance diversity, equity and inclusion (DEI). Across the profession, however, gaps remain in understanding how systemic racism, unfair power structures, and a lack of cultural competency and humility affect DEI and access to quality park and recreation spaces and programs.
In April, NRPA published a new report, Diversity, Equity and Inclusion in Parks and Recreation that highlights the state of DEI activities at agencies across the United States. Results from a 14-question survey present a snapshot of agency DEI activities (if any), professional development opportunities provided to staff, and the challenges organizations face in promoting these practices.
The survey found that one in three park and recreation agencies currently have formal DEI programs, and another third intend to establish such activities within the next two years. Sixty-two percent of agencies serving more than 100,000 residents have established formal DEI activities, compared to a quarter of agencies serving 50,000 or fewer people indicating the same.
Whether or not they have a formal DEI program, nine in 10 park and recreation agencies currently have established activities and policies that promote DEI practices. The most common DEI activity is the development of hiring practices and policies (reported by 66 percent of survey respondents), followed by including an expressed commitment to DEI in foundational documents, such as vision and mission statements and strategic plans (50 percent). Other common DEI activities include:
Staff education/skill development (50 percent)
Professional staff and volunteer education/skill development on DEI topics (46 percent)
Community engagement policies (45 percent)
Recreation programming policies (38 percent)
Contracting and procurement requirements (32 percent)
Volunteer recruitment practices and policies (25 percent)
Looking to the future, 37 percent of park and recreation leaders anticipate conducting an equity assessment within the next two years. Agencies located in more populous locales are more likely to have conducted a DEI assessment — 17 percent of agencies that serve more than 100,000 people compared to just six percent of agencies that serve fewer than 50,000 people.
The most common methods for staff DEI education are webinars and in-person trainings — being offered at 52 percent and 44 percent of agencies, respectively. Slightly more than a third of agencies provide staff with financial support (e.g., tuition, travel reimbursement) to participate in external professional development activities. Topics covered in agencies' DEI education offerings include:
Implicit bias
Adaptive and inclusive programming
Hiring practices
Equity versus equality
Systematic racism
Park and recreation agencies take several actions to ensure accountability with their DEI initiatives, including measuring and tracking progress against goals. Approximately half of the agencies take the following actions regarding race, ethnicity, gender, disability and income level:
Assess communications and products for appropriate messaging (55 percent)
Analyze key operational decisions to determine their impact (52 percent)
Analyze key programmatic decisions to determine their impact (49 percent)
Incorporate DEI commitment into new staff and stakeholder orientation (49 percent)
Collect data on staff and other stakeholders (e.g., partners, vendors, community) (26 percent)
NRPA is developing and implementing a research-informed professional development and membership engagement strategy to ensure that the more than 160,000 full-time park and recreation professionals, along with hundreds of thousands of part-time and seasonal workers, stay relevant, adapt to the needs of and reflect the communities they serve.
Kevin Roth is NRPA's Vice President of Research, Evaluation and Technology.