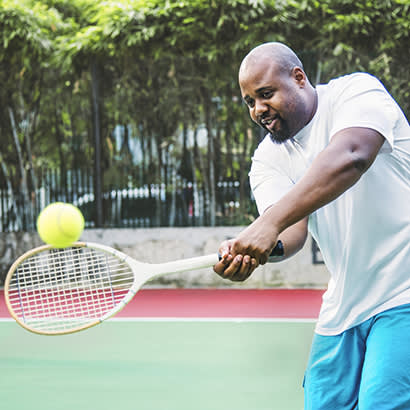 For an enhanced digital experience, read this story in the ezine.
A recent study reveals the sport attracted 3 million new players in 2020
While the U.S. Open is a perennial showcase for the world's best tennis players, the 2020 event also had put the world's best physical distancing sport in the spotlight. As one of the first major sporting events held following nationwide coronavirus (COVID-19) stay-at-home orders, the 2020 U.S. Open showcased — on the world's largest tennis stage — that the sport could indeed be played safely.
"When we proved to the world that we could have over 13,000 [COVID-19] tests and 99.97 percent of them were negative… I think we demonstrated that if you do it properly, tennis is absolutely a safe sport to play," says Michael Dowse, chief executive officer and executive director of the United States Tennis Association (USTA).
Tennis by the Numbers
At the recreation level, activity throughout the past year suggests that people have taken to the sport during the pandemic, and the numbers confirm it. Annual data shows significant growth in racquet sales and tennis participation across the United States. Tennis participation in the country increased by 22 percent in 2020, with 21.64 million people hitting the courts, according to data from the Physical Activity Council's (PAC) Participation Report produced by Sports Marketing Surveys. The survey and report monitor more than 120 different sports and activities participated in by U.S. residents (see charts below).
Of the more than 21 million Americans who say they played tennis last year, 6.78 million were either new or returning players.
"We are thrilled that so many new and existing players came back to the sport — especially in what was such a challenging year for so many people," says Dowse. "These new participation numbers are a testament to the hard work, passion and commitment of a united industry that worked together to ensure that tennis not only survived, but also thrived.
"Even though we continue to face challenges, it's evident that many people recognize tennis as the ideal social-distancing sport, which puts it in a great position to continue to grow and allow people to stay active and social in a healthy and safe manner."
Tennis' positive health impacts are well-documented. The report, Health of Tennis Industry 2020 published in the July 2020 edition of the Journal of Medicine and Science in Tennis, shows that those who play the sport have better general, physical, social and mental health than the general population.
"We are excited to see these positive trends and such significant growth in our sport," says Craig Morris, USTA chief executive, community tennis. "We are energized to continue putting forward key industry partnerships and quality programming to ensure new and existing players of all ages and abilities have the best experience playing the sport for a lifetime."
The Sport's Impact on Recreation
Self-contained facilities have been among those that are reaping the benefits of the boom. The courts were resurfaced in 2019 with the help of a $20,000 USTA facility assistance grant and have been the cornerstone of a vibrant community. Since reopening in July 2020, the park has seen its courts full from morning to dusk, booked on a first-come, first-served basis.
"The community was so ready to get the courts up and running again," says Mohammad El-Haj Ahmad, president of the Fort Greene Tennis Association (FGTA), which has a 10-person board of volunteers that guides decision making, funding and scheduling for the tennis center.
Pre-pandemic, a line of 20 to 30 people would be a good turnout for a sunny weekend day, he explains. Now, they see upwards of 50 on a regular basis, and as many as 70 on busy days. "It was incredible to see how it went from nothing to full in just a few hours."
The Querbes Tennis Center in Shreveport, Louisiana, celebrated a grand reopening in late February 2020 after major renovations, aided by USTA grants. After just two weeks of play, the center shut down due to COVID-19. But any concerns about revenue loss were quickly diminished once it opened again in May 2020. This single, 11-court tennis club saw roughly 250 new players by year's end, including some 150 kids. In both July and August, more than 2,000 players took to the courts in Louisiana's northwest corner.
"It has really been a perfect storm," Chris Dudley, tennis director at Querbes Tennis Center, says of the combination of the brand-new facility and tennis' boom as a physical-distancing sport.
Making Tennis Equitable
A year ago, the USTA announced the creation of Tennis Industry United (TIU), which was charged with assessing overall industry needs and making recommendations for how to best assist industry sectors in need of help. The organization also committed to financially assist in sustaining programs, facilities and education for professionals.
"TIU was originally formed to help combat and get us through [COVID-19]," says Dowse. "Now it has pivoted toward advocating for tennis as a collective group and driving diversity and inclusion in our sport. When we all work together on the exact same initiatives, it's so much more powerful than when we go out and try to do it on our own. We are now seeing the outcome of putting those measures into place, with tennis surging."
To further capitalize on the momentum surrounding participation, the USTA collaborated with leading manufacturers and mass retailers to include a "Net Generation" hangtag on more than 400,000 youth racquets sold by various mass sporting goods and tennis equipment retailers. These hangtags include a QR code sharing information about Net Generation, the official youth tennis brand of USTA; local play opportunities; and access to the free youth USTA membership; all aimed at making it easier for kids to get into the game.
The USTA's first strategic priority is to attract, engage and retain a new generation of diverse tennis participants. With tennis' inherent physical distancing helping attract newcomers to the sport, the engagement and retention of these new players become paramount. To that end, the USTA — through TIU — is working with the United States Professional Tennis Association and the Professional Tennis Registry to increase membership and get more qualified coaches and teaching pros to serve this new client base.
"Ultimately, that's how people get engaged with the sport," says Dowse. "As beginners come in, if they have a positive experience with their first coach, the data bears out that they'll stay with the sport much longer."
Arthur Kapetanakis is an Assistant Managing Editor at the USTA. Victoria Chiesa is a Content Producer and Editor at the USTA.