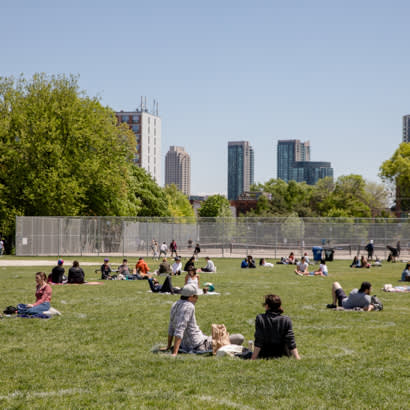 For an enhanced digital experience, read this story in the ezine.
An analysis of the key topics and predictions that may impact the park and recreation field this year
It is time for the annual rundown of the top trends in park and recreation predictions. Eagerly awaited and sought after, these predictions stimulate the anticipatory senses and offer a respite from the winter blues.
However, we must acknowledge that things are much different this year. The world of parks and recreation has been upended by the coronavirus (COVID-19) global pandemic. In March of 2020, we were looking toward a spring season that was bright with promise and rich with the possibilities of time spent enjoying our nation's parks and recreation resources. But COVID-19 changed many things, and we have had to adapt ever since. The recent approval of multiple vaccines, however, offers the hope that we can put this dark winter behind us.
All Those Changes Caused by the Pandemic? They Are Here to Stay
COVID-19 has affected nearly everything we do in parks and recreation, and the effects will reverberate for a long time after we have defeated the virus. Changes to work programs, such as working remotely as a standard practice; participating in virtual learning, training and meetings; and contactless transactions will continue post-pandemic. In addition, many societal, economic and transportation system changes likely are here to stay as well, says David Rouse, an urban planning expert and former research director for the American Planning Association. These include disruptive effects from changing economic conditions, increasing social inequality from the digital divide, diminished use of mass transit systems; changing land-use patterns and the decline of brick-and-mortar businesses. "On the positive side, I think that the renewed interest in parks, trails and walkable environments will remain strong," says Rouse.
Tantalizingly, urban land-use patterns that already were changing — such as the expansion of pedestrian spaces in dense urban areas, the expansion of outdoor dining on urban streets, the conversion of streets to bike lanes and trails, and the installation of "parklets" in parking spaces and former travel lanes — have opened all kinds of possibilities for wholly new types of urban parks.
Prediction: The 10 largest cities in the United States will reclaim even more usable public space in dense urban areas by reducing lanes for vehicular travel, expanding pedestrian plazas and converting former travel corridors to new linear urban parks.
Operations, Management and Budgets
Unfortunately, the depressed economic conditions caused by the pandemic will hit the budgets of states and localities with a triple whammy. As local and state tax revenues from income taxes and sales taxes continue to decline sharply, the costs of responding to the pandemic will continue to rise. Despite the crushing pressures that could lead to severe budget cuts and layoffs, meaningful financial help from the federal government may be extremely limited.
Prediction: Without robust federal help, one-third of all park and recreation budgets will face cuts of 25 percent or more in their fiscal year 2021–2022 budgets, and substantial cuts in fiscal year 2022–2023 budgets. Absent adequate federal assistance, the coming budget cuts will be shocking and likely will exceed those from the Great Recession of 2007–2009.
Stronger Orientation Toward Health Equity and Social Services
One of the strongest emerging trends for 2021 is the focus on health and health equity. This movement toward health and well-being has been magnified by COVID-19, but it will continue well beyond the pandemic, and will intertwine with a greater focus on meeting the social needs of communities. Recent NRPA Parks Snapshot surveys have shown that up to 60 percent of agencies are supporting food distribution, food pantries, COVID-19 testing, daycare for children of essential workers and first responders, and safe places for learning.
"Parks and recreation will play a greater role in supporting mental health and well-being, amplifying recent efforts to address trauma and substance use disorders," says Allison Colman, NRPA's director of health. The skyrocketing rates of social isolation and loneliness will call for a more holistic focus on well-being, and access to parks and green space. This will lead to greater cross-sector partnerships with public health departments, school systems and social service agencies.
"A part of our community was identified as a food desert and a food swamp (because of the prevalence of fast food outlets)," says Theresa Neumann, recreation supervisor for the city of Kerman, California, about why she and her park and recreation staff became involved in nutrition assistance. Rene Duarte-Cifuentes, health education specialist for the Fresno County (California) Department of Public Health, agrees that it makes perfect sense for the county health department to work with their park and recreation counterpart. "Parks and recreation is already established in the community, and they have a high degree of trust from members of the community. This is a great partnership," says Duarte-Cifuentes.
Lydia Escobedo, a certified health coach, toddler program supervisor and NRPA nutrition grant coordinator for Asheville (North Carolina) Parks and Recreation Department, says the majority of kids at the Stephens-Lee Recreation Center and in afterschool programs are on food assistance in the middle of a food desert. "If we do not also improve nutrition for our kids, we are not seeing the whole picture. We are health and wellness advocates. I believe that is what parks and rec is all about," says Escobedo.
Park and recreation departments will do more to address social and racial equality and disparities in providing services to the public in the coming year. Inevitably, this also will accelerate a transformation of the park and recreation workforce with the hiring of health, equity, trauma-informed and community engagement specialists.
Prediction: At least 10 agencies will publicly acknowledge the impacts of how disparities in the provision of park and recreation services have been affected by systemic social inequities, racial injustice and environmental inequalities. Demonstrated positive actions to correct these historic inequities will be part of the measure of reversing these trends.
Technology's Impact and Big Questions about Data Privacy
During the Consumer Electronics Show 2020, a company introduced an autonomous security system complete with ground-mounted motion and vibration sensors and autonomous drones that periodically fly the monitored property. The drones read the landscape and provide livestream video of the area surveilled. The system "learns and reacts to its surroundings," says the company. Could this type of security monitoring soon be coming to parks?
There is no question that technology massively affects how parks and recreation does business, interfaces with the public, maintains parks and manages data. Park and recreation systems are embracing new technologies, such as robotic cleaning systems, self-maintained toilets, line-painting vehicles, autonomous mowing equipment and semi-autonomous drones for a variety of tasks. As cities are becoming smarter, so are parks. Patrons expect quality Wi-Fi access in parks, and appreciate access to charging stations and downloadable content such as augmented-reality walks, games and exhibits.
One aspect of a greater embrace of technology that will crash into our consciousness in the coming year is data privacy. Park and recreation agencies collect a surprising amount of data from patrons, including financial data from credit cards for programs and user fees; biometric data from fingerprints, photos and facial recognition software; and personally identifiable medical data from temperature scans, personal profiles and medical histories provided for sports and outdoor adventure programs. Taken by itself, such data capture may not raise much concern, but this highly personal data now can be linked to a patron's location through a variety of embedded apps on a cellphone, apps that may not even let you know they are collecting your location at all times, much less asking for your permission to collect such data.
In an interview with CNN Business in April 2020 (tinyurl.com/y5ll927n), Josh Anton, founder and CEO of X-Mode, a data location company, said that his company presently tracks 25 million cellphones through software development kits (SDKs), which are embedded in about 400 apps, some as innocuous as a storm tracking app, a Craigslist app, and even a 'leveling' app that enables you to use your cellphone to install level shelves in your home.
The dots already are connecting to parks and recreation. A large urban park and recreation agency in the Midwest working with a university researcher was interested in where and when people were using various amenities in their parks. The researcher found that app data from cellphones could be easily obtained to show where people are and how long they stay in each park location. Taking it only a short step further, when no movement is detected overnight, it is logical to assume that the cellphone is in the owner's home. Overlaying this with geographic information system (GIS) information and other publicly available data can associate phones with specific addresses, where individuals have been, and even what they are doing in real-time.
There will be a trend to use this data. Park and recreation administrators are starting to ask — and if they aren't, they should be — what data are we collecting on our patrons, what are we doing with it, and how secure is it?
Prediction: In 2021, more than one agency will begin to track and identify the movement and location of park patrons through personal data obtained through apps on cellphones.
BONUS Prediction: In 2021, critical operational data and personal financial data of patrons of one or more park and recreation agencies will be compromised in a ransomware attack or other data breach incident.
Accelerating Impacts of Climate Change
By mid-October 2020, the daytime temperature in the city of Phoenix, Arizona, exceeded 100 degrees Fahrenheit on more than half the days during that year. Not only were there more than 20 weeks of 100-degree days, but also there were 34 days on which the temperature reached at least 110 degrees! Meteorologists predict that these types of temperatures are rapidly becoming the norm through much of the Southwest. Hellish temperatures such as these impact all types of outdoor recreation and limit the ability of park and recreation agencies to conduct programs, day camps, afterschool programs, fitness activities and just about any type of outdoor activity.
The burden of climate change impacts falls most heavily upon low-income communities and on people of color, and there is growing recognition that climate change is a racial justice problem. Median health and economic damages of climate change are systemically greater in low-income and people-of-color communities, which also are often the most park-deficient communities in the nation. The need for more parks and green space in these communities far outstrips the funds available to purchase new parklands and waters.
Beyond the human impacts, climate change has contributed to the degradation of our natural resources, loss of wildlife and ecosystem damages to fragile environments. A recent scientific study by the Smithsonian (tinyurl.com/y5lk3pew) reported the loss of 3 billion birds, almost a third of all birdlife in North America since 1970, and other studies point to an "insect apocalypse," in which half of all insects on the planet have been lost due to the destruction of nature and heavy use of pesticides. Parks and protected natural areas are becoming even more important in preventing the worst damages of climate change and are vital to educating the public on what will be lost if these conditions continue.
Prediction: Most new parks will be designed with resiliency in mind. Parks will be increasingly seen as multi-benefit landscapes that protect against flooding, clean and filter stormwater, produce shade and prevent heat island effects, and promote not just environmental resiliency, but also social resiliency.
BONUS Prediction: To address extreme heat, empty mall garages and big-box stores will be converted to park and recreation uses in 2021, such as skateparks, farmers markets, community activity spaces and recreation program areas. Parks are going underground, too — think unused tunnels and below-ground transportation infrastructure as potential new park sites.
Virtual Programs Thrive and Esports Surge
Perhaps no public sector demonstrates as much ingenuity and adaptability as parks and recreation. When the pandemic hit and the nation shut down, parks and recreation largely kept going. People desperately needed places for distanced daily physical activity, and parks, trails and beaches became high-priority destinations.
The pandemic led to program innovations as well. If recreation programs and classes could not be held in the traditional way, new types of programs were designed to allow participants to maintain a safe distance or participate from their home or as part of a distanced team activity. Among the new program trends that have caught on and will persist are grab-and-go and take-it-with-you programs, which provide participants a kit or a grab bag of activities that they can do on their own. In terms of customer loyalty, such programs cement a bond with patrons that transcends geographic boundaries. If people connect to your virtual programs, they can participate from anywhere in the world. Virtual special events that allow people to watch sports events or concerts via streaming or other remote access will grow in prominence.
Trending into 2021 are virtual competitions and team events. At the 2020 NRPA Annual Conference: A Virtual Experience in October, Seth Pihanich, outdoor recreation coordinator for Union County, North Carolina, noted his park and recreation agency's success in running a virtual fishing tournament and disc golf competition, posting the results on their Facebook page. Other agencies are conducting fitness activities, 5K runs and other team competitions as distanced activities that still bring people together.
Esports have grown in popularity as the pandemic has curtailed youth team sports activities. Chris Curtis, esports coordinator for the South Suburban Parks and Recreation district outside of Denver, Colorado, says that the pandemic has proven that esports really belong in parks and recreation. With traditional field and indoor sports suspended, teens have few recreational outlets and esports address an important need for youth. He notes that much of his park and recreation agency's esport competition is moving to team events.
Kendra Beaver, the recreation coordinator at Excelsior Springs Parks and Recreation in Missouri, says that the inclusion aspect of esports is an important benefit for youth. "[Disability] conditions don't matter. We have a couple of kids in wheelchairs who are amazing. We have kids from the inner city and kids from dairy farms. You will not see that in any other sport," she says.
Prediction: In 2021, dozens of park and recreation agencies will begin to stream live youth sports events. Parents and families can drop off their kids and watch from the parking lot, fully maintaining a physical distance, but being able to honk at will when a goal is scored.
Quick Takes
Insta-worthy parks. Ann Beck, marketing and communications manager for the park and recreation department of Mansfield, Texas, says that park and recreation professionals need to be thinking about making their parks "insta-worthy." People want a great photo they can share with friends and family, and now there is even a greater desire to share those moments. Beck says you can optimize your parks to promote those spots where it is easy and accessible to get a good picture. "Tell people, 'Here is a great place to take a picture,'" she says. "Use these spots to promote visitation and get local photographers to share their best shots and post on your social media." She adds that a primary focus of some outings is just to get a good picture. People will share their reviews of your parks on social media, and this builds trust and gives great publicity that is free.
Try superforecasting to assess risks and predict the future. "Agencies need to be much more proactive in forecasting future needs," says Kevin Roth, vice president of research, evaluation and technology at NRPA. Making more reliable predictions of future needs and conditions is a critical skill for park and recreation leaders. You likely will have more success if you adopt superforecasting principles, according to Philip Tetlock and Dan Gardner, the authors of Superforecasting: The Art and Science of Prediction. According to these principles, diverse teams that can eliminate their biases make much better predictions than anyone else.
Parks as renewable energy sources? A Spanish start-up company, Bioo, is testing a revolutionary renewable energy source — the ability of the soil to act in concert with living plants as a battery that produces 100 percent renewable energy 24 hours a day, 365 days a year. The company is already testing an installation on the island of Ibiza in Spain and asserts that it can produce enough electricity from plants and soil to power lights for parks and public gardens.
Prediction: By 2022, a U.S. park and recreation system will have an operational demonstration of a soil battery powering outdoor lighting. How cool will that be?
To hear Dolesh talk more about 2021 park and recreation trend predictions, tune in to the January bonus episode of Open Space Radio at nrpa.org/JanuaryBonusEpisode.
Richard J. Dolesh, NRPA's retired Vice President of Strategic Initiatives, continues to write for Parks & Recreation magazine as an Editor at Large (dolesh@gmail.com). Got a top trend? Send it his way.