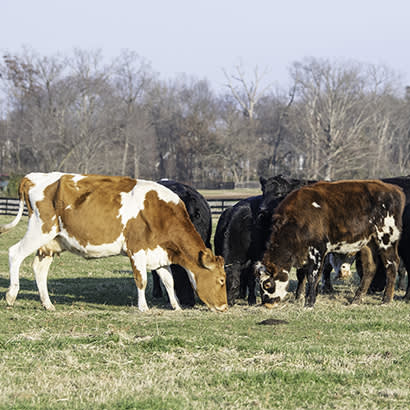 For an enhanced digital experience, read this story in the ezine.
On October 16, 2020, eleven cows made a beeline for leftovers from brewing beer in the country's first "NASCOW" race. The event, held in suburban Fairfax County, Virginia, was a unique collaboration between Frying Pan Farm Park and its friends group. The goal was to raise $10,000 to replace money lost from having to cancel the friends' annual fall fundraising event due to coronavirus (COVID-19) restrictions. NASCOW ended up attracting more than $26,500 from fans around the region, across the United States, and even from one person stationed overseas.
Frying Pan Farm Park, owned and operated by the Fairfax County Park Authority, is a 135-acre site just four miles from Washington-Dulles International Airport, which serves the nation's capital. One of Frying Pan's attractions is a working farm with about 100 animals, including cows, chickens, horses, sheep, pigs and goats. The farm animals are owned by the friends group, which raises funds for the animals' food, shelter, medical care and other expenses.
The idea for NASCOW was that Frying Pan fans and local companies would sponsor one of 11 cows for a race, the same way large corporations sponsor professional race cars and drivers. Though participants did not win points or a trophy, there were winners: the friends group, the park and hundreds of fans who had a blast guessing which cow they thought would cross the finish line first.
After Frying Pan farmer Paul Nicholson held four practice runs with the cows over three days, the official NASCOW race was held on a cold and cloudy Friday morning. It was filmed by employees and shared with the world via social media. A dairy cow, named Marybelle, won literally by a nose, with an upstart male calf, named Smokey, coming in a close second. All the cows were motivated to hoof it across the field lured by a bovine treat: spent brewers' grain from two local beer brewers. (The spent grain is very nutritious and doesn't result in drunk cows.)
Because the NASCOW race was so successful, Frying Pan Farm Park and its friends group plan to host the event again next year. You can watch the NASCOW race at https://youtu.be/coVrycu4CWk.
Lois Kirkpatrick is Marketing and Development Coordinator at Frying Pan Farm Park.