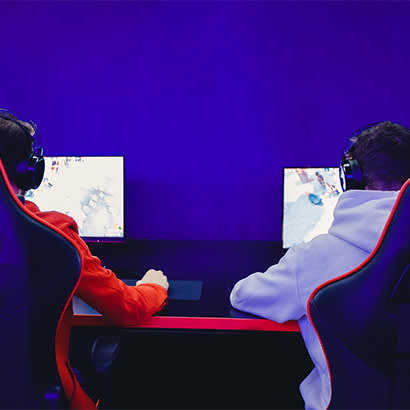 For an enhanced digital experience, read this story in the ezine.
The future of esports is now
When I first wrote about esports for the September 2019 issue of Parks & Recreation magazine, the most common questions I heard were: What is esports? Why should we get into it?
It is a testament to the continued growth of esports (despite the pandemic-related pause of in-person tournaments) that, in less than two years since, the question I hear more often now is: How can we get into esports?
For those still uninitiated into this whole new world of esports, my first article explains that "egaming is a generic term to describe amusement or recreation using a standalone video game, desktop computer or the internet with one or more players, while esports are organized, multiplayer gaming events played in a competitive environment, often by professional gamers. What's more, spectators watch them in person or via online channels, such as YouTube and Twitch."
The first esports event happened October 19, 1972 at Stanford University, where students competed on the video game Spacewar. The grand prize for the winner was a 12-month subscription to Rolling Stone magazine, which was won by Bruce Baumgart. Fast forward to 2019, where the top prize for The International 2019: Dota 2 Championships held in Shanghai was $15.6 million.
The Growing Esports Universe
While the coronavirus (COVID-19) pandemic may have limited the audience for in-person esports tournaments, it only resulted in shifting that growth to a streaming audience. Overall, global esports audience growth is projected to be 646 million by 2023. To put that in perspective, that is almost twice the population of the United States.
Twitch, the premier esports streaming platform, experienced a 99 percent viewership increase from October 2019 (839 million hours) to October 2020 (1.6 billion live-streamed hours). Facebook Gaming had 346 million hours watched in August 2020. Most major sports, such as basketball and tennis, have deepened their involvement in esports, ranging from NBA 2K20 to Virtual Madrid Open Tennis, respectively. NASCAR has been one of the most successful with its eNASCAR series, attracting a peak of 1.3 million viewers for one race.
Brands and entities like Coca-Cola, Mercedes-Benz, Adidas and T-Mobile also are growing their investments in esports. Large cities from Philadelphia, Pennsylvania, to Las Vegas, Nevada, to Arlington, Texas, have plans for long-term facility development and growth.
Populous, a global design firm, spans four continents and is deeply involved in purpose-designed esports spaces. According to Senior Architect and Principal Guðmundur Jónsson, "Populous understands the importance of esports as an outlet for a healthy lifestyle and community experience, helping youth develop social skills, strengthen their peer support networks and develop strong social bonds and friendships within recreation centers."
Senior Architect and Associate Principal Julie Rinaldi shared how the company's work has included not just developing new facilities (e.g., Fusion Arena for the Philadelphia Fusion), but also retrofitting current facilities (Arlington Convention Center to Esports Stadium Arlington in Texas) to serve growing esports needs.
Victoria Farrar-Myers, deputy mayor pro tempore for Arlington, shared her vision for esports in her city, which is home to the largest dedicated esports stadium in North America. "Esports is an opportunity to raise the global stature of our city that is already known for entertainment and sports. As professional sports innovate, we must innovate with them to continue serving our community and drive long-term economic development through esports."
Moment of Zen: You know the sport is growing when, in a five-year span from 2018 to 2023, its audience is projected to grow by a number equal to 75 percent of the entire population of the United States.
Esports During the Pandemic…and Beyond
For a sport that was poised to grow and hold even larger gatherings and tournaments, COVID-19 ensured things didn't quite go as planned. However, park and recreation professionals did what they do best: as the year gave them lemons, they made lemonade by pivoting to provide virtual esports offerings or scheduling their esports program plans for 2021. While Excelsior Springs, Missouri, and Hurricane, Utah, have been some of the early providers of esports programs, many others nationwide now have joined them.
NRPA's Young Professional Network (YPN) provided an extremely informative five-part esports e-learning series and a YPN Conference Cup for Mario Kart Deluxe 8, culminating during the 2020 NRPA Annual Conference: A Virtual Experience.
The Navy Morale, Welfare and Recreation (MWR) team has been particularly active. Based on information provided by John Prue, former installation program director at Naval Station Great Lakes, Illinois, and current MWR program analyst for Navy Region Mid-Atlantic, the Navy Community Recreation (N92) and Fleet and Family Readiness Marketing (N94P) partnered to create the Navy MWR Esports Program to provide sailors with entertainment and recreational opportunities. Big among them was the esports tournament, which consisted of 12 tournaments over 10 weeks and drew 1.55 million live views with nearly 8 million minutes of action watched by a maximum of 43,456 concurrent viewers.
Carlsbad (California) Parks and Recreation Department, a nationally accredited agency, offered a virtual esports tournament in October 2020 that had almost 100 participants. This was the first of many such offerings that they are evaluating for the coming year.
The Florida Recreation and Park Association established the Florida Recreation eSports Council with the aim to form an esports league that can serve agencies statewide.
Looking ahead, park and recreation staff at agencies ranging from Smyrna and South Fulton, Georgia, to Windsor, Colorado, and Boca Raton, Florida, are all set to grow their virtual (and eventually in-person) esports offerings in the new year. Smyrna is looking to build a physical gaming lounge to host live events and tournaments. Richard Garland, Smyrna's parks and recreation director, states, "We saw esports as an opportunity to provide community and social interaction for all of our citizenry that would still accommodate all the physical distancing requirements we were working under and bring in a potentially untapped new revenue stream for the city."
Moment of Zen: There is one sport that is yet to be canceled anywhere due to COVID-19 protocols, and that is esports.
What Can Park and Recreation Professionals Do Next?
(1) Explore esports partnerships for program offerings. Based on the National Association of Collegiate Esports, there are more than 170 member schools that are offering more than $16 million in esports scholarships aid. This is an exponential jump from its inception in July 2016 when only seven colleges and universities had varsity esports programs. The Virginia High School League officially approved a one-year pilot program for esports in 2019; it is on its way to becoming fully sanctioned with tournament championship events.
Jim Barnes, deputy village manager for Wellington, Florida, an agency highly focused on equity and inclusion, shares how teens have been the hardest group for them to develop programming for. "Esports is an opportunity to get teens back in the fold and to create an inclusive environment where age and physical ability don't impact participation," says Barnes.
For park and recreation professionals who are not sure how to begin or lack the expertise, exploring existing esports clubs through schools and colleges in and around your communities can help. There's existing knowledge and a built-in affinity group that could help get your offerings started and reach the primary target audience.
Additionally, global sponsorship revenue in 2020 alone was almost $637 million. In addition to existing fitness, wellness and outdoor adventure brands, the technology and gaming sector could be a whole new category of sponsors and earned income for parks and recreation in the years to come.
(2) Develop dedicated facility space (new or retrofitted) for esports. Not everyone can have an Arlington-style 100,000-square-foot facility (after all, don't they say, "Everything's bigger in Texas"?), but that should not stop you from looking at creating dedicated spaces for esports. National Gold Medal agencies, such as Westerville, Ohio, and Park District of Oak Park, Illinois, are designing facilities with dedicated spaces for esports.
Westerville's dedicated esports facility is set to open in early 2021 (based on COVID-19 safety protocols) as a part of its $20 million community center expansion project. Randy Auler, director of Westerville Parks and Recreation (WPRD), states, "WPRD esports is where individuals can gather both virtually and in person to enhance and develop the skills necessary to not only compete against other esport athletes, but [also] provide them tools to pursue a career in esport game design, computer software development and coding. This is truly a one-of-a-kind STEM program offering."
Hurricane Recreation and Leisure Services, led by its director, Bryce King, undertook a creative and cost-effective method to retrofit existing unused storage space into a newly painted and reconfigured dedicated esports space with support from staff, local partners and donors. This space continues to grow, hosting a variety of events from birthday parties to Madden NFL 20 virtual leagues.
(3) Target local Influencers to promote parks and recreation. Viya (the stage name of Huáng Wˉei), a streamer from the Chinese platform Taobao, generated almost $50 million in one day by promoting products during a livestream. In May 2020, she hit a record-high audience of more than 37 million — more than the Game of Thrones finale, the Oscars or Sunday Night Football.
With more than 10 million followers, Viya may be a one-of-a-kind influencer in the world of "ecommerce livestreaming," but the rise of streamers-turned-influencers is helping to expand the reach of esports while reducing the stigma of being a gamer. Consumer brands now want to associate with esports players, and that trend is likely to continue as brands try to reach the younger audience invested in esports.
Park and recreation professionals should look for those streaming influencers in your communities or who may have a connection to your community. These individuals have the potential to become your advocates to the next generation, not just for esports but for parks and recreation as a whole.
Moment of Zen: Stories abound about the Seat Pleasant Activity Center's (Prince George's County [Maryland] Parks and Recreation) impact on Kevin Durant's life and basketball story growing up. Imagine the same story narrated in 10 years of an Esports World Champion or Olympic Gold Medalist who grew up playing Fortnite, Mario Kart or League of Legends in your recreation center.
What Does the Future Hold?
What was once a niche is now mainstream. Esports will continue to be one of the biggest growth stories of the coming decade. From livestream shopping to global leagues and from virtual reality-based gaming to using artificial intelligence to improve sport performance, the sky is the limit.
I strongly believe that parks and recreation is the greatest connector for our communities. In a world that seems more divided than ever before, maybe esports can become the great uniter.
Neelay Bhatt is Principal at PROS Consulting Inc. and a Member of Parks & Recreation magazine's Editorial Advisory Board.