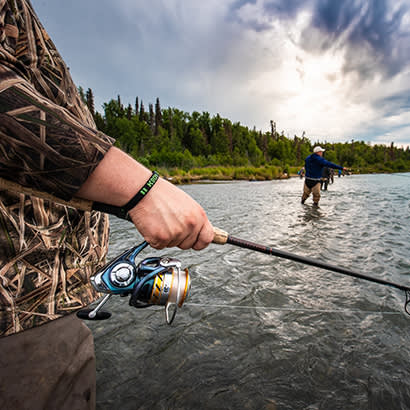 For an enhanced digital experience, read this story in the ezine.
From September 14 to 19, Alaskan anglers had an opportunity to fish for salmon and contribute to conservation efforts on the Kenai River during the fifth annual Kenai Silver Salmon Derby.
The derby is a community competition with a twist. Named "The World's Most Responsible Fishing Tournament," the derby uses rules that reduce selective fishing practices that lead to catch-and-release injuries, which compromise the health of the silver salmon population in the Kenai River.
Instead of selecting winners based on the biggest salmon caught each day, prizes are awarded using a "Magic Weight" that is randomly generated using two wheels of identical size. One wheel — labeled four through 14 — shows the number of pounds. The second wheel, numbered zero through nine, is spun once to signify tenths of a pound, and then spun a second time to signify hundreths of a pound. With any fish over four pounds eligible to win, almost any silver caught in the Kenai River could earn prizes in the derby.
Hosted by the Kenai Chamber of Commerce and Visitor Center and the City of Kenai, funds raised by the derby go to the Kenai Community Foundation, which, in turn, uses the funds for management and conservation projects along the riverbanks and riparian zones of the Kenai River.
"Fishing has always been a fundamental part of Kenai's culture and heritage," says Paul Ostrander, city manager for the City of Kenai. "The derby is a great opportunity for the community to get outdoors in a healthy way while supporting the river and contributing to our city's conservation efforts."
As the popularity of the event has grown, so have the prizes. This year's overall adult, first-place prize was $5,000, with daily adult prizes of $100. The overall youth, first-place prize was $1,000, with daily prizes of $50.
"I am really proud that the City of Kenai and Kenai Chamber [partners] hold this event each year," adds Ostrander. "It is the 'World's Most Responsible Fishing Tournament,' not only because its format minimizes the impacts to the silver salmon returning to the Kenai River, but [also because] 50 percent of the proceeds go towards habitat projects that will improve future stocks of all salmon species in the river."
The business community is an integral part of the event and generously contributed to the cause. Sponsors included Three Bears Alaska, Sportsman's Warehouse, Phillips Scales, Marathon Oil, Tote Maritime, Kenai Coolers, First National Bank of Alaska, Country
Foods IGA, Buckets Sports Grill, The Cannery Lodge and more.
Christine Cunningham is Assistant City Manager for City of Kenai, Alaska.