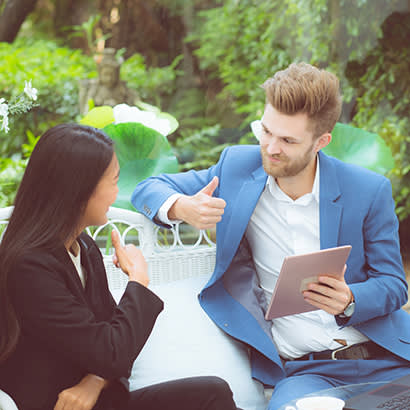 For an enhanced digital experience, read this story in the ezine.
August is upon us, and that means Congress will be out for a month-long recess. However, contrary to popular belief, our representatives and senators are not on vacation. Most are still hard at work, back home in their states and districts rather than in our nation's capital.
While in the district, elected officials prioritize engaging with their constituents during highly visible public events that can allow for some public relations-boosting photo ops. This extended period of members of Congress (MOCs) being nearby presents an excellent opportunity for park and recreation departments to deepen relationships with your elected officials.
Advocate for Your Budget
The August recess presents a timely opportunity to showcase the power of parks to our friends in Congress as MOCs continue to negotiate the federal government's spending budgets for the next fiscal year. Known as the appropriations process, these budget talks began earlier this spring when representatives submitted requests to appropriations committees for funding on specific projects in their districts — known as community project funding, formerly "earmarks". The Biden administration communicated its priorities by submitting a budget proposal to Congress for the upcoming fiscal year.
The House and Senate Appropriations Committees, the internal groups of lawmakers charged with finalizing Congress' budget, have until September 30 to hash out a final budget. If they don't meet this deadline, the logistical and political nightmare of a government shutdown looms large. The incentives to avoid this situation encourage Congress to get the budget done sooner rather than later. However, Congress has occasionally extended budget talks by passing a continuing resolution, a provisional budget that allows the federal government to continue operating with level funding.
A site visit to one of your trails, parks and/or facilities is an excellent way to demonstrate the tangible benefits of parks funding, especially at the time when the annual budget is top of mind for officials. Vividly illustrating the positive impact local park and recreation facilities have on the quality of life of their constituents may influence your congressperson's stance and willingness to be a champion for your park and recreation agencies. Whether they fight for funding now or prioritize parks moving forward, having an ally in your representative can be crucial. They might submit a helpful community project funding request next year or introduce and support park-friendly legislation in the future.
Scheduling a visit alone is a great start, but you should maximize the opportunity of a site visit to demonstrate the full breadth of your agency's positive impacts in your community. Your congressperson probably already knows that your park and recreation center offers a public green space that people come to for exercise, relaxation and to unwind. An in-person visit allows you to highlight all the valuable work your department does beyond the obvious activities that MOCs typically think of — things like youth workforce development, nutrition and public health services, environmental education, sustainable green infrastructure investments, and the many ways your department stepped up to provide for your communities during the coronavirus (COVID-19) pandemic. Effectively telling your story can expand a lawmaker's awareness of the multi-pronged community benefits parks and recreation provides, which may result in better legislation that recognizes the vital role our profession plays in local communities.
Also, don't forget to capture your event with photos and videos, and share them on your social media platforms! This shows the public and your supporters that you're engaging elected officials. By tagging the elected officials who attended, you're maintaining your relationship with their office and opening the door to future engagements.
Establish a Relationship
However, a site visit is just the start. More important than getting a MOC to visit your park, fostering a long-lasting relationship with their staff ensures that their office knows the critical role your agency plays in their district. After a visit, we recommend sending a handwritten thank you note to the congressperson and a thank you email to the district staffers who helped set up the meeting and/or joined the visit. Now that you've established or deepened the relationship, you can follow up via email any time your department rolls out a new initiative or breaks ground on a park. You can invite lawmakers to subsequent site visits or to speak at an event you are hosting. Simply maintaining a regular relationship with your elected officials and their staff can be essential and rewarding, as you will stay at the top of their minds.
As always, please do not hesitate to reach out to NRPA's Public Policy team if you have any questions about ways to strategically engage with lawmakers. We look forward to hearing about, and seeing, your site visits all month long!
Thank you to the NRPA Public Policy and Advocacy team members for contributing to this article.
Dan McCarthy is NRPA's Advocacy Manager.